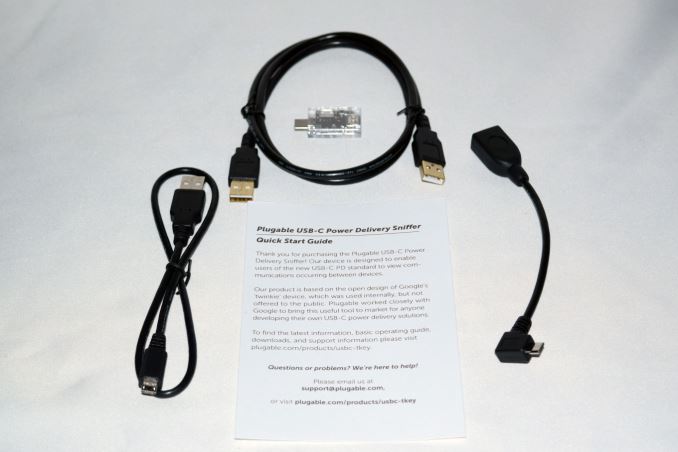 The power consumed by USB peripherals such as flash drives has typically not been much of a concern. However, with OTG support on the rise, mounting external storage via USB on mobile devices has become a common use-case. The power consumed by bus-powered devices is arguably more important compared to the performance numbers in such cases. A reader comment in our recent review of the Samsung Portable SSD T3 piqued our interest, and we set out to quantitatively measure this aspect. This article deals with some background on inline USB power measurement and our available options. This is followed by a detailed description of our hardware setup and the software infrastructure to gather the required data. In the final section, we look at some results from our evaluation of the power consumption of different flash drives followed by some concluding remarks.
Introduction
The measurement of the power consumed by USB peripherals is conceptually a simple affair. DIY solutions are also possible. Devices such as PortPilot offer a professional alternative for inline power measurement while adding management and diagnostic features. There are plenty of other inline USB power measurement gadgets, but none of them are suitable for Type-C / USB 3.1 ports.
The Chromium Twinkie USB-PD Sniffer is one of the most famous Type-C diagnostic kits, thanks to its use by Benson Leung in evaluating adherence of various Type-C cables and adapters to the specifications. Google doesn't sell Twinkie directly to end-users, but interested consumers can get the version manufactured by Plugable - the USB 3.1 Type-C Power Delivery Sniffer (USBC-TKEY).
The Twinkie / USBC-TKEY is primarily intended for developers to monitor the power delivery traffic between two USB Type-C devices. However, it has additional capabilities such as the monitoring of the VBUS and VCONN voltages and currents, injecting power delivery packets on the CC1 and CC2 pins and placing Rd/Rp/Ra resistors on CC1 and CC2. Since it is also designed to be a transparent interposer, it doesn't interfere with the data traffic between the host and the device.
The various pins on a USB 3.1 Type-C plug are brought out in the picture below
From a power measurement perspective, the interesting ones are the VBUS and VCONN. The VBUS line carries bus power for devices (and, in some cases, for the circuitry in the cable itself). The voltage may vary from 5V for typical USB 2.0 hosts / devices to up to 20V for USB-PD scenarios. VCONN, on the other hand, is always set to 5V and can supply up to 1W of power for circuits within the plug. These circuits can implement electronically marked cables or even be accessories.
Coming back to our original intent of measuring the power consumed by USB peripherals such as flash drives, it is obvious that we need to be measuring the voltage and current on the VBUS line. This aspect has suddenly become something to care about because of the number of mobile devices supporting 'OTG'. Not all mobile devices are able to provide the 900 mA output current to 'bus-power' attached devices. Note that the initial specification for USB only had provisions for 0.75 watts of power – 150 mA at 5 V. USB 2.0 bumped that to 500 mA, or 2.5 watts, and USB 3.0 specified 900 mA at 5 V, or 4.5 watts. Understanding the power consumption profile of a flash drive is essential to determine whether it can be safely used with a particular mobile device. It can also help in understanding the impact of usage on the battery life of a mobile device. From a technical viewpoint, it also gives insight into the efficiency of the USB peripheral itself.