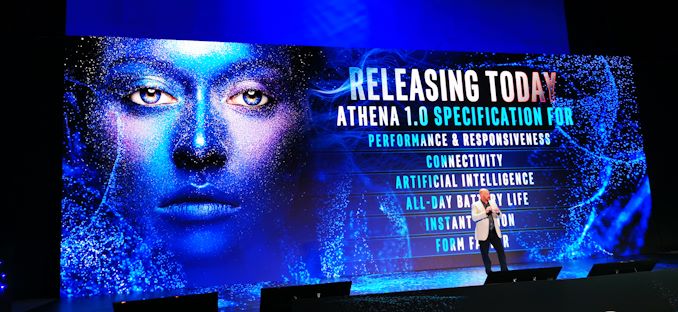 In previous years and generations, Intel has at times instigated a platform development strategy with its partners in order to drive form factor, experience, and ultimately, revenue. In the past we've seen Centrino drive to bring Wi-Fi to the consumer, and the Ultrabook nomenclature to define thin and light designs. Project Athena is the latest project by Intel, designed to drive better Wi-Fi 6 experiences, premium designs, driving AI-accelerated workflow, and longer battery life.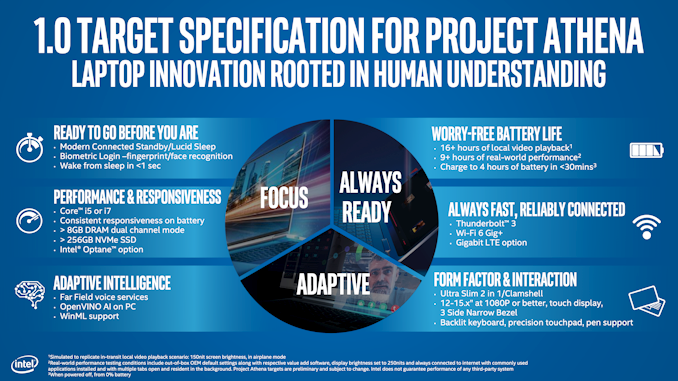 With their latest initiative, Intel is looking to tackle or otherwise direct the evolution of premium laptops in a few different ways. Perhaps the biggest factor is also the most competition-driven, and that's waking from sleep. While the current state of affairs on x86 laptops is far from poor, there's still a gap between what smartphones do and what most x86 laptops do – a point that rival Qualcomm is more than happy to beat Intel over the head with using their Always Connected PCs.
Intel actually already has the technology to achieve near-instant wakeups, thanks to their Connected Standby technology and other features, however the availability of Connected Standby and the quality of the implementations have differed greatly. So for Athena laptops, this becomes a core, required feature. So for that matter is biometric authentication, such as face recognition or fingerprint scanning.
Along similar lines, Intel is also looking to push OEMs to do better when it comes to battery life. Intel is aiming for "all day" battery life here, and while the actual standard isn't quite that literal, the Athena specifications do represent something that only well-built, properly tuned laptops are reaching today. Overall, Intel wants at least 9 hours in light web browsing and 16 hours for video playback at 150 nits. And, in case that level of battery life isn't enough, then Athena systems have to be able to quick recharge 4 hours of battery life in under 30 minutes.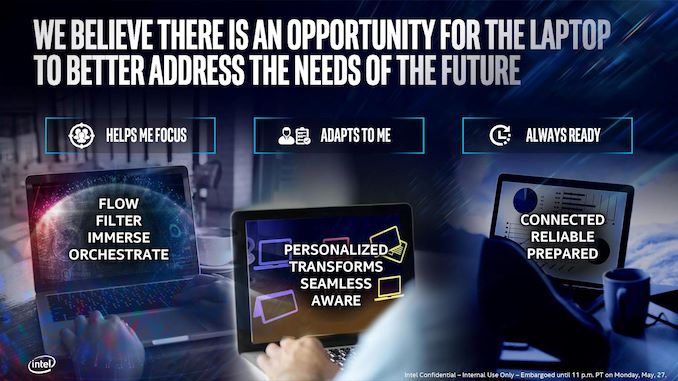 Less specific, but still a focus area for Intel, will be AI. Intel isn't mandating any specific AI processors here (e.g. Movidius VPUs), however they are wanting OEMs to include a basic degree of AI support. This means hardware support for Windows' WinML machine learning API, as well as Intel's OpenVINO computer vision software stack. Furthermore for audio, OEMs will need to support far field audio for voice services, which conveniently enough Intel has ready support for in their recent chipsets via their integrated audio DSP. So at a very high level, Intel is looking to ensure that Athena laptops are in a good position to support voice assistants such as Cortana and Alexa.
In fact a lot of the Athena 1.0 specification is less about OEMs using exotic hardware or following exotic designs, and more about using Intel's hardware and following a lot of Intel's current best practices in implementing it. Athena laptops will need to use 8th Gen (or better) Core i5 or i7 processors, ship with at least 8GB of RAM and 256GB of flash storage, etc. Wi-Fi 6 support is also mandatory, and OEMs will need to Intel's AX200 CNVi Wi-Fi module to pass certification for Athena.
Despite all of this, notably absent here is any kind of cellular modem requirement. The other shoe in Qualcomm's Always Connected PC effort, Intel isn't pushing quite so hard here. I suspect that a 5G radio will be a requirement in future iterations of the technology, but for the moment 5G is still in its earliest days, and Intel for its part is still trying to figure out of it even wants to be in the business of making 5G modems. As an Intel-driven initiative, a modem requirement makes a lot more sense if Intel makes the modems.
Past that, the final leg of the Athena 1.0 specification is form factors. Notably, all Athena devices need to have touchscreens with narrow bezels. They don't need to be 2-in-1s – though I'm sure Intel would be happy if they were – so clamshells are also a valid option here, but even in that case they still need to include touch-focused functionality such as pen support. Intel will also be allowing a pretty typical range of sizes for Athena machines, from 12 inches up to 15 inches. This essentially covers most of the market, excluding just the tiniest PCs and 17-inch behemoths, which tend to be closer to desktop replacement-class machines anyhow.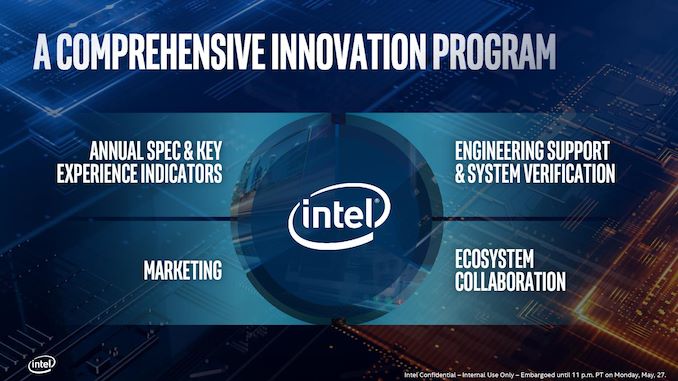 Meanwhile, because Intel is setting the standards for Athena laptops, they'll also be the body enforcing those requirements. OEMs who choose to participate in the Athena program will receive extremely valuable engineering and marketing support from Intel. However in turn they'll have to meet Intel's testing requirements, which will be looking at battery life as well as responsiveness in various applications.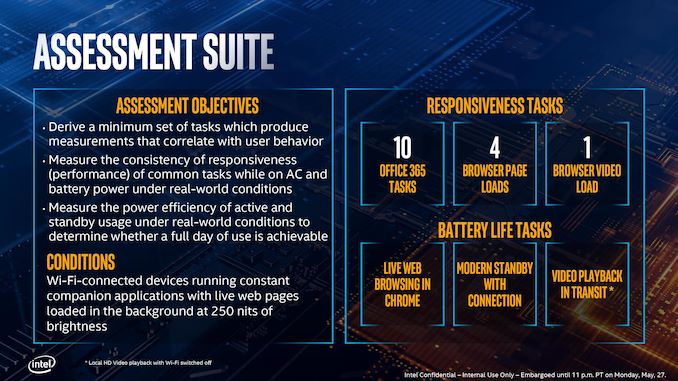 Even with these requirements, OEMs have been quick to jump onboard. Over 100 companies are involved, and Intel bought partners onto the stage to discuss designs, such as the Lenovo Yoga S940, the Acer Swift 5 which aims to be the lightest 10th Gen system when launched, and a HP system with a wooden arm rest. We expect to see more designs through the Computex show.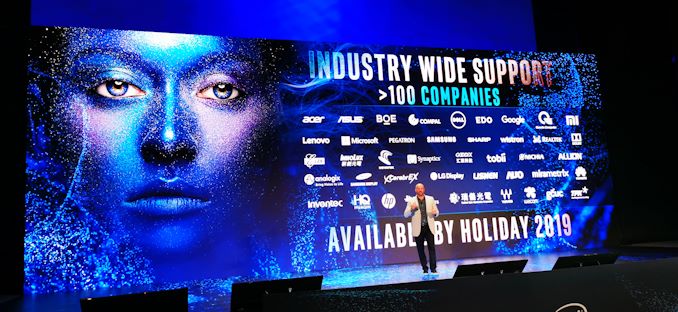 As mentioned, the first Athena based systems will be coming to market for the holiday season. It's worth noting that Athena systems may include (but are not required to use) Ice Lake, so non-Athena based Ice Lake systems may be launched before that.
Want to keep up to date with all of our Computex 2019 Coverage?

Laptops

Hardware

Chips
Follow AnandTech's breaking news here!