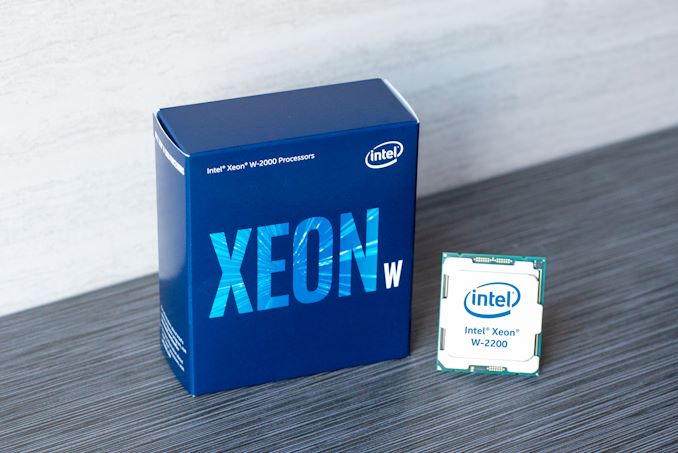 We recently saw the launch of the consumer Cascade Lake high-end desktop processors last week, featuring up to 18 cores at a low launch price. This week Intel is launching the professional versions of those processors, focused on workstations. The W-2200 family is an upgrade over the older W-2100 family, offering more frequency, more memory support, faster memory support, and a more affordable pricing structure.
The Xeon W family is Intel's answer to the Workstation market. Intel sees the workstation market slightly differently to AMD, in that it sees workstations as mission critical hubs for commercial and corporate workflows. Users that require workstations, for Intel, require full uptime, full performance, and full support for a wide array of applications and hardware integration. Even though there might be end-users that require this level of hardware stability, the main focus for Intel is in these commercial and corporate deployments. This is why the company splits up its Core X family for consumers and end-users/enthusiasts, while Xeon W focuses more on the B2B clientele.
Intel currently runs two processor lines on Xeon W. The W-2000 family uses the same HEDT socket as the current Core X family, with the same size processors and memory channels, but with ECC support, more memory support, features like vPro, VROC, and also RAS capabilities. The W-3000 family, new for Cascade Lake, sits on the Xeon Scalable LGA3647 socket, and features more PCIe lanes, more memory support, and similar ECC/vPro/RAS capabilities. W-3000 also comes with a price premium, but at the high-end offers more cores.
For the new W-2200 family, we have the following:
Intel Xeon W-2200 Family
AnandTech
Cores
Threads
Base
All
Core
TB2
TB3
Max
DDR4
TDP
Price
(1ku)
W-2295
18C / 36T
3.0
3.8
4.6
4.8
2933
165 W
$1333
W-2275
14C / 28T
3.3
4.1
4.6
4.8
2933
165 W
$1112
W-2265
12C / 24T
3.5
4.3
4.6
4.8
2933
165 W
$944
W-2255
10C / 20T
3.7
4.3
4.5
4.7
2933
165 W
$778
W-2245
8C / 16T
3.9
4.5
4.5
4.7
2933
155 W
$667
W-2235
6C / 12T
3.8
4.3
4.6
-
2933
130 W
$555
W-2225
4C / 8T
4.1
4.5
4.6
-
2933
105 W
$444
W-2223
4C / 8T
3.6
3.7
3.9
-
2666
120 W
$294
These prices are approximately half of the previous generation, perhaps to be in line with the competition that are currently offering an extremely attractive perf/$ ratio. Frequencies and TDP values are the same as the Core X counterparts, and Intel states that Turbo Boost Max 3.0 is now available on four cores rather than just two.
Users might notice that there is no 16 core processor in the stack, similar to the Core X family. Intel states that this is because of the price difference between the 14-core and 18-core is slight that they don't see a need to put another processor in that area. Some cynics might not that this stops direct comparisons to AMD's 16-core offering.
Each of these CPUs has 48 PCIe lanes, supporting x16/x16/x16, and require motherboards with C422 chipsets (these CPUs are not compatible with X299 motherboards for segmentation reasons). The maximum memory support for most models is four channels at DDR4-2933, which drops to DDR4-2666 in 2 DIMMs per channel mode. These CPUs support RDIMMs and LRDIMMs, with up to 1 TB per socket, or 128 GB modules where available.
We asked Intel about retail availability, and they noted that they're seeing a strong demand at retail, so we might expect to see more of them offered in retail packaging. That being said however, the number of compatible motherboards is still a very small number, and often region dependent.
These processors are set to enter the market sometime in November.
Related Reading