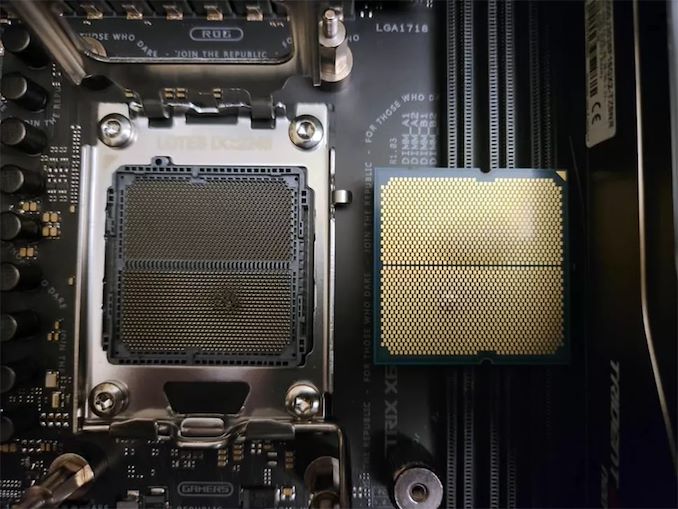 Yesterday, AMD issued a statement surrounding the burnout issues some users have been experiencing with their Ryzen 7000X3D processors. The problem, reported in multiple Reddit subforums, includes some Ryzen 7000X3D CPUs burning out part of the chip, and damaging the AM5 socket in the process. This morning, AMD has released a second statement regarding the issue, including what it is doing to rectify the problem and put Ryzen 7000 processor owners at ease.
The official statement from AMD is as follows:
"We have root caused the issue and have already distributed a new AGESA that puts measures in place on certain power rails on AM5 motherboards to prevent the CPU from operating beyond its specification limits, including a cap on SOC voltage at 1.3V. None of these changes affect the ability of our Ryzen 7000 Series processors to overclock memory using EXPO or XMP kits or boost performance using PBO technology.
We expect all of our ODM partners to release new BIOS for their AM5 boards over the next few days. We recommend all users to check their motherboard manufacturers website and update their BIOS to ensure their system has the most up to date software for their processor.
Anyone whose CPU may have been impacted by this issue should contact AMD customer support. Our customer service team is aware of the situation and prioritizing these cases."
To counteract the problem, AMD has apparently identified an issue with specific chip voltages going too high when users enable AMD's EXPO memory profiles. A new cap on SoC voltages looks to be the primary change in the AGESA firmware rollout.
However, AMD's broad statement mentions that the update will address multiple power rails, which implies to some degree that the issue may be more than just the SoC power rail – or at least, that AMD isn't taking any chances. So what this entirely means is still a bit up in the air, as AMD hasn't specified in detail what it's doing outside of SoC power limits to prevent Ryzen CPUs from exceeding their specification limits.
Technically speaking, enabling EXPO memory profiles is a form of overclocking – i.e. operating the processor outside of specifications – as AMD's Ryzen 7000 family only officially supports DDR5 memory up to DDR5-5200 speeds. So going past this is putting additional stress on the memory controller in terms of clockspeeds; but the greater concern is how the various voltages on the chip are being adjusted to keep up with the demands of higher memory speeds.
One interesting point about AMD's statement is that it doesn't allude to whether or not the issue is just on its Ryzen 7000X3D processors, or whether it affects all of its Ryzen 7000 processors entirely. Regardless of the Zen 4 chip that users may have, AMD is ambiguous in its language, and it seems to be that AMD is recommended that all users with a Ryzen 7000 series processor should update to the latest firmware.
In practice, enabling EXPO memory profiles on compatible DRAM does seem to push SoC voltages beyond AMD's safe spot on the Ryzen 7000 processors, which AMD is treating as part of the cause of the burnout issue. AMD does, however, state that the changes it has made to their AGESA firmware, once flashed, shouldn't affect the user's ability to apply EXPO memory profiles on compatible kits of DDR5 memory. Which does raise the question of why motherboards were increasing SoC voltages in the first place, as presumably this shouldn't be needed if AMD's new caps won't limit EXPO memory overclocking.
In any case, AMD is actively working with its motherboard partners to release a new AGESA firmware with the new voltage limits, which they say has already been distributed. AMD claims that all AM5 motherboard vendors and models should have a new BIOS version available to them within the next few days, and is recommending all users to update their BIOS at their earliest convenience.
Image source: Speedrookie/Reddit