Introduction
A
"Simulated 2.6GHz" AMD quad-core
would beat the best Intel Xeon by 42%, or so we were told back in March at CeBIT. AMD's latest is a device with 463 million transistors designed to run at a clock speed of at least 2.2GHz, possibly 2.8GHz. Scheduled for launch in the middle of 2007, Intel's best Xeons would be once again in the rearview mirror of their AMD competitors. AMD's third generation Opteron sure looked very promising back in early spring 2007.
June, July, and August went by, but still no
Barcelona
, and when the news started to trickle in that AMD's newest quad-core would only reach 2GHz, AMD's future didn't look so bright anymore. It became even worse as the launch date and details of the newest 45nm Xeons popped up on a public webpage for resellers: November the 11th. New Xeons at clock speed up to 3.16GHz are thus only a few months away. "Not so bright" turned into "grim" - even "dark, really dark".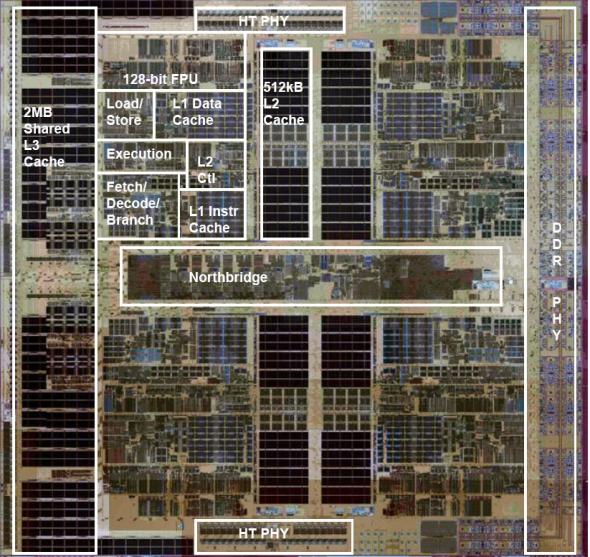 Luckily, today is the launch of AMD's third generation Opterons. It's only at 2GHz right now, but it's packed with many clever tricks to improve the number of instructions per cycle (IPC). There's also a surprise in store: 2.5GHz samples are already in the AnandTech lab, and they will be available to everyone in the fourth quarter. So there is a chance we still are going to experience an old fashioned breakneck race; a heated battle of epic proportions between AMD and Intel for the top spot in the server market. However, this will only occur if AMD's newest quad-core is able to outperform the Intel alternatives clock for clock by a decent margin. Read on to see whether AMD has been able to pull that one off...
Before we start, here are a few important notes on our testing. We were only given a few days with the newest quad-core before the NDA was finished. As a result our server benchmarking is only a preview, and we'll follow up with more details in the near future. Also, instead of repeating all of AMD's improvements to the core again, we'll simply refer to
our previous article about Barcelona's architecture
. We'll discuss these architectural improvements further together with the relevant benchmarks.
Finally, for those that are wondering what happens if you pick up a quad-core Opteron server and try to use it as a desktop (or just a hardware editor looking to predict Phenom performance as best as we're able), Anand has put together an
AMD Phenom Preview
where he does exactly that. Getting the GeForce 8800 GTX into a server chassis took some work, and the focus is on
K8
versus
Barcelona
performance scaling, but the results might give a decent indication of where Phenom X4 will land in a couple months.