Decision Support Benchmark: 64-bit MySQL (Linux SUSE SLES 10 SP2 64-bit)
Decision support databases are completely different from the I/O dominated OLTP databases. Large select statements have to go through almost the entire database, so the CPU and especially the memory subsystem get a lot more work to do. We test with an e-commerce site's database on MySQL 5.1.23 using the INNODB database engine. You can find out more about our MySQL testing here. We tested with only one CPU as MySQL has trouble scaling above four cores.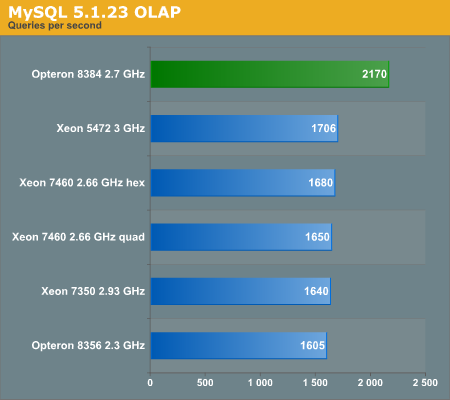 Please note that these results cannot be compared with our earlier MySQL results, as the version is different as is the my.cnf config file too. The Opteron 8484 "Shanghai" simply annihilates the competition. Our VTune profiling on one of the Xeons shows us that MySQL is very sensitive to the latency of the cache and memory subsystem, so the latest Opteron has a great advantage compared to the older 65nm generation, as latency has been reduced in the L3 cache and memory controller. This results in a 35% boost, much more than the 17% clock speed advantage.