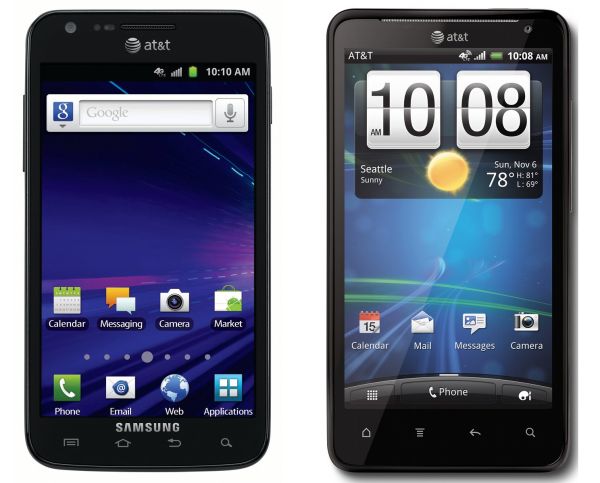 As if we didn't have enough phones to review, AT&T, HTC and Samsung announced today the first LTE phones to launch on AT&T's newly rolled out network. The five initial markets (Atlanta, Chicago, Dallas-Fort Worth, Houston and San Antonio) will be joined by four new markets (Boston, Washington, D.C., Baltimore and Athens, Georgia) on November 6th and these phones will join the 4G modems that are already available. Launching these phones alongside an already packed list of Android phones you'd expect these LTE devices to sport premium prices, much like Verizon's LTE offerings; that doesn't seem to be the case though, with HTC's offering coming in at just $199. So what do AT&T's first LTE handsets look like? Let's dig in.
The HTC Vivid takes the Evo 3D recipe, swaps the WiMax baseband for LTE (likely the MDM9600 we've seen before), deletes the 3D camera and stretches the whole thing out to 4.5" while retaining the qHD display. The 1.2GHz dual-core Qualcomm MSM8260 provides HSPA+ connectivity and APQ8060 provides plenty of power for this Gingerbread phone, and the 8MP/1080p camera round out the announced features. We're still waiting for more details, particularly the screen type, and some press shots but being introduced at just $199 makes this a competitive phone, perfect for the holidays.
If you sprung for AT&T's first Galaxy S II variant, you might be kicking yourself right now. For just a $50 premium over the non-LTE variant, the Galaxy S II Skyrocket brings the LTE baseband and 1.5 GHz dual-core SoC of the international SGSII LTE, along with a larger 4.5" display, though retaining the WVGA resolution. As with the other SGSII variants, Super AMOLED Plus is on tap, bringing its delightful RGB stripe along with the rich blacks, saturated colors and excellent viewing angles from Samsung's other AMOLED displays. The look of the phone is similar to AT&T's other SGSII variant, just stretched out and without the textured back. On-board storage is 16 GB with microSD expansion up to 32 GB and you'll be able to fill it up with shots from that 8MP/1080p shooter we've seen before. We're waiting for confirmation on the SoC and the baseband, but at just $249 this could be a tough phone to pass up.
The fall release schedule gets more and more crowded, and we're working as hard as we can to cull the field for you all. With any luck, these manufacturers will take a break, so we can get ahead. But we're not holding our breath. Stay tuned.
Source: AT&T