Introducing Corsair's Hydro Series: H60, H80 and H100
Closed-loop liquid CPU cooling solutions are gaining popularity as more and more vendors are carrying their own variation. We've even seen both Intel and AMD announce the inclusion of liquid-coolers for their upcoming processor lines. Today we're going to take a look at the Corsair Hydro Series H60 High Performance, H80 High Performance, and H100 Extreme Performance liquid CPU coolers. Corsair has teamed up with CoolIT Systems this time around. They have previously partnered with Asetek for other Hydro Series products (H40/H50/H70/H70 Core), but our focus here is on the H60, H80, and H100.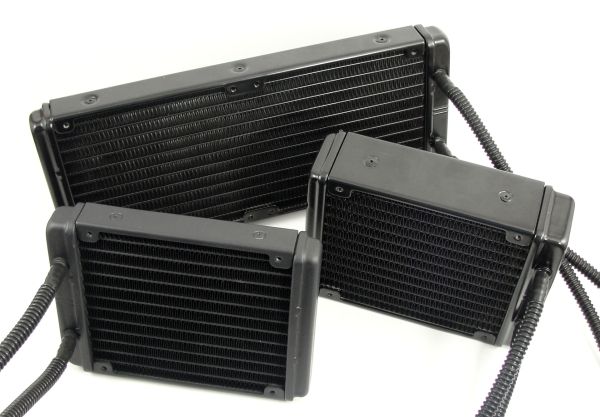 The Corsair Hydro Series of liquid CPU coolers aim to give you the power of liquid-cooling in a compact, easy to install package, without the complexity of traditional water-cooling kits. They are designed to be a closed-loop solution with no maintenance required at all. But just how well do these Corsair liquid-coolers perform against the current cream of the crop air-coolers? After all, Corsair is targeting the high-end air-cooling market with these cooling solutions, both in price and performance. First, let's take a look at the specs for the units being tested today.
Corsair Hydro Series Specifications
H60
H80
H100
Radiator Dimensions
120mmx152mmx27mm
120mmx152mmx38mm
122mmx275mmx27mm
Fan Dimensions
120mmx120mmx25mm
120mmx120mmx25mm (x2)
120mmx120mmx25mm (x2)
Fan Speed
(+/- 10%) up to 1700RPM
(+/- 10%) up to:
1300RPM (Low),
2000RPM (Medium),
and 2500RPM (High)
(+/- 10%) up to:
1300RPM (Low),
2000RPM (Medium),
and 2500RPM (High)
Fan Airflow / dBA,
Static Pressure
74.4 CFM / 30.2 dBA,
3.2mm/H20
46-92CFM / 22-39 dBA,
1.6-7.7mm/H20
46-92 CFM / 22-39 dBA,
1.6-7.7mm/H20
Cold Plate / Radiator Material
Copper / Aluminum
Copper / Aluminum
Copper / Aluminum
Tubing
Low-permeability for near-zero evaporation
Low-permeability for near-zero evaporation
Low-permeability for near-zero evaporation
Intel Sockets
LGA 775, 1155/1156, 1366, 2011
LGA 775, 1155/1156, 1366, 2011
LGA 775, 1155/1156, 1366, 2011
AMD Sockets
AM2, AM3
AM2, AM3
AM2, AM3
Warranty
Five years
Five years
Five years
MSRP
$79.99
$109.99
$119.99