Passively cooled high performance GPUs are quite popular with the HTPC community. NVIDIA GPUs are preferred by many HTPC users because of good software support (LAV CUVID, for example) and the ability to use custom renderers like madVR without losing out on hardware decode acceleration. I have already covered this in detail in a previous piece.

A look at the list of passively cooled GPUs on Newegg reveals that higher end NVIDIA GPUs are not represented well. In fact, we have a number of GT 430 and GT 520 passive models, but only one GT 440 model. On the other hand, AMD's GPUs seem to be quite popular in this space. We have a large number of 6450s. There are two models each of the 6570 and 6670. The 6750, 6770 and even the 6850 have one passively cooled model each.

Zotac is trying to level the playing field here with the introduction of a passively cooled GTS 450.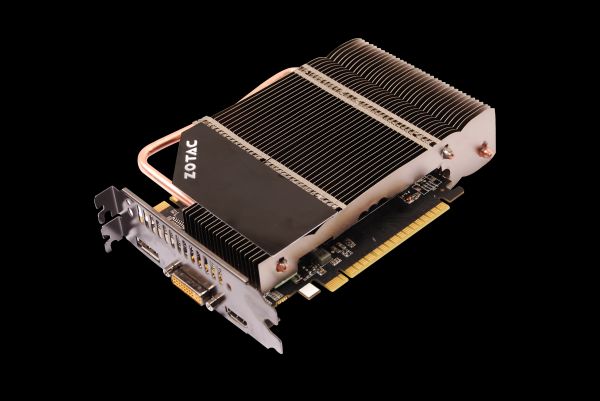 The GTS 450 Zone Edition comes with a GTS 450 GPU (192 shaders) underclocked to 600 MHz / 1200 MHz. The 128-bit 1 GB DDR3 memory runs at 1333 MHz. Unlike other GTS 450 units, this one will not require a PCI-E power connector. The GTS 450 Zone Edition will have a MSRP of 99 Euros in the EU (with the pricing in the NA market yet to be determined). The unit is currently shipping to retailers and is expected to be out on sale in time for the Christmas shopping season.
Given that even the NVIDIA GT 5xx models seem to be looking a bit dated right now, we asked Zotac as to why this cooling mechanism wasn't put on one of the more recent NVIDIA GPUs. It appears that the thermal limitations of passive cooling required underclocking which NVIDIA wouldn't allow on the 500 series. We are sure this will turn out to be better than the GT 430 models we have been recommending for HTPC use so far (particularly if you want to use madVR with 1080i60 streams). Will the lower speed DDR3 memory and core clock speeds hurt it when compared to the passively cooled GT440 (for HTPC purposes) ? We will know as soon as the card hits the market.