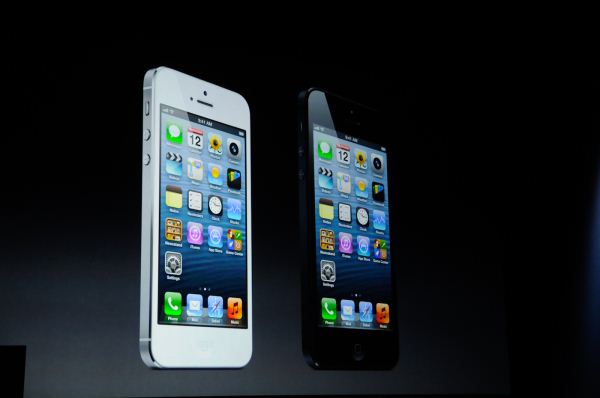 Apple announced its 6th generation iPhone, the iPhone 5, at a special event in San Francisco this morning. The iPhone 5 brings a huge list of improvements. Apple unexpectedly used the iPhone 5 to introduce its next-generation SoC: the A6.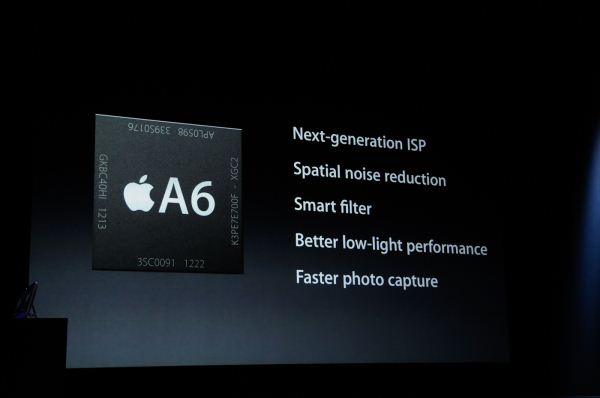 Apple didn't say anything about core counts and clock speeds, but it did give us a good indication of performance: 2x faster CPU and GPU. Based on the performance gains, Apple's history of SoC naming and some other stuff we've heard recently, it looks like Apple has integrated two ARM Cortex A15 custom designed Apple ARMv7 cores on Samsung's 32nm LP HK+MG process. This is a huge deal because it means Apple beat both TI and Samsung on bringing A15s to market.
The GPU side isn't entirely clear at this point, but the 2x gains could be had through a move to 4 PowerVR SGX543 cores up from 2 in the iPhone 4S.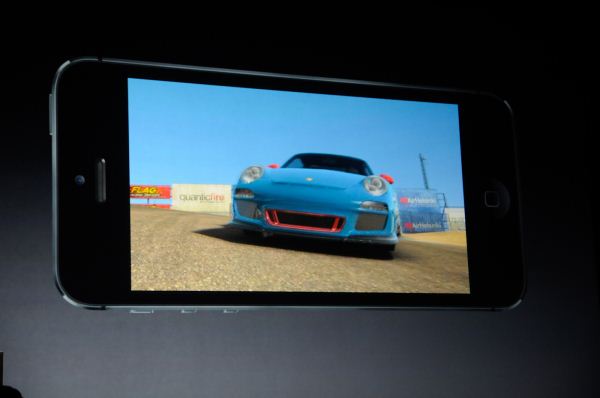 The new SoC is paired with Qualcomm's single-chip 28nm MDM9615 LTE baseband. Apple claims support for EDGE, EV-DO, HSPA, HSPA+, DC-HSDPA and LTE. The WiFi gets updated to dual-band 2.4GHz and 5GHz 802.11a/b/g/n, using 20MHz channels Apple can hit a peak link rate of 150Mbps over WiFi.
The display sees a big upgrade from 3.5-inches to 4-inches diagonally. The new resolution is 1136 x 640, same width but with a taller height (16:9 ratio). Legacy applications will be letterboxed until they are updated to support the added real estate. Within iOS the biggest change will be a fifth row of icons on the home screen; along with added content within apps like the calendar and Mail.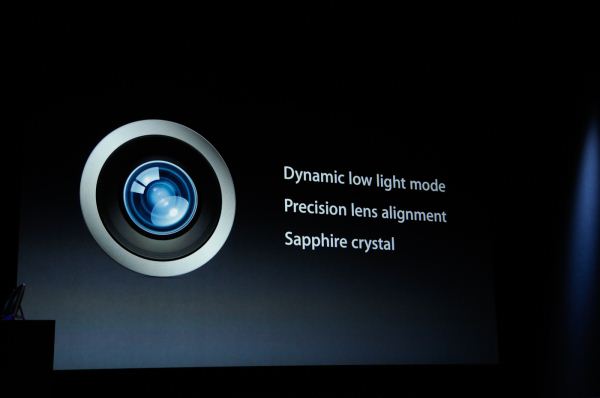 The camera saw an upgrade in silicon and software, though it seems to be the same optical package as the previous generation. Multiple stills will be integrated for better low light performance, in an all ISP solution. The package has been reduced in size by 25%, it's unclear whether that will have any effect on image quality, though. The software has been updated to included a panorama mode that yields 28MP images. Video performance on the front facing camera gets boosted to 720p and now bears that FaceTime HD moniker, while rear-facing video gets better image stabilization and face detection while shooting.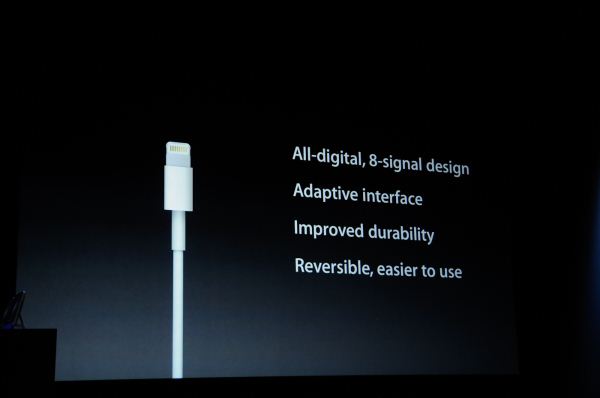 The iPhone 5 includes three mics, including support for beam forming. The ear piece also now features a noise cancelling feature. As expected there's a new dock connector: the 8-pin Lightning connector. The Lightning connector is reversible and significantly smaller than the previous 30-pin dock connector introduced in 2003.
Pricing hews to tradition, with configurations starting at 16GB and $199 and adding $100 to the price at each step up in storage (32GB and 64GB). The rest of the lineup shuffles its way down, with the iPhone 3GS being led of stage, and putting the iPhone 4S at $99 and the iPhone 4 gratis, all on contract of course. Preorders start September 14th and will be available in stores September 21st.
Physical Comparison
Apple iPhone 4
Apple iPhone 4S
Apple iPhone 5
Samsung Galaxy S 3
Height
115.2 mm (4.5")
115.2 mm (4.5")
123.8 mm (4.87")
136.6 mm (5.38")
Width
58.6 mm (2.31")
58.6 mm (2.31")
58.6 mm (2.31")
70.6 mm (2.78")
Depth
9.3 mm ( 0.37")
9.3 mm ( 0.37")
7.6 mm (0.30")
8.6 mm (0.34")
Weight
137 g (4.8 oz)
140 g (4.9 oz)
112 g (3.95 oz)
133 g (4.7 oz)
CPU
Apple A4 @ ~800MHz Cortex A8
Apple A5 @ ~800MHz Dual Core Cortex A9
Apple A6 (Custom Apple ARM CPU)
1.5 GHz MSM8960 Dual Core Krait
GPU
PowerVR SGX 535
PowerVR SGX 543MP2
PowerVR SGX 543MP3(?)
Adreno 225
RAM
512MB LPDDR1-400
512MB LPDDR2-800
1GB LPDDR2-1066
2GB LPDDR2
NAND
16GB or 32GB integrated
16GB, 32GB or 64GB integrated
16GB, 32GB or 64GB integrated
16GB or 32GB NAND with up to 64GB microSDXC
Camera
5MP with LED Flash + Front Facing Camera
8MP with LED Flash + Front Facing Camera
8MP with LED Flash + 720p Front Facing Camera
8 MP with LED flash + 1.9 MP front facing
Screen
3.5" 640 x 960 LED backlit LCD
3.5" 640 x 960 LED backlit LCD
4" 1136 x 640 LED backlit LCD
4.8" 1280 x 720 HD Super AMOLED
Battery
Integrated 5.254Whr
Integrated 5.291Whr
Integrated ?? Whr
Removable 7.98 Whr