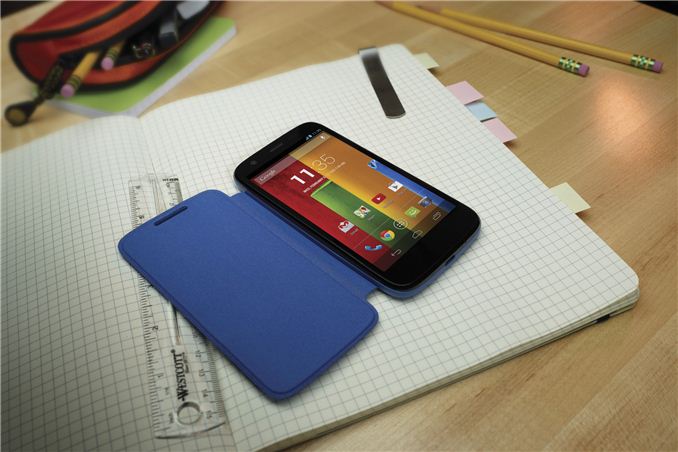 Earlier this morning Motorola announced the Moto G, the second member of its new smartphone lineup and a far more affordable alternative to the Moto X we reviewed back in August. The Moto G is available this week in Brazil and parts of Europe. Canada, Latin America, more of Europe and parts of Asia will get the device in the coming weeks. In the US we'll see the Moto G in early January. India, the Middle East and more of Asia will also get the Moto G in January. The big news here is the price: the Moto G will be available at $179 for an 8GB model or $199 for the 16GB model, unlocked and off-contract. The largest growth market for smartphones over the coming years is going to be at lower price points, so it makes complete sense that the Moto G would be the next release in the new Moto family.
To hit significantly lower price points than the Moto X, we see a number of changes. First and foremost is the adoption of Qualcomm's MSM8x26 SoC, branded as Snapdragon 400. The S400 implementation in the Moto G features four ARM Cortex A7 cores running at up to 1.2GHz and Qualcomm's Adreno 305 GPU. As Brian quickly pointed out after the announcement, Motorola is now in the unique position of shipping a quad-core SoC in its lower end phone and a dual-core SoC in its flagship. Obviously the other members of Motorola's X8 system (NLP & Contextual processors) are absent from the Moto G as well. In practice this means features like Motorola's active display and always on voice commands aren't present on the Moto G.
On the connectivity side, Moto G is listed as supporting GSM/GRPS/EDGE/UMTS/HSPA+ (21Mbps) or CDMA/EVDO Rev.A. There's no LTE support, at least on the version being launched today. Brian suspects that the US delay may be to move to Qualcomm's MSM8926 with integrated category 4 LTE modem, but we'll have to wait until January to find out.
With the Moto G we see a reduction in memory size from 2GB down to 1GB compared to the Moto X, as well as less NAND on-board (8/16GB vs. 16/32GB). Motorola also drops 802.11ac and 5GHz WiFi support. The front and rear facing cameras also see a downgrade compared to the Moto X, but that's to be expected as Motorola's 10MP clear pixel camera was quite costly to implement. The Moto G features a 4.5-inch 720p display, likely LCD based as there's no AMOLED requirement thanks to the absence of Motorola's Active Display.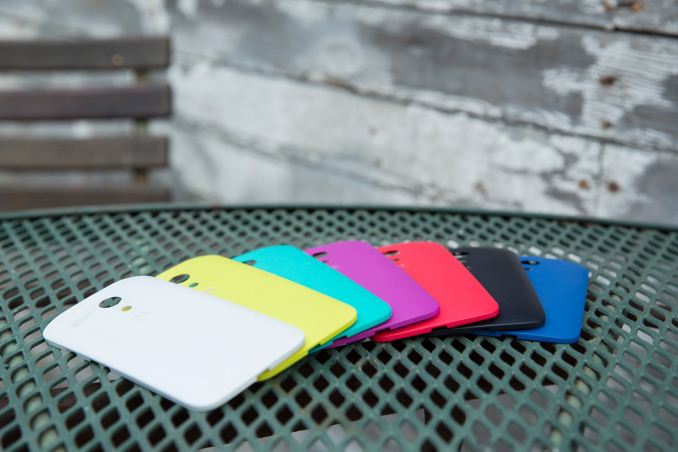 The Moto G's chassis is clearly Moto X inspired, although slightly taller/wider and thicker. Customization is still a theme of the Moto lineup, but with the Moto G that customization comes through removable back covers. Motorola offers a total of 19 customization options: Motorola Shells that replace the back cover, Grip Shells that have a thicker, rubberized frame for better protection and Flip Shells that include a magnetic flip cover for the display.
Moto G
Moto X
SoC
Qualcomm Snapdragon 400 (MSM8x26) 1.2GHz
Quad-Core Cortex A7 + Adreno 305
Qualcomm Snapdragon S4 Pro (MSM8960Pro) 1.7 GHz
Motorola X8 System (SoC+NLP Processor+Contextual Processor)
Display
4.5-inch 1280x720
4.7-inch AMOLED (RGB) 1280x720
RAM
1GB
2GB LPDDR2
WiFi
802.11b/g/n, BT 4.0
802.11a/b/g/n/ac, BT 4.0
Storage
8 GB/16 GB, 2 years 50 GB Google Drive
16 GB standard, 32 GB online, 2 years 50 GB Google Drive
I/O
microUSB 2.0, 3.5mm headphone
microUSB 2.0, 3.5mm headphone, NFC, Miracast
OS at Launch
Android 4.3
Android 4.2.2
Battery
2070 mAh
2200 mAh, 3.8V, 8.36 Whr
Size / Mass
65.9 x 129.9 x 6.0-11.6 mm, 143 grams
65.3 x 129.3 x 5.6-10.4 mm, 130 grams
Camera
5 MP Rear Facing
1.3 MP Front Facing
10 MP Clear Pixel (RGBC) with 1.4µm pixels Rear Facing
2 MP 1080p Front Facing
Price
$179 (8 GB), $199 (16 GB) off-contract
$199 (16 GB), $249 (32 GB) on 2 year contract
The Moto G will ship with a mostly stock version of Android 4.3, and Motorola is committing to an upgrade to KitKat in January 2014.