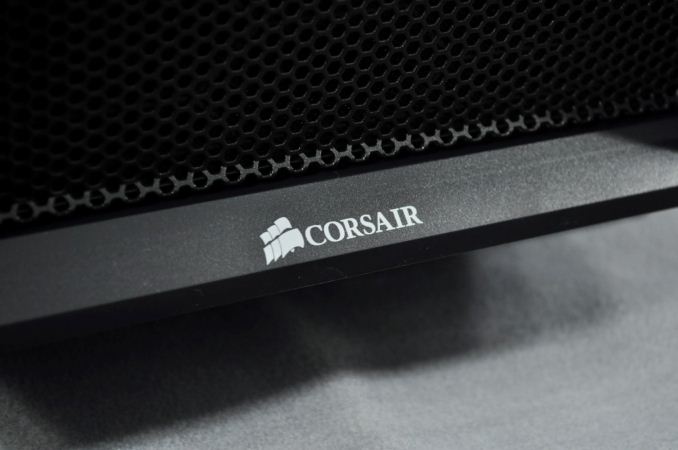 Corsair Graphite 760T: Introduction and Packaging
Corsair has been releasing one case after another lately, expanding their already large ranks with an even greater variety of products. It has been less than three months since the release of the Obsidian 250D, a cubic Mini-ITX case, and only two days since another member of the Obsidian series, the Midi-ATX Obsidian 450D, has been announced. Today, Corsair announced the release of yet another case, the Graphite 730T/760T.
Unlike the Obsidian 450D, which was released in order to fill a specific gap into the already heavily populated Obsidian series, the release Graphite 730T/760T does not appear to have such a purpose. There are only two Graphite cases currently available, the 230T and the 600T and, considering the MSRP of the Graphite 730T/760T versions and that its aesthetic design is similar to that of the 230T, it seems more likely that it has been released as a replacement for the 600T rather than having products that will coexist. As such, the primary changes will be a modified aesthetic and improved performance.
We should clarify that the 730T and the 760T are essentially the same case; the major difference is that the former has an opaque left panel and the latter an acrylic window. The Graphite 760T also has a basic 2-speed fan controller installed and will become available in both Black and Arctic White colors. It is the Arctic White version of the Graphite 760T that we will be reviewing today. Corsair informed us that the new Graphite cases will become available through North American retailers in late April.
Corsair Graphite 760T Specifications
Motherboard Form Factor
Mini-ITX, Micro-ATX, ATX, EATX, XL-ATX
Drive Bays
External
3 x 5.25"
Internal
6 x 2.5"/3.5" (front drive cage)
6 x 2.5"/3.5" (optional front drive cages)
4 x 2.5" (rear of motherboard tray)
Cooling
Front
2 x 120 / 140mm (2 x 140mm included)
Rear
1 x 140mm (included)
Top
3 x 120mm / 140mm (optional)
Left Side
-
Bottom
optional 120mm (drive cage must be removed/relocated)
Radiator Support
Front
Up to 240mm / 280mm
Rear
120mm / 140mm
Top
Up to 360mm / 280mm
Side
-
Bottom
120mm
I/O Port
2 × USB 3.0
2 × USB 3.0
1 × Headphone
1 × Mic
Fan Speed Toggle
Power Supply Size
ATX
Clearances
HSF
180mm
PSU
Any
GPU
340mm (with drive cage)
460mm (without drive cage)
Dimensions
568mm × 246mm × 564mm (H×W×D)
22.4 in × 9.7 in × 22.2 in (H×W×D)
Prominent Features
Hinged side panel with full window
360mm radiator support
Removable magnetic top panel
Two-speed fan control
Side-mounted tool-free SSD trays
Removable, reconfigurable 3.5" drive cages
Price
189 USD (MSRP)
The Graphite 760T comes in Corsair's traditional and visually simple brown cardboard box, the proportions of which hint that this is not a typical Mid-Tower case. Printed on the box are a schematic of the case and a short presentation covering its most important features. Inside the box, the case is wrapped inside a cloth-like bag and protected by very thick expanded polyethylene foam slabs.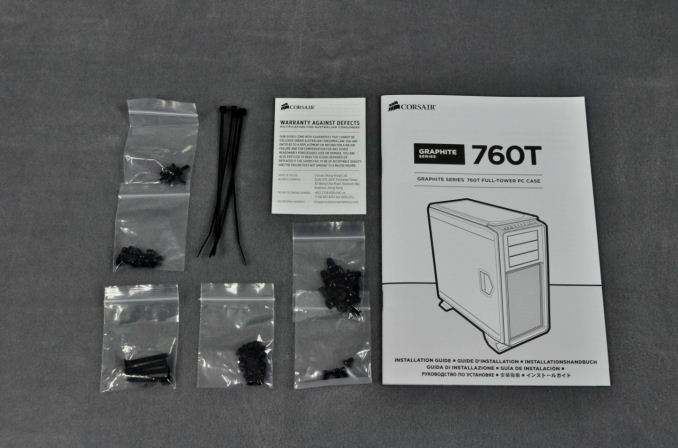 The bundle of the Graphite 760T is very basic, especially considering the class of the case. Corsair only supplies the necessary screws and bits, a few short cable ties, and an installation guide. There are no cable straps or any other additional extras. The only positive thing about the bundle is that the supplied parts are black. If you like getting "extras", this is disappointing, but for some users the extras would simply be more clutter.