Compute
The XPS 15 is not marketed as a gaming laptop, and while any gaming laptop can pull double duty, people buying the XPS 15 may not be interested in gaming at all. The GPU can still be leveraged for certain workloads such as photo and video editing. The parallel computing power of the GPU makes it a great choice for these types of tasks.
CompuBench







The only other device we've tested with Kishonti's CompuBench is the dGPU version of the Surface Book. I felt it would be a nice comparison to see just how much more performance the GTX 960M would give in compute tasks. Compared to just integrated graphics, there is a big jump in performance from both of the discrete cards, but the GTX 960M is roughly double the performance of the GT 940M in the Surface Book. If you need compute power, you get a lot more in the XPS 15 with the quad-core processor and much more powerful GPU.
Storage Performance
Dell does offer the XPS 15 with a mechanical hard drive as the baseline option, but once you step up a couple of tiers it can be outfitted with a PCIe based SSD, and in the case of our review unit it is the Samsung PM951. This has become incredibly popular it seems, since it lets companies check the box beside PCIe on storage, but unfortunately it is a TLC based drive so write speeds aren't as high as what we've seen MLC-based PCIe drives do. Clearly Samsung is aggressive with the pricing on this drive since it is in pretty much every device we've seen that has PCIe storage.
Recently PCMark 8 updated their testing for storage to better differentiate drives with NVMe storage. As such, the existing scores are no longer comparable with those from the new suite. The XPS 15 scored 5036 in the new test, but we'll need more devices tested in order to have something to compare it to.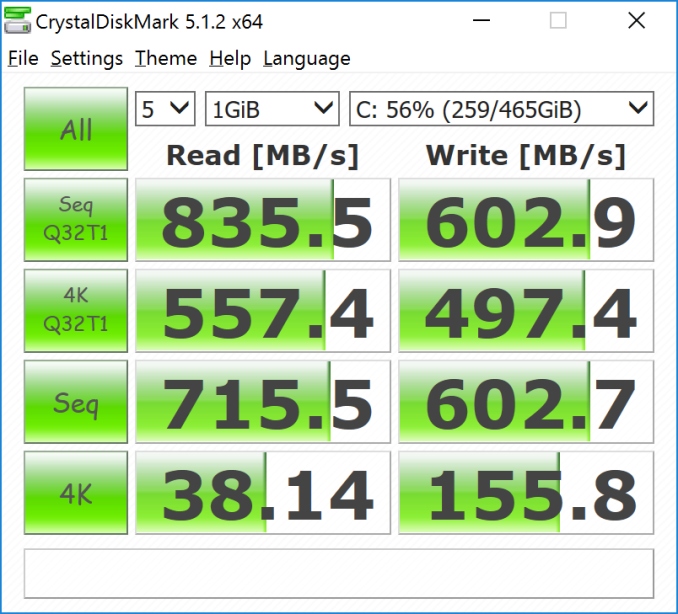 Despite the TLC NAND, Dell shipped the 512 GB version of the XPS 15, so it has enough NAND dies to help the write speeds through parallel work, keeping even this slower TLC drive performant over short bursts. I actually expected read speeds to be a bit higher as well but over 800 MB/s is still faster than what SATA drives can do.