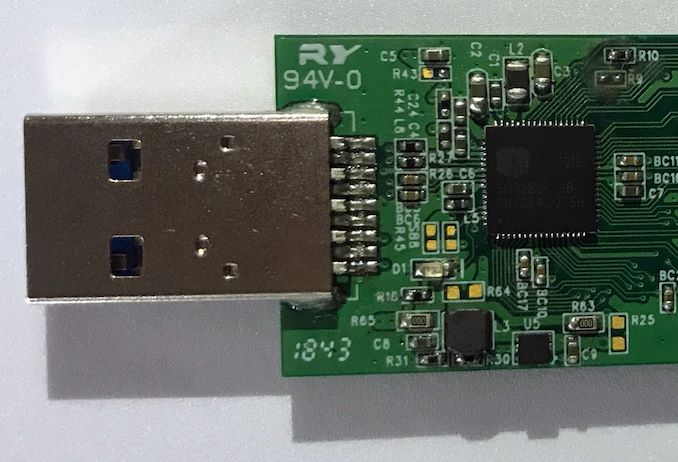 Silicon Motion has introduced its first single-chip controller for portable USB SSDs. The SM3282 promises to enable makers of portable drives to offer up to 400 MB/s sequential read speeds in a cost-efficient manner previously unachievable by external SSDs.
Silicon Motion's SM3282 chip packs a USB 3.0 (aka USB 3.2 Gen 1) controller alongside an SSD controller featuring 2 NAND channels with 4 CE (Chip Enables) per channel, integrated 3.3V/2.5V/1.8V/1.2V voltage regulators, and other necessary things. The chip comes in a 68-pin QFN package and supports the latest types of 3D NAND memory (including 3D TLC and 3D QLC memory featuring up to 96 layers) from all leading suppliers of flash. It also supports both USB Type-A as well as USB Type-C connectors.

Previously, makers of external SSDs had to use a USB-to-PCIe bridge alongside an SSD controller to build their products, which greatly increased BOM costs as well as the final price. The SM3282 packs all the necessary functionality into a single chip and thus reduces BOM cost of external SSDs.
As far as performance is concerned, the SM3282 can enable external SSDs featuring up to 400 MB/s sequential read and write speeds. Meanwhile, producers of actual SSDs tend to use different types of memory with different interface speeds, so performance of actual devices will vary.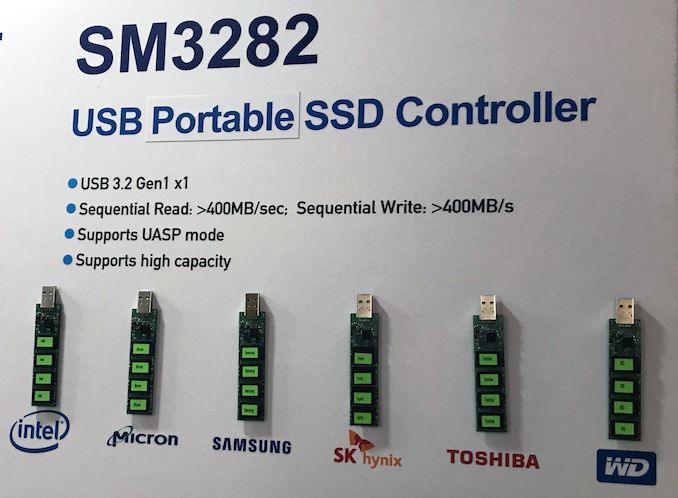 This week Silicon Motion is demonstrating prototype external SSDs based on the SM3282 at Computex. Expect commercial drives powered by the controller to be available in the coming quarters at a variety of price bands.
Want to keep up to date with all of our Computex 2019 Coverage?

Laptops

Hardware

Chips
Follow AnandTech's breaking news here!