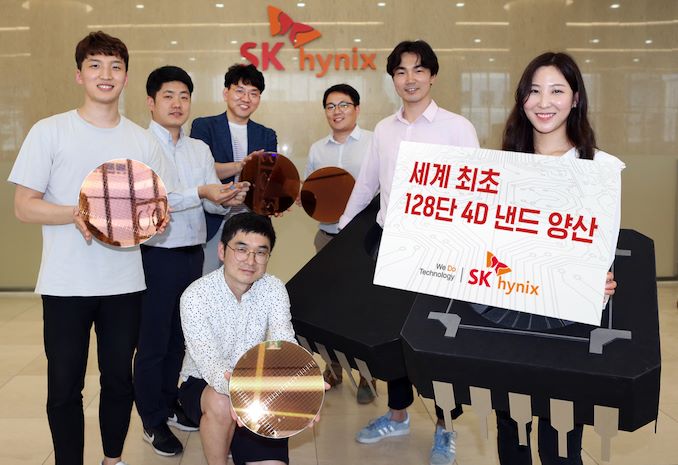 SK Hynix has announced it has finished development of its 128-layer 1 terabit 3D TLC NAND flash. The new memory features the company's charge trap flash (CTF) design, along with the peripheral under cells (PUC) architecture that the company calls '4D' NAND, announced some time ago. The new 128-layer TLC NAND flash devices will ship to interested parties in the second half of this year, and SK Hynix intends to offer products based on the new chips in 2020.
1 Tb 128-Layer '4D' TLC NAND
SK Hynix's 1 Tb 128-layer TLC NAND chip features four planes as well as a 1400 MT/s interface at 1.2 Volts. The quad-plane architecture along with a 1400 MT/s I/O bus will make the new TLC NAND devices not only significantly denser (in terms of Gb per mm2) than previous-generation products, but also at least 16% faster. In fact, real-world performance increase could be even higher as SK Hynix once said that its CTF design would enable a faster program time (tPROG) as well as a faster read time (tR).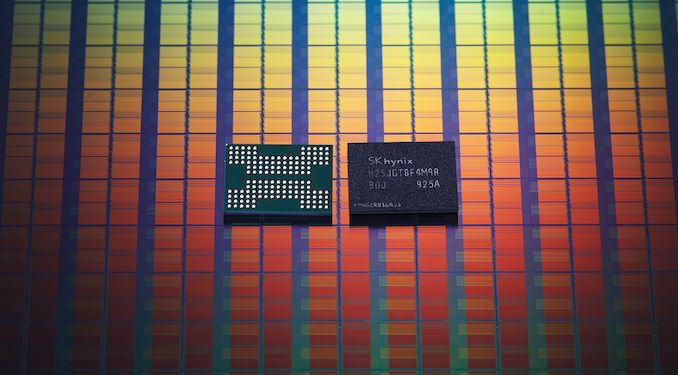 To stack 128 layers inside its 6th Generation 3D NAND chips, the company had to use a multi-stacked design along with numerous new technologies, including ultra-homogeneous vertical etching technology as well as high-reliability multi-layer thin-film cell formation technology. Meanwhile, to increase performance of the I/O bus without increasing power consumption of the device, SK Hynix implemented its ultra-fast low-power circuit design.
It is noteworthy that transition to CTF + PUC architecture, along with various optimizations, enabled SK Hynix to reduce the number of process steps by 5% as well as increase bit productivity per wafer by 40% when compared to 96-layer TLC NAND. As a result, we should expect to see the new NAND run through the entire product lineup in due course.
Various Applications
SK Hynix and its partners will use the company's 1 Tb 128-layer TLC NAND chip for a variety of applications.
"SK Hynix has secured the fundamental competitiveness of its NAND business with this 128-Layer 4D NAND," said Executive Vice President Jong Hoon Oh, head of global sales & marketing. "With this product, with the industry's best stacking and density, we will provide customers with a variety of solutions at the right time."
Initial 1 Tb 128-layer TLC NAND chips that SK Hynix will start shipping in the second half of the year will be used primarily for mobile storage devices, such as USB drives and memory cards.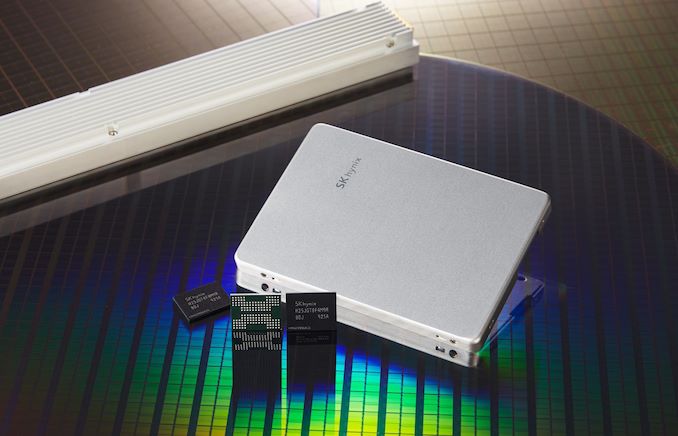 In the first half of next year SK Hynix promises to roll out its UFS 3.1 storage products based on the new 1 Tb devices. The company plans to offer 1 TB UFS 3.1 chips that will consume up to 20% less when compared to similar products that use 512 Gb ICs.
Later in 2020, SK Hynix intends to offer 2 TB client SSDs based on its own controller, as well as 16 and 32 TB server SSDs for datacenters ,.
176-Layer 4D NAND Incoming
String stacking technology, as well as the multi-stacked design, will enable SK Hynix to keep increasing the number of layers. SK Hynix says that it is currently developing 176-layer 4D NAND flash, but does not disclose when it is expected to become available.
Related Reading
Source: SK Hynix