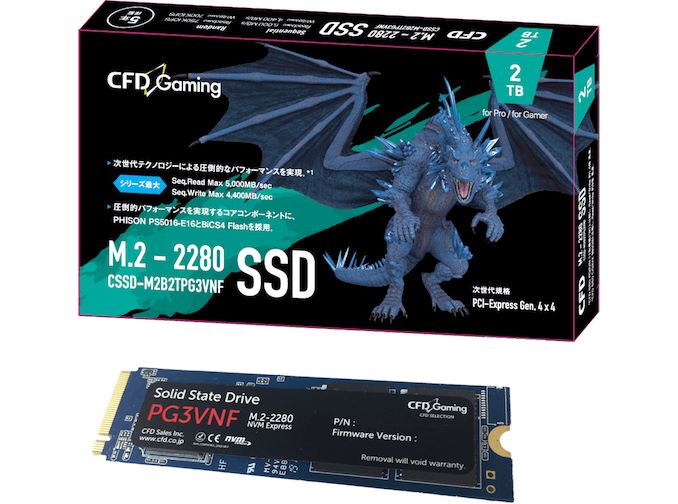 We spotted Phison PS5016-E16-based SSDs from over half of a dozen of companies at Computex several weeks ago and we are sure there are many more to come. While almost all suppliers demonstrated peak sequential read/write performance numbers of their upcoming drives, nobody showcased random read/write performance numbers. Last week Japan-based CFD company introduced its PS5016-E16-based drives and finally revealed all the information about their speed.
Because all Phison PS5016-E16-powered SSDs feature a PCIe 4.0 x4 interface, it is natural that they offer sequential read/write speeds of up to 5.0/4.4 GB/s which significantly exceed performance of contemporary high-end drives featuring a PCIe 3.0 x4 interface. Meanwhile, in real life random read/write performance affects user experience far more substantially than peak sequential read/write speeds and yet these numbers in case of PS5016-E16-based drives have never been disclosed until recently.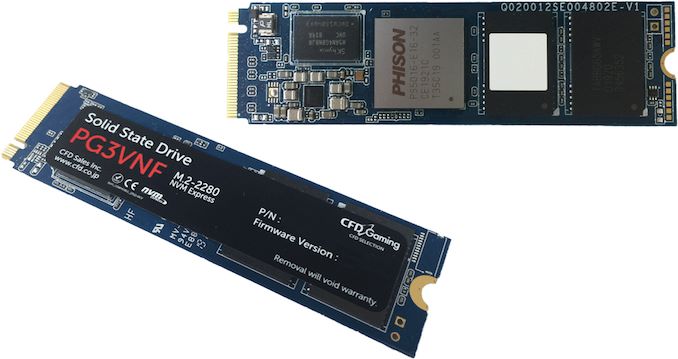 Fortunately, CFD published all the details about its PG3VNF SSDs, including random read and write performance numbers. As it appears, 1 TB and 2 TB versions of the drives offer up to 600K IOPS random read as well as up to 500K IOPS random write speeds. When compared to Phison PS5012-E12-based Corsair's MP510, the new drives are not necessarily faster.
Phison-Based SSD Comparison
Model
CFD PG3VNF
500 GB
CFD PG3VNF
1 TB
CFD PG3VNF
2 TB
Corsair MP600
Corsair MP510
Form Factor
double-sided
M.2 2280
double-sided
M.2 2280
(with heatsink)
double-sided
M.2 2280
Interface
NVMe, PCIe 4.0 x4
NVMe, PCIe 3.0 x4
Controller
Phison PS5016-E16
Phison PS5012-E12
NAND Flash
Toshiba BiCS4 3D TLC
undisclosed 3D TLC
Toshiba 64-layer 3D TLC
Capacities
500 GB
1 TB
2 TB
?
240GB–1920GB
Sequential Read (max)
5000 MB/s
4950 MB/s
3480 MB/s
Sequential Write (max)
2500 MB/s
4400 MB/s
4250 MB/s
3000 MB/s
Random Read (max)
400K IOPS
600K IOPS
?
610K IOPS
Random Write (max)
550K IOPS
500K IOPS
?
570K IOPS
Warranty
5 years
Write Endurance
?
?
?
?
1.0 DWPD
TBW
850 TBW
1800 TBW
3600 TBW
?
?
Release Date
July 2019
October 2018
Considering the fact that the Phison PS5016-E16 controller is essentially the PS5012-E12 controller with a PCIe 4.0 x4 interface, it is not surprising that the new drives hardly offer any improvement when it comes to random read and write speeds. On the other hand, since the SSDs offer substantially higher sequential read and write speeds, they will still provide advantages over existing drives.
SSDs powered by the Phison PS5016-E16 controller will be released later in July after AMD and its partners start to sell platforms that support the PCIe 4.0 technology.
Related Reading: