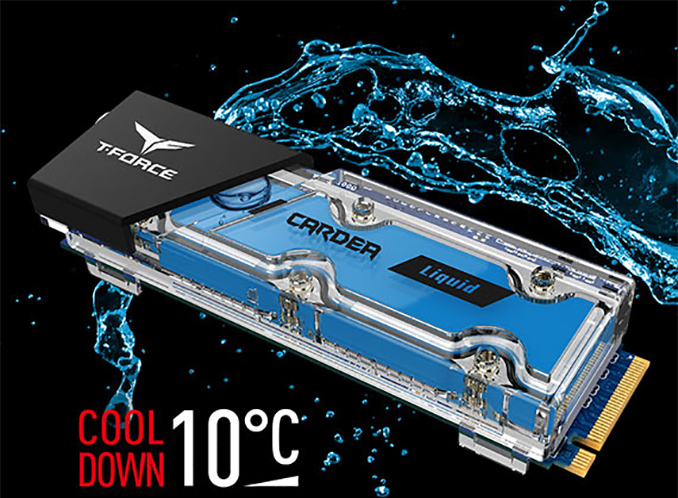 With liquid cooling options already available for most PC components, it was only a matter of time until someone did it for PC storage as well. And now that point has come, thanks to Team Group and its T-Force Cardea Liquid M.2 PCIe Gaming SSD.
True to its name, the T-Force Cardea Liquid M.2 PCIe Gaming SSD is an M.2 SSD relying on water cooling to keep its temperature in check. And while it's not a looped cooling device – despite using liquid cooling, it's still a stand-alone, closed device that doesn't get plugged in to an open loop system – it's none the less a novel step in developing more exotic SSD cooling systems. Using their liquid cooling module, Team Group says that their cooling system will reduce temperature of the drive by 10ºC when compared to a SSD without a heat sink.
The cooling system of the T-Force Cardea Liquid is relatively simple. The liquid cooling module relies on the self-circulation effect by separating the water block into two chambers. When the coolant in the chamber above the controller/memory gets hot, it flows to the second chamber to cool down. Essentially, the aluminum water block acts like a vapor chamber, but uses a mainstream coolant instead of a specialized low boiling point liquid. This kind of cooler is cheap to make, and since it is shipped without any water inside (it's designed to be filled by the end user), there is no risk of leakage during shipping. Because it's still a closed cooling system, the SSD and its cooling module still requires a good airflow inside the PC case to pull heat away and out of the system, but using a liquid to cool down a high-end SSD is certainly an innovative method.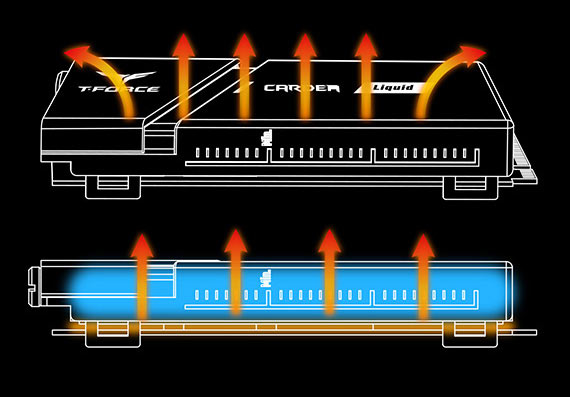 Set to be available in 256 GB, 512 GB, and 1 TB versions, the T-Force Cardea Liquid is compatible with any desktop PC featuring an M.2-2280 slot supporting a PCIe 3.0 x4 interface. With that said, the the drive is far taller than normal SSDs at 14.1 mm high, so one has to make sure there is enough space around it to fit.

The liquid-cooled SSD from Team Group is based on Phison's PS5012-E12 controller as well as 3D TLC NAND from an undisclosed manufacturer. When it comes to performance, the top-of-the-range 1 TB model of the T-Force Cardea Liquid will offer up to 3400 MB/s sequential read speed, up to 3000 MB/s sequential write speed (when pSLC caching works), up to 450K IOPS random read speed, and up to 400K IOPS random write speed. Since this is a consumer SSD, we are talking about peak numbers here.
Team Group T-Force Cardea Liquid M.2 PCIe SSD Specifications
Capacity
256 GB
512 GB
1 TB
Model Number
TM8FP5256G0C119
TM8FP5512G0C119
TM8FP5001T0C119
Controller
Phison PS5012-E12
NAND Flash
3D TLC NAND
Form-Factor, Interface
M.2-2280, PCIe 3.0 x4, NVMe 1.3
Sequential Read
3000 MB/s
3400 MB/s
Sequential Write
1000 MB/s
2000 MB/s
3000 MB/s
Random Read IOPS
200K IOPS
350K IOPS
450K IOPS
Random Write IOPS
200K IOPS
300K IOPS
400K IOPS
Pseudo-SLC Caching
Supported
DRAM Buffer
?
TCG Opal Encryption
No
Power Management
?
Warranty
3 years
MTBF
2,000,000 hours
TBW
>380 TB
>800 TB
>1665 TB
Additional Information
Link
MSRP
?
$100.99
$169.99
Team Group will start selling its T-Force Cardea Liquid drives in the near future. Pricing is something that remains to be seen, but keep in mind that this is a high-end SSD family.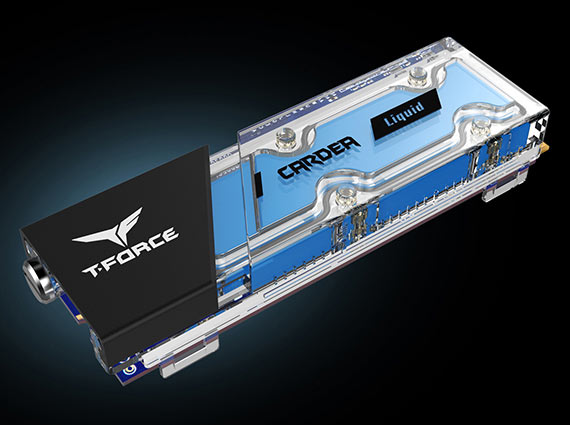 Related Reading:
Source: Team Group