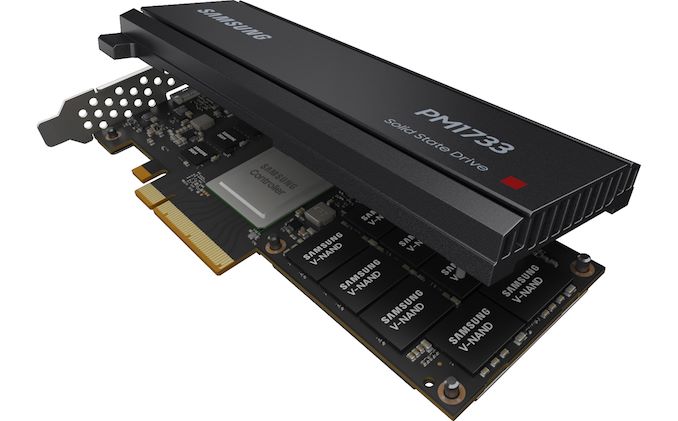 With the launch of AMD's new second generation "Rome" EPYC processors, AMD's numerous hardware partners have been lining up to announce their own wares built around the new processors. And this doesn't just go for OEMs and integrators, but it also extends to component suppliers who have been eagerly awaiting the first x86 server processor with PCIe 4.0 support. To that end, yesterday Samsung sent out an announcement confirming that their previously announced PM1733 enterprise SSD supports AMD's new processors, and that just in time for inclusion in Rome systems, they'll be shipping this quarter.
Samsung first announced the PM1733 last fall, as part of its general SSD roadmap update for the then-forthcoming year. The PM1733 is the successor to their PM1723b enterprise SSD, and is designed to take advantage of the bandwidth advances provided by PCIe 4.0. Based on the company's proprietary controller and paired with 512 Gb 5th Generation V-NAND memory chips, the drive family is rated for read speeds of up to 8 GB/second.
Interestingly, Samsung is offering both PCIe 4.0 x4 and x8 versions of the SSDs, with the U.2 versions using a x4 interface while the alf-length half-height (HHHL) card versions will use x8. The U.2 drives with dual-port capability will offer capacities of up to 30.72 TB, whereas the HHHL cards will carry up to 15.36 TB of useful V-NAND flash.
Overall, Samsung's focus on the drive in terms of specifications is on the drive's read performance rather than its write performance. Along with its 8 GB/sec rated sequential read speed, Samsung says the PM1733 can handle random reads of up to 1500K IOPS, which would make the PM1733 among the fastest drives announced so far.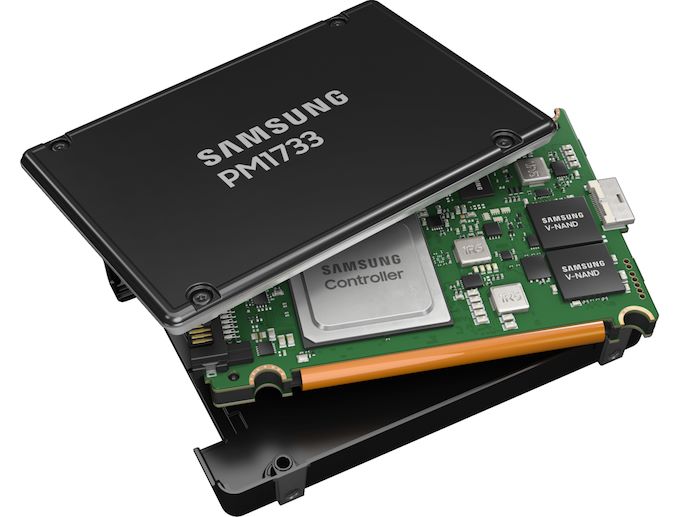 Samsung will start shipments of its PM1733 SSDs this quarter. Among x86 platforms, the PCIe 4.0 capabilities of the drives will only be available on AMD EPYC 7002 and AMD Ryzen 3000 platforms, but the devices will also work with current PCIe 3.0 platforms from Intel and AMD. The manufacturer has not disclosed prices of the new PM1733 SSDs so far.
Related Reading:
Source: Samsung