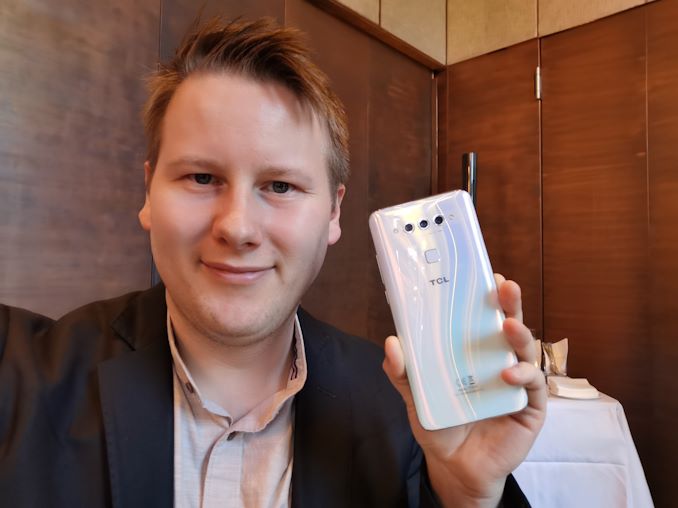 As one of the world's largest TV manufacturers, with its hands in a lot of other things, TCL is a fairly common name among certain regions of the world. The company also does the hardware for a number of smartphone brands already, namely Blackberry and Alcatel, but this year at IFA, executives were keen to launch TCL as its own smartphone brand, as well as showcasing new smartphone technologies like foldable displays. TCL is coming to the market with its first device, the TCL Plex, very soon, and we had a chance to see the hardware in action.
Going for Brand Recognition: TCL as a Smartphone Company
So I'll be honest, being a UK citizen and residing in London means that TCL doesn't pop into my ecosystem that often. It just isn't that much of a brand here, at least on its own branded products. However whenever I visit the US, at least a dozen times a year, TCL is in full swing. The two brands from TCL that I do recognize back home are Blackberry, for its keyboard based devices, and Alcatel is popular on the continent for its low cost and very good value-for-money entry smartphones. However, TCL wants to play in more in just these markets, and wants to provide competitive mid-range (and potentially high-end) hardware for the mass market under its own name.
TCL's representatives described the process as using its prowess in display technology and applying it to the smartphone market. They want to be a competitive player – they don't need to be on the bleeding edge in the premium markets, they're happy for others to do that and take the risk, but they also understand that at certain price points, they want to certainly be better than the average offering. Through that, they will grow the brand and expand globally, looking at reception and how the market responds. That process all starts with the TCL Plex.
TCL Plex Hands-On
The first thing to note about the TCL Plex is that it looks like a high-quality smartphone on first inspection. In particular the Opal White color stands out with a polished finish, coupled with a tri-reflective S-design that moves through the light. The rear also takes cues from the Huawei P20 design, with that unified camera band on the rear, but TCL has implemented a symmetric tri-camera dual-flash setup that is a very aesthetically pleasing. TCL has the design of the rear of the Plex done right, which is a great result for a first own-brand product.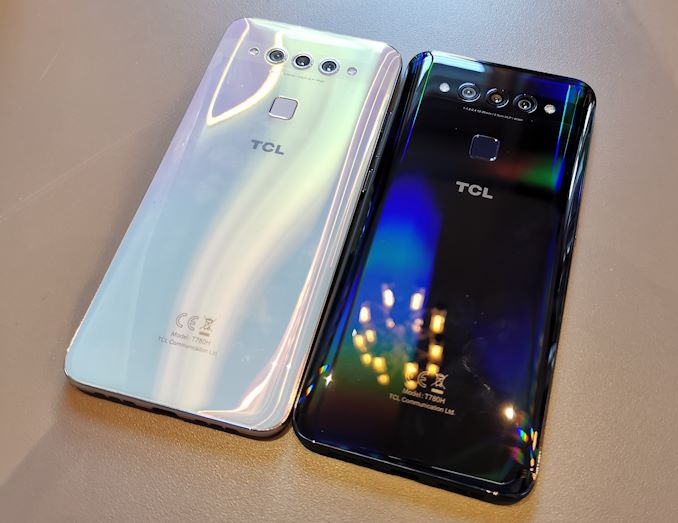 The front of the Plex shows the 6.53-inch LCD display with its pin-hole front facing camera in the corner. The display is a 1080x2340 resolution, conforming to the 19.5:9 standard, with a screen-to-body ratio of 90%. The display, we are told, is calibrated to be very accurate, with a deltaE less than one (we're still waiting to hear back to which standard it is calibrated). TCL has also bundled into the hardware a Pixelworks based processor, which acts on the display output to upconvert all SDR content (most of it) into HDR for the display. This setting is adjustable in the options, but the idea is to improve the visual fidelity of the majority of content (video, games, pictures) on the smartphone. The exact phrasing was 'to be more true to life'. We have seen this before in tablets, but this might be the first time seeing the Pixelworks hardware in a smartphone – certainly the first at this price range.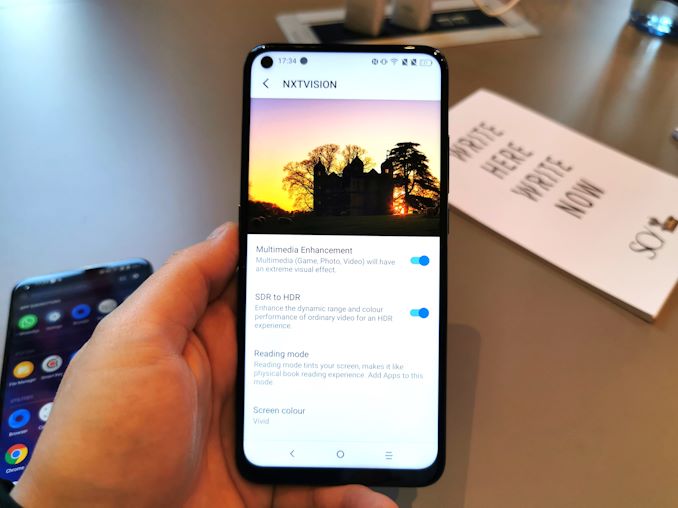 For the camera system, the front facing camera is a 24MP Omnivision OV24B with 0.9 micron pixels and an f/2.0 aperture. It has a 78.2 degree field of vision, supports 1080p30 video, and has Portrait mode as part of the package.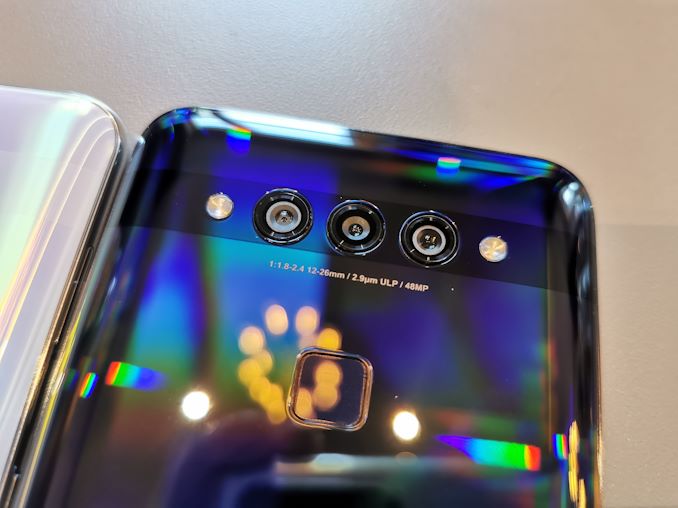 The rear camera system is much more interesting. The main hardware is a 48MP Sony IMX582 that supports 960 FPS slo-mo video (1 second), with an f/1.8 aperture and 0.8 micron pixels. A secondary wide-angle lens is provided by a 16MP Samsung S5K3P9, with 123 degree field of vision, an f/2.4 aperture, and 1.0 micron pixels. The third camera is a dedicated night-vision camera, capable of night-vision video. The 2MP Omnivision OV02K does this with 2.9 micron pixels, allowing for more light per pixel. On either side of the rear camera are single-tone LED flashes, designed to help illuminate scenes not covered by the night-vision camera.
Other hardware inside includes the Qualcomm Snapdragon 675, Adreno 612 graphics, 6 GB of DRAM, 128 GB of UFS 2.1 storage, and support for microSD cards up to 256 GB. The battery Is rated at 3820 mAh, with Quick Charge 3.0 support and 32 minutes to 50%. It has a Type-C USB 2.0 port, a headphone jack, and comes with Android Pie. LTE Band support includes 1/3/5/7/8/20/28/38/40, and the modem is capable of Cat 6 (400 Mbps) download. The device supports dual nano-SIM, with one spot also supporting microSD.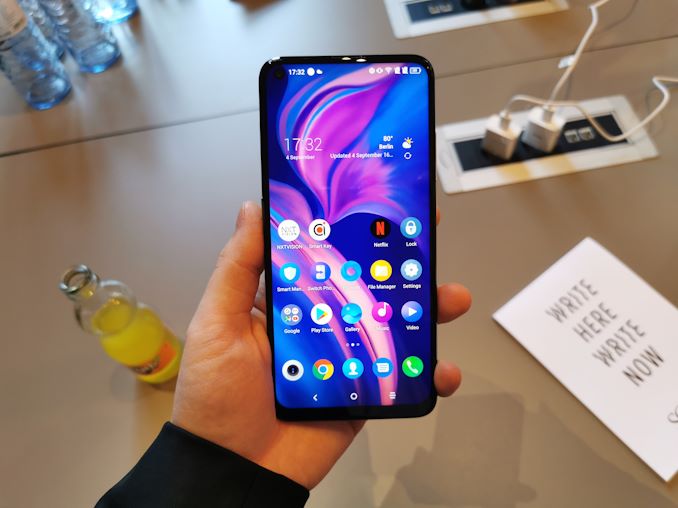 One of the interesting features is the Bluetooth. It comes in as standard Bluetooth 5.0, however TCL have licensed technology from Tempo, who have manipulated the driver stack such that the BT hardware can support four simultaneous connections to headsets and Bluetooth speakers. This technology must be more than a simple time mux, with likely some proprietary algorithms to ensure consistent audio latencies.
TCL did mention that the version of Android they have is very close to a stock Android experience. They have a 'TCL UI', which has modified some of the base apps to more fit a TCL aesthetic, but the end-goal here is to make common apps across all its platforms (TV, smartphone, etc) all have a similar familiar interaction for its users.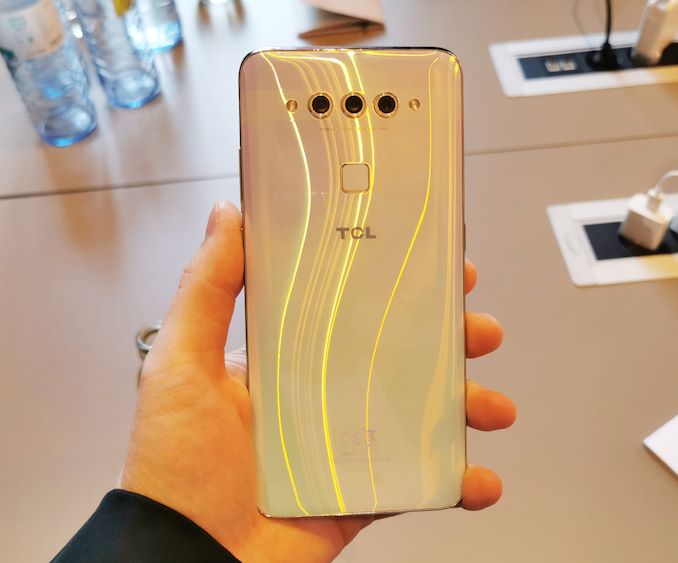 The TCL Plex is only going to be a limited launch – four countries in Europe, and Australia. The idea here is for TCL to find its feet with its own brand first, then look into scaling between regions as well as scaling the number of devices. TCL's aim here is to develop more of a vertically integrated stack for its own-brand smartphone business.
The TCL Plex will be offered shortly in 'Obsidian Black' and 'Opal White', in select regions, with a 6/128 configuration, for $329. That's a great price to be honest for a smartphone of this caliber.