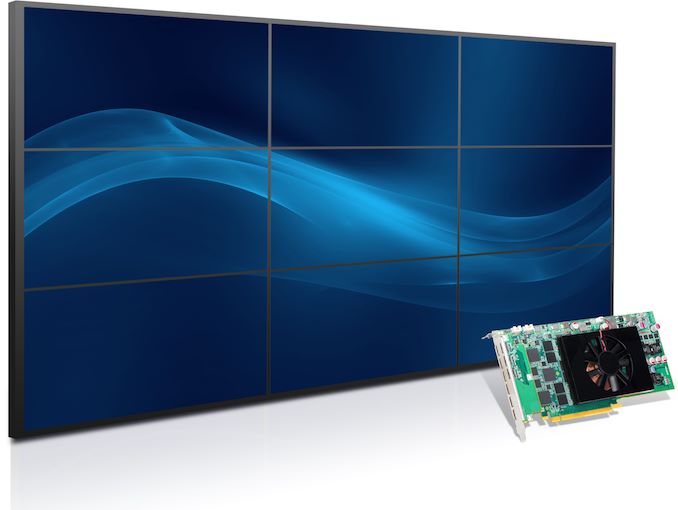 Matrox on Monday announced that Lorne Trottier, a co-founder of Matrox, has acquired 100% ownership of the Matrox group of companies, which includes three divisions: Matrox Imaging, Matrox Graphics, and Matrox Video.
Founded in 1976 by Lorne Trottier and Branko Matić, Matrox may not be a widely-known name among the PC crowd these days as it has been years since the company released its own GPU and essentially quit the market of consumer graphics cards. Back in the day, Matrox's Parhelia and Millennium G400/G450/G550 graphics cards provided superior 2D image quality (something that was very important back in the CRT era), but failed to offer competitive performance in 3D games. This failure led the company to leave the market of consumer graphics cards and focus on niche markets instead. Back in 2014 Matrox officially ceased to design its own graphics processor IP and has been using AMD's Radeon GPUs coupled with its renowned software since then.
In fact, when it comes to multi-display graphics cards and other graphics solutions for various purposes as well as for specialized niche solutions for video and imaging applications, Matrox has rather unique offerings. Serving aerospace, broadcast, financial, cinematography, digital signage, and other industries, Matrox almost certainly earns good profit margins.
It is hard to say how change of the ownership will affect product development and roadmap of Matrox, but usually such changes focuse the companies on their key products, which enables growth.
Since Matrox has always been a privately held company, financial terms of the deal were not disclosed.
Here is what Lorne Trottier had to say:
"This next phase represents a renewed commitment to our valued customers, suppliers, and business partners, as well as to our 700 dedicated employees worldwide. At Matrox, our culture is defined by our passion for technological innovation and product development. We maintain the highest degree of corporate responsibility vis-a-vis production quality and industry standards. I am extremely proud of our accomplishments over our 40-plus-year history and would like to thank my co-founder for his contributions."
He added:
"I look forward to championing a corporate culture defined by forward-thinking business practices, transparency, and teamwork. I am excited to lead this great organization as we implement growth initiatives. Matrox is a great Canadian success story. We owe this success and our bright prospects to the talented and dedicated people at all levels of this organization."
Related Reading:
Source: Matrox