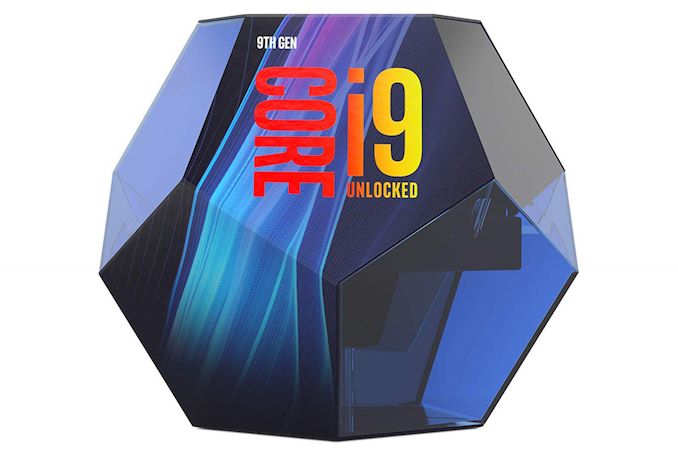 Intel announced plans to launch its eight-core Core i9-9900KS processor along with its performance specifications quite a while ago, but the company did not disclose the TDP. As the processor will have an all-core base frequency of 4.0 GHz and an all-core turbo of 5.0 GHz, this number is vitally important for motherboard support. This week ASUS released a new BIOS version for some of its motherboards that adds support for the Core i9-9900KS and revealed the number.
The Intel Core i9-9900 processor has a base frequency of 4.0 GHz as well as an all-core turbo frequency of 5.0 GHz, which essentially makes it an eight-core Coffee Lake Refresh silicon binned to hit higher clocks when cooling is good enough. As it turns out, in a bid to enable higher frequencies, Intel has increased the TDP all the way to 127 W (according to a listing at ASUS.com), which is considerably higher when compared to any existing (or historical) Intel's CPU for mainstream platforms.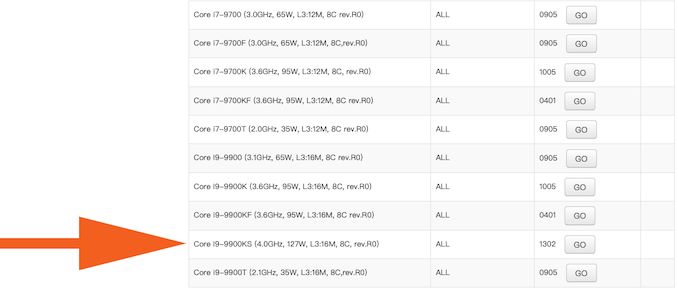 One thing that should be noted is that Intel only guarantees base frequency at a rated TDP (e.g., 4.0 GHz at 127 W), so everything above base (i.e., turbo clocks) means a higher power consumption. As a result, not only will the Core i9-9900KS require a motherboard that can supply 127 W of power and a cooling system that will dissipate 127 W of power, but it will need an advanced platform to hit the turbo clocks. Fortunately, there are plenty of high-end motherboards and coolers around to support the Core i9-9900KS.
Intel 9th Gen Core 8-Core Desktop CPUs
AnandTech
Cores
Base
Freq
All-Core Turbo
Single
Core Turbo
Freq
IGP
DDR4
TDP
Price
(1ku)
i9-9900KS
8 / 16
4.0 GHz
5.0 GHz
5.0 GHz
UHD 630
2666
127 W
?
i9-9900K
8 / 16
3.6 GHz
4.7 GHz
5.0 GHz
UHD 630
2666
95 W
$488
i9-9900KF
8 / 16
3.6 GHz
4.7 GHz
5.0 GHz
-
2666
95 W
$488
i7-9700K
8 / 8
3.6 GHz
4.6 GHz
4.9 GHz
UHD 630
2666
95 W
$374
i7-9700KF
8 / 8
3.6 GHz
4.6 GHz
4.9 GHz
-
2666
95 W
$374
One thing to keep in mind is that the information about the TDP of the Core i9-9900KS comes from a third party (albeit a very reliable one), not from Intel. Intel has confirmed that the new Core i9-9900KS will be released in October.
Related Reading:
Source: ASUS