Design
The latest generation XPS 13 2-in-1 is a stunner. Dell has tweaked the design in all the right areas to create one of the best looking laptops in its class, and it starts with the CNC aluminum chassis. While somehow thinner and lighter than ever, the new design still feels very sturdy. Even with the body ranging from just 7 mm to 11 mm in thickness, there's very little flex in the chassis at all, even with the laptop open. The silver finish on the outside offers a nice texture while being resistant to fingerprints. And even though this is a 2-in-1 laptop, it still only weighs 1.32 kg / 2.9 lbs.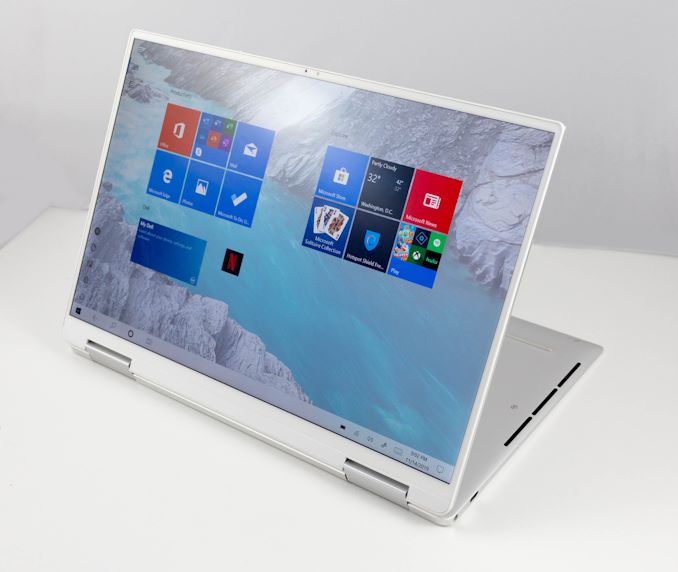 Dell offers two color choices, providing a small bit of personalization that many will appreciate, but the choices only apply to the interior, where you can opt for the more traditional black with the carbon fiber composite keyboard deck, or you can choose an arctic white interior which features a woven glass fiber with a titanium oxide coating to provide a pearlescent sheen, as well as UV protection to prevent yellowing of the color over time, and stain resistance as well. The arctic white looks and feels stunning, with a great texture for your wrists to rest on, although with a negative we will get to in a moment.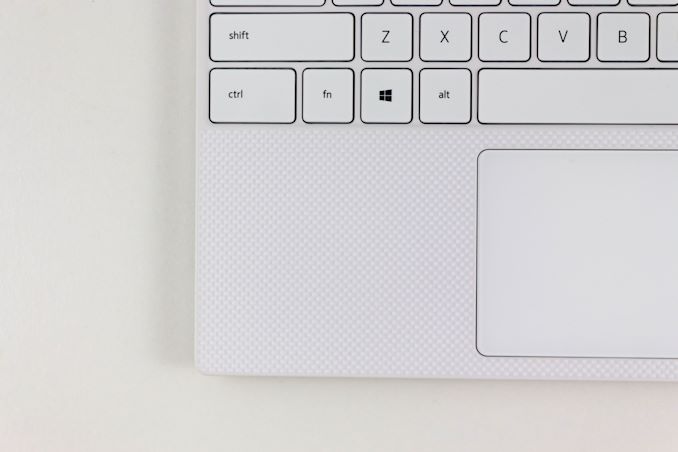 Opening the laptop is a joy, thanks to a variable torque hinge, which gets progressively tighter as the display opens, which allows the laptop to be opened easily, yet still be usable with touch. The hinge rotates and progressively raises the back of the laptop up, which is something that several laptops do that is not great for ergonomics, but the lift is subtle enough that it is not a big issue. Dell has also smartly added rubber pads to the hinge, so when it lifts the rear of the laptop up, it maintains a firm grip on the desk, eliminating one of the biggest issues with this design.

The display area is wonderfully large, and with Dell moving to a 16:10 aspect ratio, the taller display eliminates the large chin seen on many competitors laptops. The thin bezels house a tiny 4-element webcam in the correct location, and although it is just a 720p webcam, Dell is utilizing temporal noise reduction to improve video quality by using multiple frames concurrently to remove graining and noise from the video.
Dell has outfitted the XPS 13 7390 2-in-1 with their second generation MagLev keyboard, and if there was a weak point so far, this would be it. Dell has done this to save space – the MagLev keyboard is 24% thinner than a typical keyboard, and Dell has tuned it to be quieter and softer than before. But the extreme thinness means that there is just not a lot of keyboard travel, and typing on this will take some getting used to. It also means that Dell has flattened out the keys, so touch typists may be caught off-guard by the lack of any kind of contour.
Dell has also placed the power key in the keyboard, which isn't ideal for a 2-in-1 device, and meaning the fingerprint reader may not be in a suitable location when using the laptop. It also means you could accidently turn the laptop off when typing, but Dell is far from being the only one to put the power button here.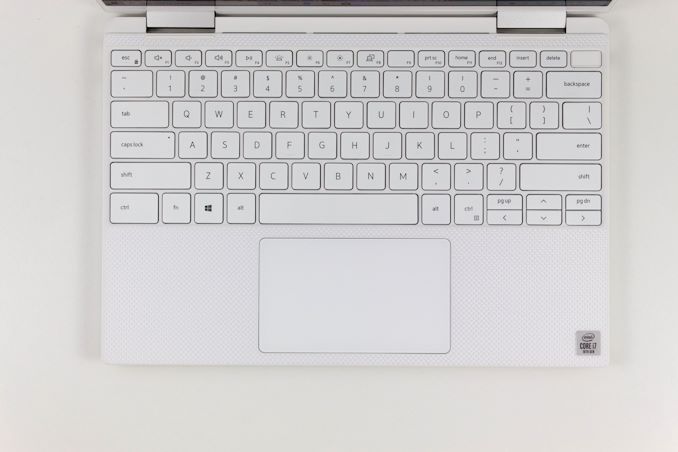 Our review unit is the Artic White model, and while the keyboard deck feels great and the white color is wonderful to look at, white keys with white backlighting is never a good combination; so be aware of that if you do prefer the white. The backlighting wipes out all contrast with the keyboard fonts, as it does on almost any light-colored key cap with a white backlight, and even in dim lighting you may want to leave the backlighting off. Luckily it's not difficult to turn it off and on, but for this reason the black model would be a better functional choice.
PC trackpads have come a long way from the dreary days of old, and Dell offers a signature touchpad on the XPS 13 2-in-1. The surface is extremely smooth glass, offering a great feel and accurate movements. Multiple finger gestures work flawlessly making it easy to switch apps or scroll.
There's not a lot going on as far as ports, with just two USB-C ports with Thunderbolt 3 support with four lanes of PCIe Gen 3 on each. There's also a micro SD card slot, and a 3.5 mm headset jack, and that is it. Luckily, that should be enough for most people looking for a smaller 2-in-1 device, and expandability is still available thanks to the TB3.


Dell has made some other nice touches as well. There's a battery charge indicator bar at the front of the laptop that you can easily see whether the laptop is open or closed, and lets you know at a glance how much battery is charged because the light expands from left to right to show the current charge state, and then turns off completely when the laptop hits 100%. The laser etched logo also works very well with the overall design aesthetic. It is an impressive, modern take on the XPS 13 in 2019, and the added functionality of this being a 2-in-1 adds even more capability.