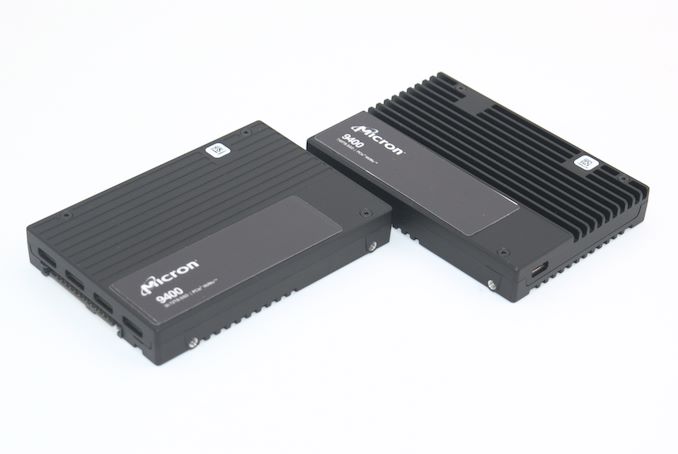 Micron is taking the wraps off their latest data center SSD offering today. The 9400 NVMe Series builds upon Micron's success with their third-generation 9300 series introduced back in Q2 2019. The 9300 series had adopted the U.2 form-factor with a PCIe 3.0 x4 interface, and utilized their 64L 3D TLC NAND. With a maximum capacity of 15.36 TB, the drive matched the highest-capacity HDDs on the storage amount front at that time (obviously with much higher performance numbers). In the past couple of years, the data center has moved towards PCIe 4.0 and U.3 in a bid to keep up with performance requirements and unify NVMe, SAS, and SATA support. Keeping these in mind, Micron is releasing the 9400 NVMe series of U.3 SSDs with a PCIe 4.0 x4 interface using their now-mature 176L 3D TLC NAND. Increased capacity per die is also now enabling Micron to present 2.5" U.3 drives with capacities up to 30.72 TB, effectively doubling capacity per rack over the previous generation.
Similar to the 9300 NVMe series, the 9400 NVMe series is also optimized for data-intensive workloads and comes in two versions - the 9400 PRO and 9400 MAX. The Micron 9400 PRO is optimized for read-intensive workloads (1 DWPD), while the Micron 9400 MAX is meant for mixed use (3 DWPD). The maximum capacity points are 30.72 TB and 25.60 TB respectively. The specifications of the two drive families are summarized in the table below.
Micron 9400 NVMe Enterprise SSDs
9400 PRO
9400 MAX
Form Factor
U.3 2.5" 15mm
Interface
PCIe 4.0 NVMe 1.4
Capacities
7.68TB
15.36TB
30.72
6.4TB
12.8TB
25.6TB
NAND
Micron 176L 3D TLC
Sequential Read
7000 MBps
Sequential Write
7000 MBps
Random Read (4 KB)
1.6M IOPS (7.68TB and 15.36TB)
1.5M IOPS (30.72TB)
1.6M IOPS (6.4TB and 12.8TB)
1.5M IOPS (25.6TB)
Random Write (4 KB)
300K IOPS
600K IOPS (6.4TB and 12.8TB)
550K IOPS (25.6TB)
Power
Operating
14-21 W (7.68TB)
16-25W (15.36TB)
17-25W (30.72TB)
14-21 W (6.40TB)
16-24W (12.8TB)
17-25W (25.6TB)
Idle
? W
? W
Write Endurance
1 DWPD
3 DWPD
Warranty
5 years
The 9400 NVMe SSD series is already in volume production for AI / ML and other HPC workloads. The move to a faster interface, as well as higher-performance NAND enables a 77% improvement in random IOPS per watt over the previous generation. Micron is also claiming better all round performance across a variety of workloads compared to enterprise SSDs from competitors.
The Micron 9400 PRO goes against the Solidigm D7-5520, Samsung PM1733, and the Kioxia CM6-R. The Solidigm D7-5520 is handicapped by lower capacity points (due to its use of 144L TLC), resulting in lower performance against the 9400 PRO in all but the sequential reads numbers. The Samsung PM1733 also tops out at 15.36TB with performance numbers similar to that of the Solidigm model. The Kioxia CM6-R is the only other U.3 SSD with capacities up to 30.72TB. However, its performance numbers across all corners lags well behind the 9400 PRO's.
The Micron 9400 MAX has competition from the Solidigm D7-P5620, Samsung PM1735, and the Kioxia CM6-V. Except for sequential reads, the Solidigm D7-P5620 lags the 9400 MAX in performance as well as capacity points. The PM1735 is only available in an HHHL AIC form-factor and uses PCIe 4.0 x8 interface. So, despite its 8 GBps sequential read performance, it can't be deployed in a manner similar to that of the 9400 MAX. The Kioxia CM6-V tops out at 12.8TB and has lower performance numbers compared to the 9400 MAX.
Despite not being the first to launch 32TB-class SSDs into the data center market, Micron has ensured that their eventual offering provides top-tier performance across a variety of workloads compared to the competition. We hope to present some hands-on performance numbers for the SSD in the coming weeks.