ASUS has made it a goal to increase their retail presence in the mobile market, with an eye on becoming one of the top brand names. There's no doubt that Dell, HP, and Acer continue to sell more laptops overall (especially if we leave out the Eee PC netbooks), but walk into any Best Buy, Office Depot, etc. and you're likely to find quite a few ASUS laptops for sale. They have everything from entry-level netbooks and laptops through long battery life CULV designs and a bunch of midrange offerings. At the high-end, you'll probably have more luck finding ASUS laptops online, but the ASUS G73Jh definitely makes such a search worthwhile.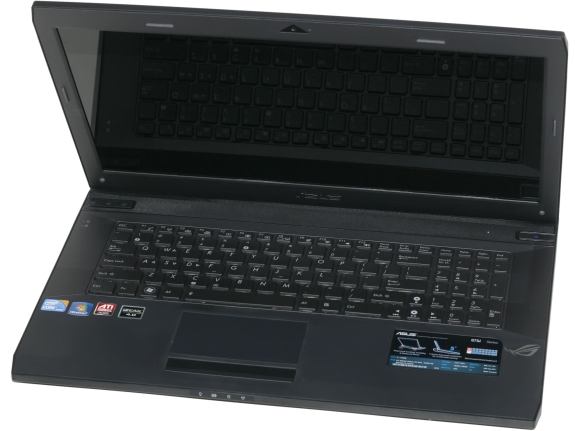 The G73Jh is of the "bigger is better" variety of gaming notebooks, but it's not quite up there with the giant 18.4" offerings. Instead, ASUS has dropped down to a slightly smaller 17.3" chassis, but they've still packed in a lot of compelling hardware. Do you want to play games? How about getting the fastest current mobile GPU, and unlike the latest NVIDIA mobile solutions you get DirectX 11 support! The Radeon Mobility HD 5870 is a potent little chip, and it matches up nicely with the 1080p display. Sure, it pales in comparison to the top desktop GPUs (it's really based off the 5770 "Juniper" core with 800 Stream Processors as opposed to the 1600 Stream Processor "Cypress" core), but short of multi-GPU solutions like SLI and CrossFire, you won't find a faster notebook graphics chip.
ASUS G73Jh-A2 Specifications
Processor
Intel Core i7-720QM
(4x1.60GHz, 45nm, 6MB L3, Turbo to 2.80GHz, 45W)
Chipset
Intel HM55
Memory
4x2GB DDR3-1333 (Max 8GB)
Graphics
ATI Mobility Radeon HD 5870 1GB GDDR5
800 SPs, 700/1.0GHz Core/RAM clocks (4GHz effective)
Display
17.3" LED Glossy 16:9 1080p (1920x1080)
(HannStar HSD173PUW1)
Hard Drive(s)
2x500GB 7200RPM HDD (non-RAID)
(Seagate Momentus 7200.4 ST9500420AS)
Optical Drive
8x DVDR SuperMulti (HL-DT-ST GT30N)
Networking
Gigabit Ethernet (Atheros AR8131)
802.11n WiFI (Atheros AR9285) Bluetooth 2.1+EDR (Broadcom BT-270)
Audio
EAX Enhanced HD 4.0 Audio (2.1 speakers + subwoofer)
Microphone and headphone jacks
Capable of 5.1 digital output (HDMI)
Battery
8-Cell, 14.6V, 5.2Ah, 75Wh
Front Side
Power/Battery/HDD/WiFi indicator lights
Left Side
Headphone Jack
Microphone Jack
2 x USB 2.0
Optical Drive (DVDRW)
Ethernet
Right Side
Memory Card Reader
2x USB 2.0
HDMI
VGA
AC Power Connection
Back Side
2 x Exhaust vent
Kensington Lock
Operating System
Windows 7 Home Premium 64-bit
Dimensions
16.54" x 12.20" x 0.74-2.24" (WxDxH)
Weight
8.47 lbs (with 8-cell battery)
Extras
Gaming (Laser) Mouse
ASUS Backpack
2MP Webcam
102-Key keyboard with 10-key
Flash reader (SD, MMC, MS-Duo, Smart Media, xD)
Warranty
2-year limited global warranty
1-year accidental damage and battery warranty
Pricing
$1505 Online (Note: 9-10 day special order)
$1548 Alternative (In and out of stock everywhere)
Matched up with the GPU are a supporting cast of components that are powerful in their own right. For the CPU, the G73Jh-A2 that we received for review includes a quad-core i7-720QM (1.6GHz with Turbo Boost up to 2.8GHz). The notebook uses an HM55 chipset, so support for i3 and i5 processors is also available and we expect to see other SKUs down the road. Thanks to Turbo Boost, the only dual-core CPUs that should clearly offer better single-threaded performance are the i5-540M and i7-620M, but for multi-threaded loads even the "low-end" 720QM bests all of the dual-core options. Besides 1TB (2x500GB) of storage and the other typical accessories, ASUS also stuffs a full 8GB of DDR3 memory into the G73Jh. It's interesting to note that they do this via four SO-DIMM slots, so potentially you could put 4x4GB in the system but ASUS officially lists only 8GB support.
The only serious omission (for some) is a Blu-ray drive; other models are likely to include such a drive, but costs are going to go up. If you want Blu-ray support, you might find it easier to just add your own for ~$140. For those that want it, eSATA, ExpressCard, and FireWire support are also missing, and unlike the N61Jv there's no USB3 port either. Digital content purveyors will be disappointed but if you're just after a mobile gaming solution the missing items aren't likely to matter.
When you add everything together, the G73Jh—particularly the A2 version that includes a nice mouse and backpack—is an excellent value, provided of course that you're interested in a gaming laptop. This thing is a beast to lug around, and it won't fit in my standard 17" laptop bag, so you'll want the ASUS backpack if possible. Availability is perhaps the only sore spot, with stock disappearing rapidly at most of the online vendors we've monitored. As such, a few sites are bumping up the price… and still selling out. (Newegg, we're looking at you and your $1750 A2 model.) The MSRP for this particular configuration is supposed to be $1600, and if you shop around you can probably find it at that price or slightly less, but as with any popular model you may need to work a bit to find one.