Not Arrandale, but Better Graphics
Apple is up to something. For the past 1.5 years every single Mac has shipped with some form of NVIDIA graphics, standard, regardless of price. These are all G9x based GPUs with full support for OpenCL. From the looks of it, Apple is trying to broaden its install base of OpenCL compliant machines. In preparation for what I'm not really sure, but something is coming.
The unwillingness to ship a Mac without real GPGPU support leads us to the current problem with the 13-inch MacBook Pro. There's not enough motherboard real estate to include an Arrandale Core i3/i5 CPU plus an NVIDIA discrete GPU like Apple does in the new 15 and 17-inch models. Rather than sacrifice the GPU, Apple sacrificed CPU speed.
The new 13-inch MacBook Pro starts with a 2.4GHz Core 2 Duo processor based on the three year old Penryn core. It's an upgrade from the 2.26GHz model that shipped with last year's model, but no where near as fast as the Core i5 you get with the 15-inch MBP.
Apple justifies the mild CPU upgrade by including a much more potent GPU: the GeForce 320M. The 320M has 48 cores up from the 16 that were in last year's GeForce 9400M. Like the 9400M, the 320M has a full fledged chipset to go along with it. A single chip for the CPU and one for the chipset/GPU, that's how Apple is able to keep its current motherboard/chassis design with the upgrade. Something Apple didn't want to sacrifice by going to the Core i5.

Looking at Intel's roadmaps, there are no package shrinks planned for Arrandale throughout 2010. If Apple wants to move the 13-inch platform to a Core i3/i5/i7 it needs to redesign its system to somehow make it fit or pray for a NVIDIA Arrandale chipset.
Is the upgraded NVIDIA GPU worth it? To find out I ran a handful of gaming benchmarks, both under Windows 7/Boot Camp and OS X (thank you Valve). We'll start with World of Warcraft running at 800 x 600: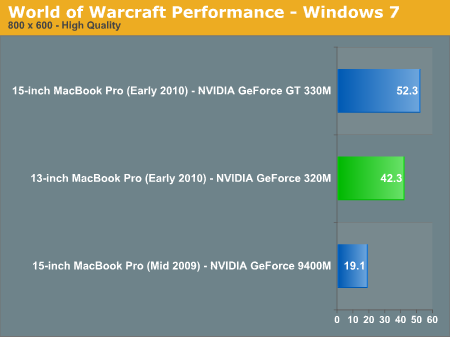 Performance is much better than last year's GeForce 9400M, you're looking at more than double the frame rate. Our WoW test actually went from choppy to playably smooth on the new 13-inch MacBook Pro compared to last year's 15-inch with a 9400M. The GeForce 320M also offers around 80% of the performance of the GT 330M in the 15-inch. The benefit? You don't have to worry about switching between GPUs, there's only one to deal with in this system.
Next up is Left 4 Dead under Windows 7: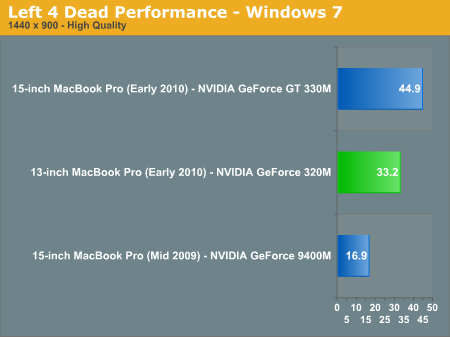 Up the resolution to 1440 x 900 (we had to resort to an external display to get it this high on the 13-inch) and the performance improvement over last year's 9400M remains consistent. The new 13-inch MacBook Pro has roughly twice the gaming performance of the GeForce 9400M found in last year's. At higher resolutions the gap between the 320M and GT 330M widens however. The 320M now offers less than 70% of the performance of the GT 330M. For its native panel resolution, the 13-inch's 320M is sufficient however. Apple usually does a good job of hardware selection.
While Source engine performance under OS X isn't all that great, the new 13-inch MacBook Pro is at least playable in even the most GPU intense games Valve offers: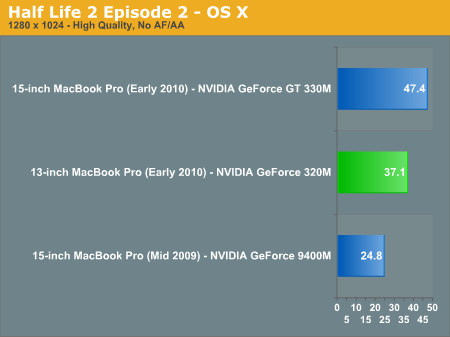 The performance improvement over the 9400M here isn't as great, but still noticeable. The 320M offers 78% of the performance of the GT 330M. Overall I would call the GPU upgrade the 13-inch MacBook Pro received significant, but it's only something you'll notice if you're a gamer. If you aren't playing 3D games on your notebook, the upgrade is mostly meaningless today.
Looking forward, I suspect that Apple may stick with its GPU strategy for at least one more cycle. While Sandy Bridge (due out in 2011) will have much improved graphics performance, I don't believe it will have much of a compute focus. We may not see that from Intel until Ivy Bridge in 2012 or Haswell in 2013. Apple has been talking to AMD about Llano so that's another potential solution for small form factor Mac notebooks moved forward.