MSI P55A Fuzion
Lucid have been quite insistent on pushing their Hydra GPU Load Balancer chip onto MSI for a product to sell. Despite the nature of the drivers and lack of supported video game titles, MSI are releasing the P55A Fuzion, with an onboard Lucid Hydra chip, at some point this July we believe.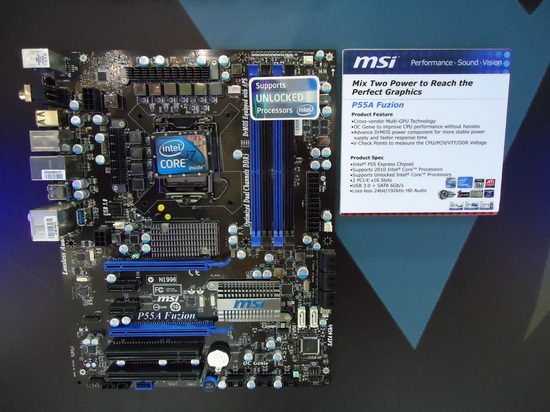 With a predicted price of $159, the Fuzion is essentially the little brother to the Big Bang Fuzion, but with USB 3.0 and SATA 6Gb/s. Against other P55 boards of similar price, this puts the P55A Fuzion in direct competition with the ASUS P7P55D-E and the Gigabyte GA-P55A-UD3P. However, this does make it the cheapest Lucid Hydra enabled motherboard on the market, should you wish to take the plunge.
ECS P55H-AK
ECS are desperately trying to break into consumer markets, so we were set upon with their new P55 board. As part of the ECS Black series, the PCB comes in pure black and white, and offers three PCIe x16 Gen 2.0 slots spaced for tri-GPU setups, 4 USB 3.0 slots, 2 SATA/eSATA 6Gb/s ports, dual Gigabit Ethernet ports, and 7.1 channel HD audio. Extra PCIe lanes come in the form of a PLX chip, located between the first and second PCIe slots.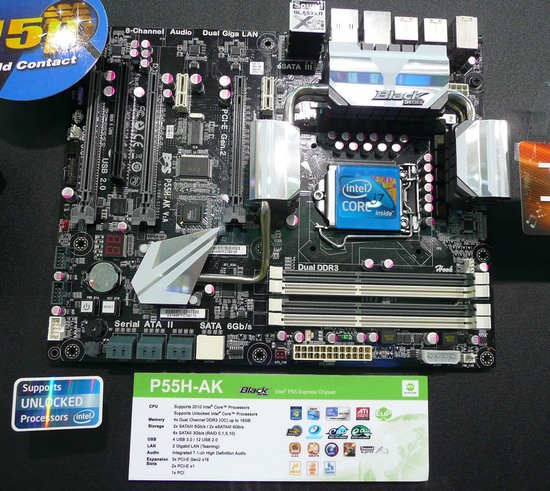 What is most unusual about his motherboard is a 4-pin molex connector situated beside the DDR3 slots. Depending on the purpose of this molex connector (it seems in a weird position to provide extra power to the GPU layout or the CPU) this may or may not inconvenience users, depending on case and cable management.
Biostar TH55XE
The TH55XE from Biostar is an oddly coloured H55 micro-ATX board also on display at Computex. Using a black PCB with orange, white, and yellow components, this is board aimed at the HTPC market.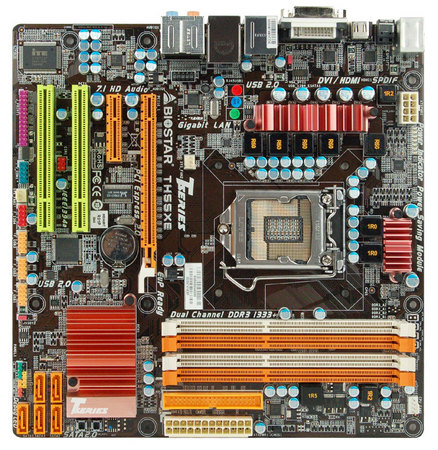 With support for Core i3/i5/i7 processors, 4 DDR3 DIMM slots and Realtek ALC888 8+2 Channel HD Audio, Biostar believe the motherboard could make a perfect combination for an in-home entertainment system. However, as seems to be the case constantly with Biostar, the combination of PCI and PCIe slots may not be to anyone's taste. The PCIe x16, PCIe x1, PCI, PCI arrangement will frustrate users wanting an x1 audio card and a double slot or large passive GPU - we'd much rather like an PCIe x1, PCIe x16, PCI, PCI arrangement.