Even though Sandy Bridge is at least another 6 months away (if not Q4 2010 then H1 2011), motherboard manufacturers cannot wait to show off their concept design goodies. We've selected a few worthy of your attention.
ECS P67H2-A + P67H2-A2
Of the three 1155 boards at Computex from ECS, the P67H2-A represents their flagship model, and is slated to have four DDR3-2600 slots, 2x SATA 6Gb/s, 2x USB 3.0, 20x USB 2.0 (that's right, twenty!), dual Gigabit Ethernet and three PCIe Gen 2.0 slots. The layout does benefit tri-GPU users and part-time folders in terms of cooling.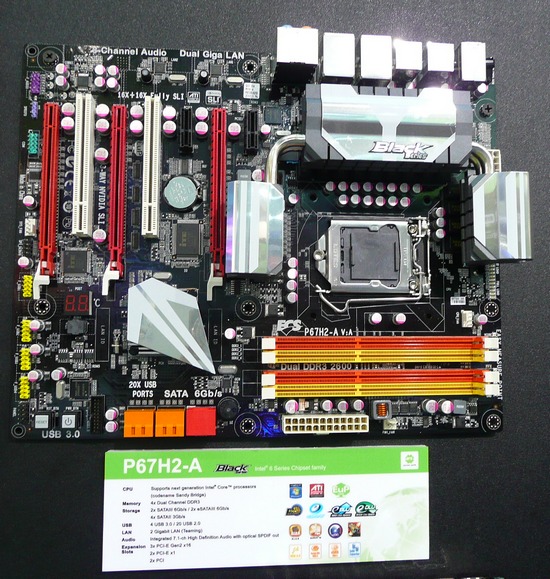 For dual or single GPU users however, the P67H2-A2 looks the better mainstream board - more SATA ports, with four being SATA 6Gb/s, and an overclocking knob. From 0-9, ECS state that each notch will increase an overclock by 5%, meaning a possible 45% overall overclock. ECS won't let on if this is pure base clock increasing, or is coupled with voltage increases and suitable RAM clocking, but we wonder if they missed a trick, by not putting it all the way to 11.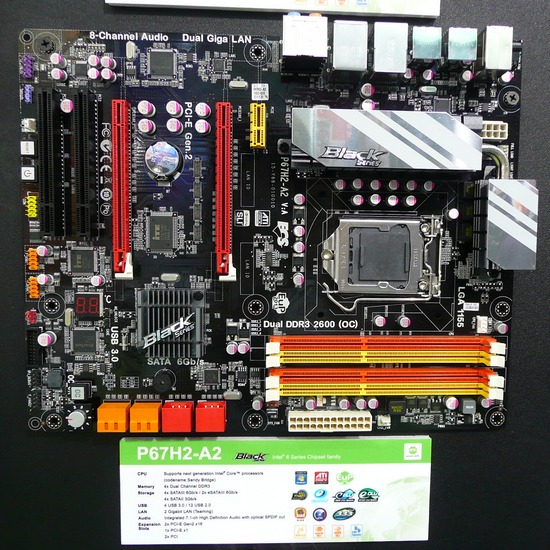 MSI H67MA-GD65
Now that a significant proportion of the motherboard market is geared towards smaller motherboards of the micro-ATX and mini-ITX variety, manufacturers are already putting resources into their smaller form factor products - and as a result, MSI had a concept micro-ATX board based on the H67 chipset on display at Computex.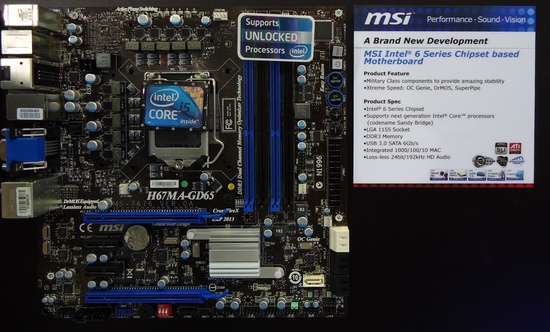 Featuring USB 3.0, SATA 6Gb/s and back panel HDMI/DVI-D/D-Sub connectors, as well as an array of Power/Reset/Clear CMOS/OC Genie board buttons, the two x16 PCIe Gen 2.0 ports are set three slots apart rather than two, allowing better cooling opportunities, but at the expense of a lot of USB headers if long dual slot cards are used.
Gigabyte P67-UD7
Recent X58 policy with Gigabyte has been to add water cooling into the heatpipe system, chuck in a few hundred phases (or at least 24), and plug the board full of PCIe slots - as seen with the X58A-UD7 and X58A-UD9. Well this time, they're preparing at least one socket 1156 version, possibly in time for Sandy Bridge release.
There has been some confusion online as to whether this board is the UD7 or the UD9 with a massive '7' on the board and in UD7 livery. Apart from getting our image direct from Gigabyte, for comparison with the X58 lineup, the UD7 has two PCI slots, whereas the UD9 does not have any. Perhaps the words 'UD9' light up certain enthusiasts' eyes, as well as dollar signs in those of Gigabyte executives.