Last year one of the most exciting product combinations to grace consumer shelves was the NVIDIA's ION platform teamed up with an Intel Atom processor. The ultra-low power consumption, low heat output and ability to play HD video better than competing solutions of the time made it a difficult combo to ignore. ZOTAC took full advantage of this and successfully filled a niche demand with a slew of ION based products, offering various levels of plug and play functionality.
It was only a matter of time though before Intel would present us with something new and at the turn of 2010, Clarkdale was launched. In many ways, Clarkdale turned out to be the perfect successor to Atom + ION based systems by doing almost everything better. Clarkdale's IGP is capable of delivering high definition video and the platform also offers Dolby TrueHD and DTS HD-MA bitstreaming over HDMI - the latter a feature that eludes NVIDIA's ION. Clarkdale also manages to deliver a lot more grunt should there be a need for the odd file zip or encode and can also be used to deliver a decent gaming experience with the addition of a discrete GPU thanks to an on-die PCIe controller. To boot, all of this comes within a rather attractive power consumption curve thanks to comprehensive power gating.
Naturally, ZOTAC jumped on the Clarkdale bandwagon, and pulled the first H55 chipset based mini-ITX motherboard out of the hat back in February this year. Since then, several motherboard vendors have followed suit, and we're at a point now where it makes very little sense to consider anything ION based for desktop use unless you're on a really tight budget. It's rather surprising then that ZOTAC are launching new ION based motherboards and media solutions today based around Intel's CULV processors:
IONITX-P-E with the Celeron SU2300 - $169

IONITX-N-E with the Celeron 743 (single-core) - $130 USD

IONITX-O-E with the Pentium SU4100 - $200 MSRP BTO (built to order)


ZBOX HD-ND22 with SU2300 - $269.99

Zbox HD-NS21 with Celeron 743 - $199.99
We've got the IONITX-P-E model in house, and that's what we'll be looking at today: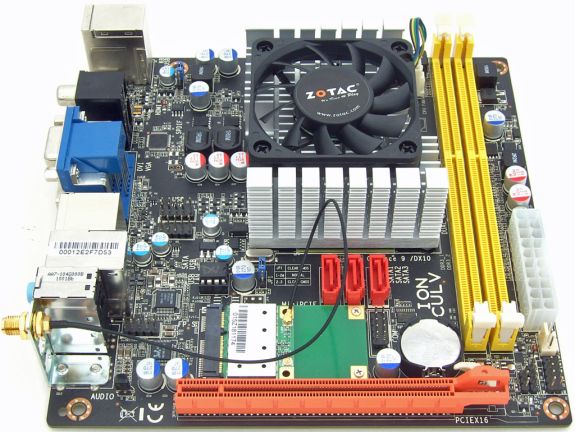 The IONITX-P-E teams up a 1.2GHz CULV Celeron SU2300 with the ION GF9400 chipset. The MSRP for the P-E model is $170, while the Pentium SU4100 model will cost around $200. The SU4100 based board is a built on retail demand only product, though. So we're not sure if you'll see it on sale at all considering the $200 MSRP. At the lower end of the scale, a single core Celeron 743 running at 1.3GHz should in theory appeal to uber-low power consumption enthusiasts.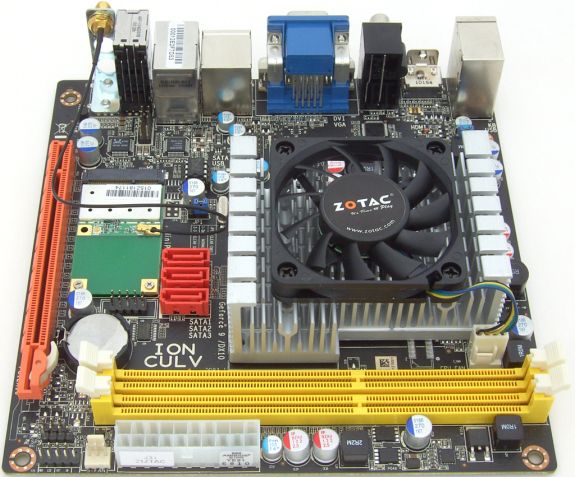 Overall layout should be of no surprise to anyone familiar with mini-ITX; everything is accessible enough. The good news is that ZOTAC's choice of 60mm fan for CPU cooling is whipser quiet; with the board installed in a case you should find it inaudible.
Disappointingly, ZOTAC have chosen not to include a power brick with the IONITX-P-E, so you'll need an ATX PSU.

The rear panel offers all expected ports, including PS2 keyboard, HDMI, DVI, VGA D-SUB, six USB ports, eSATA, digital and analogue audio I/O, and onboard Wi-Fi. Put simply, something there for everyone.