With our 2010 server upgrade we're doing more than just replacing hardware, we're moving to a fully virtualized server environment. We're constructing two private clouds, one for our heavy database applications and one for everything else. The point of creating two independent clouds is to equip them with different levels of hardware - more memory/IO for the db cloud and something a bit more reasonable for the main cloud. Within each cloud we're looking to completely duplicate all hardware to make our environment much more manageable.
The first hardware we got in for the upgrade were our CPUs. We're moving from a 28 server setup to a 12 server environment. Each server has two CPU sockets and we're populating them with Intel Xeon L5640s.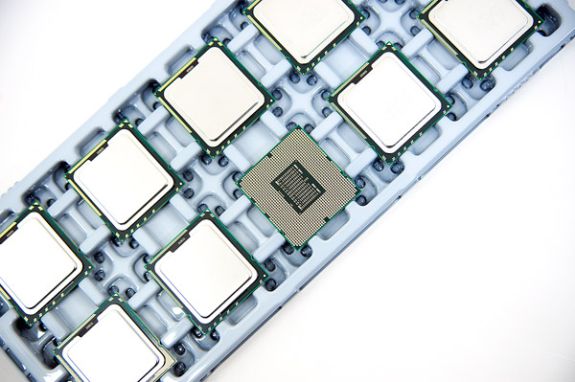 The L5640 is a 32nm Westmere processor with 6-cores/12MB L3 per chip. The L indicates a lower voltage part. The L5640 carries a 60W TDP thanks to its 2.26GHz clock speed. We're mostly power constrained in our racks so saving on power is a top priority.
Each server will have two of these chips, that's 12-cores/24-threads per server. We've reviewed Intel's Xeon 5670 as well as the L5640 in particular. As Johan concluded in his review, the L5640 makes sense for us as we have hard power limits at the rack level and are charged extra for overages.
There's not much else to show off at this point but over the coming days/weeks you'll see more documentation from our upgrade process.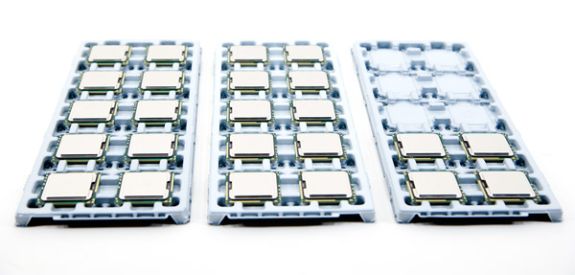 Hopefully this will result in better performance for all of you as well as more uptime as we can easily scale hardware within our upcoming cloud infrastructure.