Today marks the first day of our IDF 2010 coverage and we just left Dadi Perlmutter's keynote. Keeping up with tradition, Dadi's keynote focused on two of Intel's upcoming microprocessors.
Dadi began his architecture talk with a reference to Westmere EX. The follow-on to Nehalem EX brings the architecture down to a 32nm manufacturing process. The transistor shrink enables Intel to increase core count from 8 on Nehalem EX to 10 on Westmere EX (20 threads).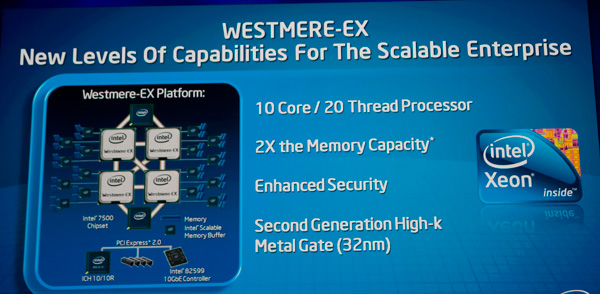 Westmere EX is socket compatible with current Nehalem EX systems. Along with AES-NI support, Westmere EX also enables support for 32GB DIMMs. Bringing total system memory support from 1TB (64 DIMM slots) to 2TB with Westmere EX.
Sandy Bridge Details
We're going to hear a lot about Sandy Bridge today. We saw the performance of Sandy Bridge a few weeks ago, but today we'll find out why it performed the way it did.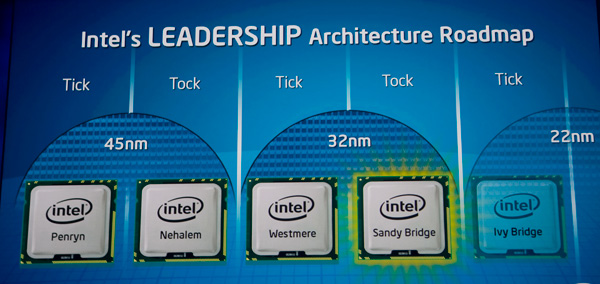 Earlier in the keynote, we heard that Ivy Bridge is making its way through the fabs now with production scheduled for 2H 2011
Dadi mentioned that Sandy Bridge has around a billion transistors and that in 10 - 11 years we'll have chips with 100 billion transistors.
Sandy Bridge brings Intel's integrated graphics on die as we've already mentioned. Now both the GPU and CPU can share the L3 cache, which Dadi indicated resulted in a 4 - 5x increase in GPU performance for data in the cache.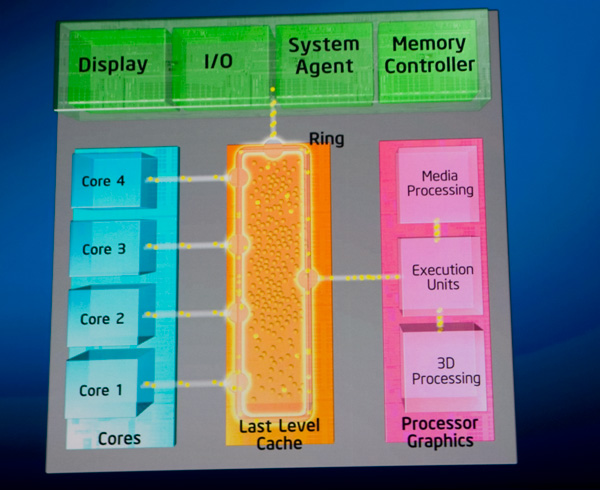 Dadi confirmed that Sandy Bridge would use a high bandwidth ring bus to connect the CPU, GPU and other on-die components to one another.
We also got confirmation that Sandy Bridge will support both CPU and GPU turbo modes.
Officially Sandy Bridge will be called the 2nd generation Intel Core processor, and here are the new logos: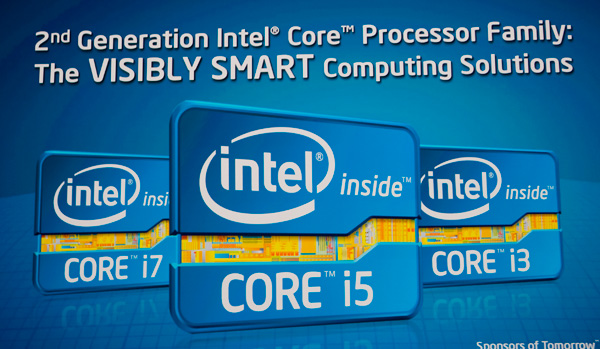 Intel confirmed that Sandy Bridge has dedicated video transcode hardware that it demoed during the keynote. The demo used Cyberlink's Media Espresso to convert a ~1 minute long 30Mbps 1080p HD video clip to an iPhone compatible format. On Sandy Bridge the conversion finished in a matter of a few seconds (< 10 seconds by my watch).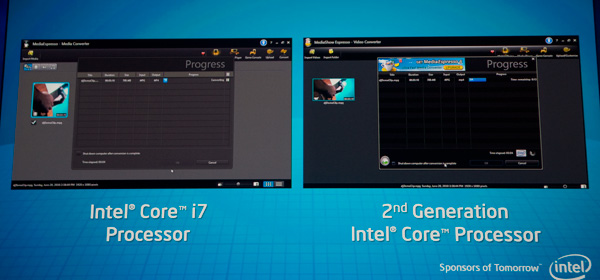 Dedicated hardware video transcode is Intel's way of fending off the advance of GPU compute into the consumer market, particularly necessary since you can't do any compute on Intel's HD graphics (even on Sandy Bridge).
Given Intel's close relationship with the software vendors, I suspect we'll see a lot of software support for this engine when Sandy Bridge ships early next year.
More on Sandy Bridge to follow later today, stay tuned!