First off, Light Peak speeds remain the same as we've previously seen at 10 gigabits/s, though opportunity to scale to 100 gigabits/s remains a promise for the future. Intel had two demonstrations setup illustrating Light Peak's potential as a bus for huge amounts of traffic. First up was a Compal notebook connected to an Avid HD I/O box, which was in turn connected to two more devices. An external Western Digital dual drive solution with a Light Peak connector, and an HDMI adapter driving 1080P video content.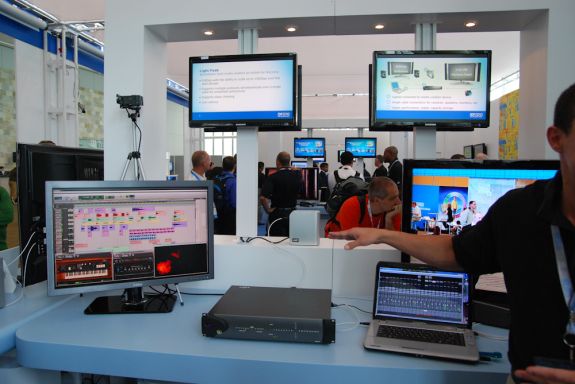 According to Intel, Light Peak enabled Avid to move mixing control to the Compal notebook software suite. Bandwidth is now sufficient to pass uncompressed extremely high sampling rate audio streams between the notebook and the Avid HD I/O box.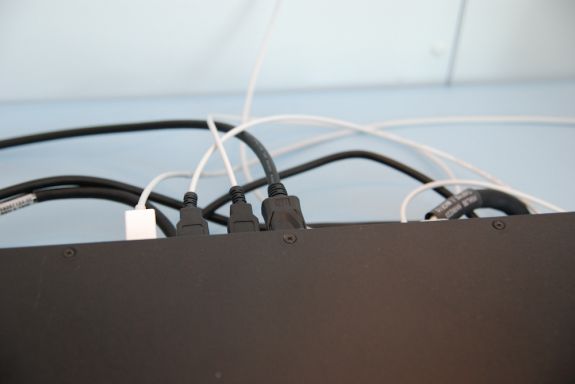 All of those white cables coming out of the Avid box on the left side are Light Peak. Note that they look a lot like USB - more on that in a moment. Light Peak connects the Avid HD I/O box and its lossless audio streams, a raw 1080P HDMI video stream, Western Digital external hard drive, and another uncompressed video played back on the Dell LCD to the left in this demo. This demo is clearly targeted at selling studio artists on Light Peak.
The Light Peak to HDMI converter box has also shrunk considerably. It's now a bit smaller in profile than a credit card: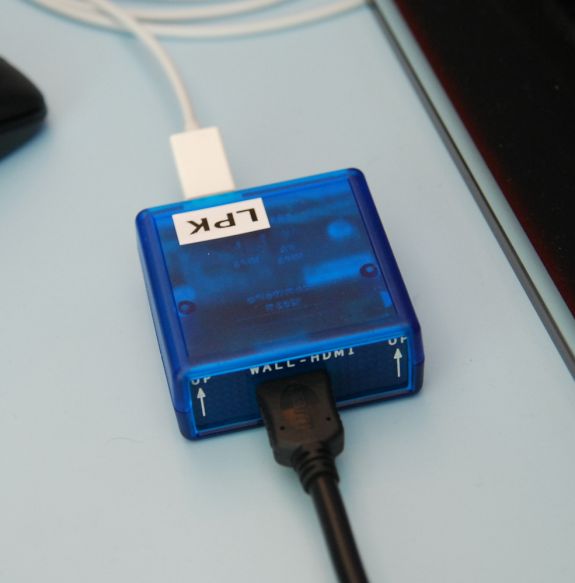 There's no external power adapter here either, just Light Peak to HDMI for the TV. The Compal notebook has been shown around a bit before, but the connection is again seamlessly integrated into the notebook by all appearances. Check out the gallery for all the pics from this demo: