Dell XPS 15 L502x: Tweaking the Formula
Late last year, we finally got a laptop with very few compromises that we could look to as the king of the mainstream market. That laptop was Dell's XPS 15 L501x; it took a balanced approach to performance, battery life, and portability, with a great display upgrade as a bonus offering. Perhaps more important was you could get all of the important features and still pay less than $1000. It was only natural—nay, inevitable—that Dell would update the XPS line with Sandy Bridge processors, and that's what we have for review today with the XPS 15 L502x. The graphics have also received a minor update to NVIDIA's 500M line, though the 400M and 500M are basically fraternal twins.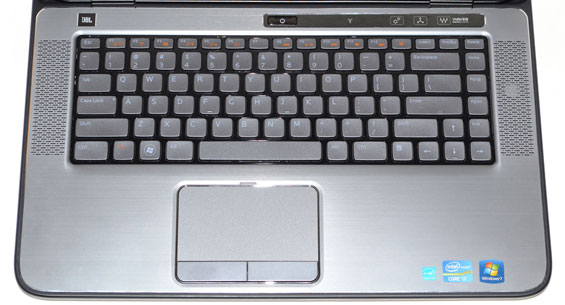 We won't spend a lot of time discussing the nuances of the build, as very little has changed relative to the original XPS 15. If you want more information on build quality, the keyboard, etc. we refer you back to our earlier write up. The short summary is that the build quality is still good, but it's not at the level of something like a Dell Latitude. Dell uses a magnesium alloy frame in the XPS, but the top and bottom are still plastic. Perhaps the bigger issue some will have is with the curves; love it or hate it, the curves are here to stay for the time being. We'll have a bit more to discuss in a minute, but first let's start with our usual spec table. The following table lists the available options for the XPS 15, with our review configuration components bolded where applicable.
Dell XPS 15 L502x Specifications
Processor
Intel Core i5-2410M (dual-core 2.30-2.90GHz, 35W)
Intel Core i5-2520M (dual-core 2.50-3.20GHz, 35W)
Intel Core i7-2630QM (quad-core 2.00-2.90GHz, 45W)
Intel Core i7-2620M (dual-core 2.70-3.40GHz, 35W)
Intel Core i7-2720QM (quad-core 2.20-3.30GHz, 45W)
Intel Core i7-2820QM (quad-core 2.30-3.40GHz, 45W)
Chipset
Intel HM67
Memory
2x2GB DDR3-1333
1x4GB + 1x2GB DDR3-1333
2x4GB DDR-1333 (CL9)
Graphics
NVIDIA GeForce GT 525M 1GB DDR3
96 SPs, 600/1200/1800MHz Core/Shader/RAM clocks

NVIDIA GeForce GT 540M 2GB DDR3
96 SPs, 672/1344/1800MHz Core/Shader/RAM clocks
Display
15.6" WLED Glossy 16:9 768p (1366x768)

15.6" B+GR LED Glossy 16:9 1080p (1920x1080)
(AU Optronics B156HW1)
Hard Drive(s)
500GB 7200RPM HDD
640GB 7200RPM HDD

750GB 7200RPM HDD
(Western Digital Scorpio Black WD7500BPKT-75PK4T0)

256GB SSD
Optical Drive
8X Tray-Load DVDRW
Blu-ray Reader/DVDRW Combo (HL-DT-ST CT30N)
Blu-ray Writer/DVDRW
Networking
Gigabit Ethernet(Realtek RTL8168/8111)
802.11n WiFi (Intel Wireless-N 1000)
802.11n WiFi (Intel Advanced-N 6150)
802.11n WiFi + Bluetooth 3.0 (Intel Wireless-N 1030)
802.11n WiFi + Bluetooth 3.0 (Intel Advanced-N 6230)
Audio
2.1 JBL Speakers + Waves Audio
(Stereo speakers and subwoofer)
Microphone and two headphone jacks
Capable of 5.1 digital output (HDMI/SPDIF)
Battery
6-cell, 11.1V, ~5.0Ah, 56Wh
9-cell, 11.1V, ~8.1Ah, 90Wh
Front Side
Memory Card Reader
Left Side
Exhaust vent
1 x USB 3.0
Right Side
Optical Drive
2 x Headphone Jack
Microphone Jack
1 x eSATA/USB 2.0 Combo
Back Side
Mini DisplayPort
HDMI 1.4
Gigabit Ethernet
TV Input (Optional)
AC Power Connection
1 x USB 3.0
Kensington Lock
Operating System
Windows 7 Home Premium 64-bit
Dimensions
15.0" x 10.4" x 1.3-1.5" (WxDxH, 6-cell)
15.0" x 10.4" x 1.3-2.2" (WxDxH, 9-cell)
Weight
6.33 lbs (6-cell)
6.68 lbs (9-cell)
Extras
Waves Maxx Audio 3
2MP Skype HD Certified Webcam (H.264)
86-Key backlit keyboard (Upgrade)
Flash reader (SD/IO/XC/HC, MS/Pro/XC, MMC, xD)
Warranty
1-year standard warranty (depending on variant)
2-, 3-, and 4-year warranties available
Pricing
Starting Price: $800
Price as configured: $1425
We received a moderately upgraded version of the L502x this time around. The base model starts at $800 and you can still add the nice 1080p LCD for $150, so you're still able to get a nice display for under $1000, but outside of Quick Sync the Core i5-2410M isn't a major upgrade from the older i5-460M and the same can be said of the GT 525M vs. GT 420M. Basically, it's better, and it's about the same price, but if you already have the L501x there's no need to upgrade to dual-core Sandy Bridge. Quad-core Sandy Bridge is a different story, as we'll see in the benchmarks; Dell shipped the cheapest of the quad-core options, the i7-2630QM.
Along with the CPU upgrade, we've got the GT 540M, which is a faster clocked version of the 420M/425M/435M/525M/etc. The old XPS 15 came with a GT 420M by default, which clocks in at 500/1000MHz core/shaders and 1600MHz on the RAM, so the GT 540M has 34% more theoretical computational power and 12.5% more memory bandwidth, plus twice the RAM for good measure. The base model L502x comes with the GT 525M, which is clocked at 600/1200MHz core/shaders, so the 540M is only about 12% faster on the core but has the same memory bandwidth. Depending on the bottleneck, then, the new system should be 10-35% faster than the L501x in games, and potentially more than twice as fast in CPU calculations.
Other upgrades on the test system include 8GB RAM, a 9-cell battery (we still have the smaller 6-cell around as well), and this is the first time we've seen a 750GB 7200RPM 2.5" hard drive. Western Digital's Scorpio Black is king of the 2.5" HDD hill, but unfortunately it's also a far cry from matching even moderate SSDs. What it lacks in raw performance it makes up for with capacity, and with the increase in areal density the 750GB drive should outperform older 500GB 2.5" drives. Finally, besides the backlit keyboard, Dell also included the 1080p LCD, a TV tuner, and Bluetooth 3.0. The final tally for our test configuration is a much heftier $1425 at the time of writing. Is it worth it? As with so many other things in life, the answer is a nebulous "it depends". Let's discuss things a bit more before we get to the benchmarks.