Introducing the Toshiba Satellite M645
Toshiba has spent the last half a decade carving out an interesting niche as a notebook manufacturer, with many consumer-grade notebooks that are ostensibly budget offerings but often feature a markedly different look and feel from the kinds of laptops vendors like Dell, HP, and Acer produce to serve this market segment. Oftentimes they can feel stylistically behind the curve, but every so often they produce a big winner as they did with their Portege R700 series.
Now, a trickle-down of style couples with modern hardware in a respectable new entrant in their venerable Satellite line: the M645. Our review unit features a shiny new Sandy Bridge mobile dual-core processor along with a healthy amount of memory, an Optimus-enabled NVIDIA GeForce 500M series GPU, and a Blu-ray combo drive, all in a reasonable 14-inch chassis. But it threatens to set you back a grand: is it worth it?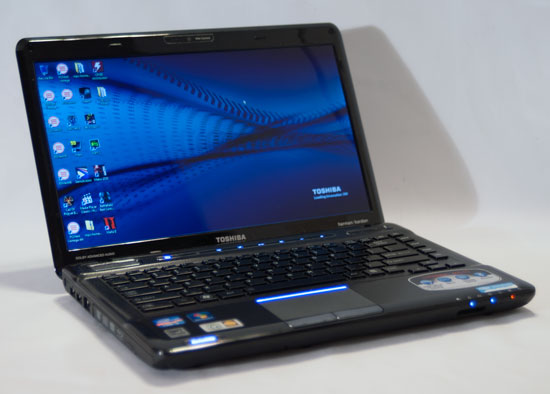 The elegantly titled M645-S4118X we have on hand for review is the most expensive unit in Toshiba's M640 line, and as you'll see from the specifications, it largely earns that. This is as decked out as Toshiba's 14-inch consumer notebooks get, featuring a lot of power and flexibility. Here's what you get:
Toshiba M645-S4118X Specifications
Processor
Intel Core i5-2410M
(2x2.3GHz + HTT, 2.9GHz Turbo, 32nm, 3MB L3, 35W)
Chipset
Intel HM65
Memory
4GB DDR3-1333 and 2GB DDR3-1333 (6GB Total, Max 2x4GB)
Graphics
NVIDIA GeForce GT 525M 1GB DDR3 (Optimus)
(96 CUDA cores, 475MHz/950MHz/1.8GHz core/shaders/memory)

Intel HD 3000 (12 EUs, 650-1200MHz core)
Display
14-inch LED Glossy 16:9 1366x768
(Chi Mei N140B6-L02 Panel)
Hard Drive(s)
Toshiba 640GB 5400RPM SATA 3Gbps Hard Disk
Optical Drive
BD-ROM/DVD+-RW Combo Drive w/ Labelflash
Networking
Realtek PCIe FE 10/100 Ethernet
Atheros AR9002WB-1NG 802.11n Wireless
Bluetooth 3.0+EDR
Audio
Realtek ALC269 HD audio
Stereo speakers
Headphone and microphone jacks
Battery
6-Cell, 10.8V, 48Wh battery
Front Side
Indicator lights
SD/MS/MMC reader
Left Side
Kensington lock
2x USB 2.0
Ethernet jack
Optical drive
Right Side
Headphone jack
Microphone jack
HDMI
USB 3.0
VGA
Exhaust vent
AC adaptor jack
Back Side
-
Operating System
Windows 7 Home Premium 64-bit
Dimensions
13.3" x 9.0" x 1.12"-1.39" (WxDxH)
Weight
5.4 lbs
Extras
Webcam
Flash reader (MMC, SD/Mini SD, MS/Duo/Pro/Pro Duo)
Blu-ray drive
Backlit keyboard
USB 3.0
Bluetooth
Warranty
1-year limited warranty
Pricing
MSRP at $1,099
Available online at $999
Starting from the top we have one of Intel's midrange Sandy Bridge mobile processors, the Core i5-2410M. Like its kin it features 3MB of L3 cache along with Hyper-Threading, and depending on thermals and workload it can turbo up to 2.6GHz on two cores or 2.9GHz on one core. Its only real weak point is that its HD 3000 GPU tops out at 1200MHz instead of the 1300/1350MHz you get on some of the faster models, but given our next major component that shouldn't be a huge issue.
The M645 benefits greatly from the inclusion of the NVIDIA GeForce GT 525M with 1GB of DDR3 running at 900MHz (1.8GHz effective) and Optimus technology to maximize battery life while allowing the end user to enjoy both a decent mobile gaming GPU as well as Intel's Quick Sync hardware video encoder. Unfortunately, this is a point where the unit also falters: Toshiba runs the GT 525M at clocks well below spec. NVIDIA specifies the 525M to run the core at 600MHz (and thus the 96 CUDA cores at 1.2GHz), but Toshiba has substantially reduced its core clock to just 475MHz (reducing the CUDA cores to a paltry 950MHz). The cut is a brutal one that you'll see reduces performance below even a GeForce GT 420M.
Fortunately, all is not lost. Toshiba includes a generous 6GB of DDR3-1333, and while the 5400RPM spindle speed on the hard drive is slow, at least the 640GB of storage is copious. Better still, Toshiba also includes both a Blu-ray drive and a USB 3.0 port. The backlit keyboard is also a welcome touch, but the inexplicable lack of gigabit ethernet connectivity is troubling, and the mediocre 48Wh 6-cell battery is unfortunate.
In terms of the internal hardware, we really wind up with mixed feelings all around as Toshiba has been generous in some places while frustratingly stingy in others. At the price Toshiba is asking, some of these trade-offs just shouldn't have been made.