Dell XPS 15z General Performance
Given the components, there aren't many surprises in the performance metrics. The combination of i7-2620M CPU and GT 525M GPU delivers a solid showing. Here's how things break down, for those that like charts. We've highlighted the 15z in bright green, the XPS 15 in black, an AMD A8-3500M in red, and the Toshiba L775D A6-3400M in orange. We've also included some results with the XPS 15z running alternate modes in dark green (e.g. using the IGP for PCMark 7 or testing at 1080p at medium details in the games).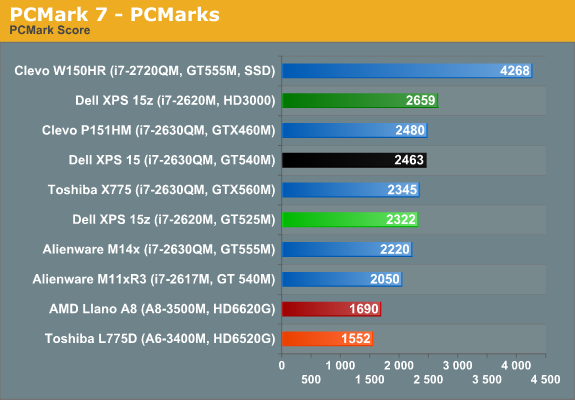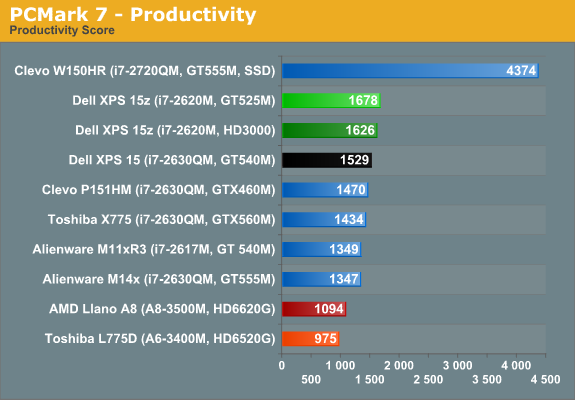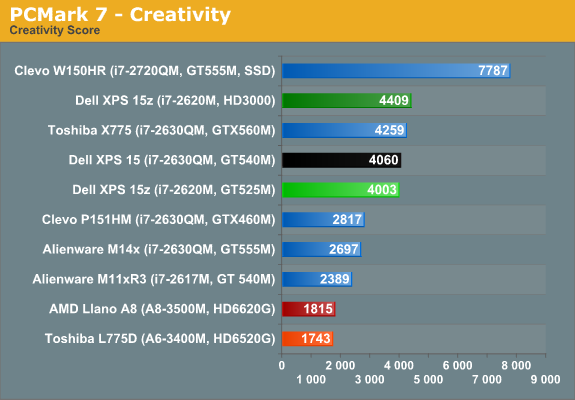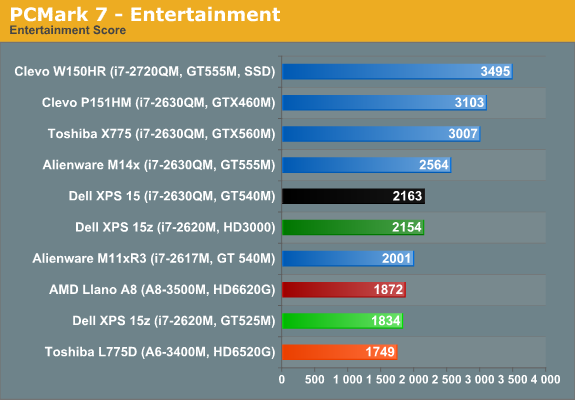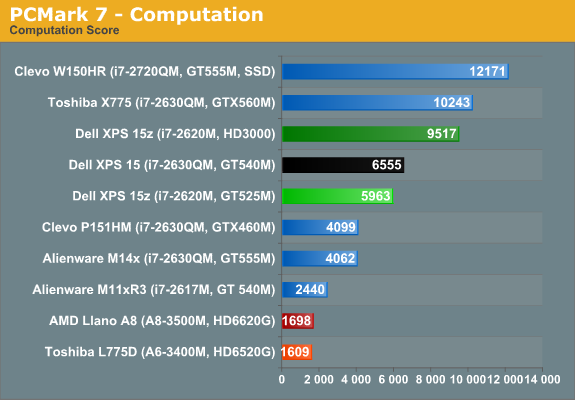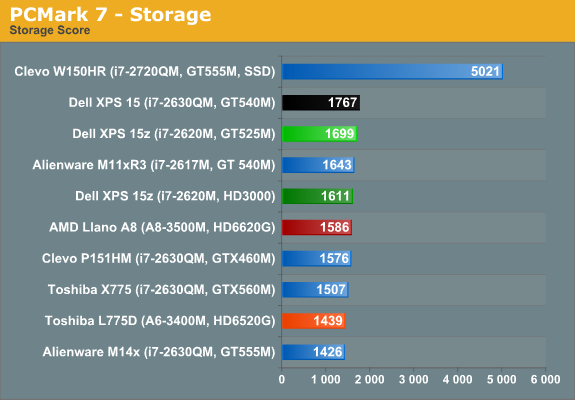 Starting with PCMark 7, the 15z places about where you'd expect, though it's interesting to note once again how Intel's HD 3000—and more importantly Quick Sync—boost performance in several areas to result in a 15% increase in overall performance. NVIDIA's latest drivers appear to better recognize when to defer to the HD 3000, but we forced all of the tests to run on the GT 525M or the HD 3000 for the above results. As expected, the dual-core CPU generally finishes behind quad-core offerings, and anything with an SSD walks away with the performance crown. We'll see the SSD factor once more in PCMark Vantage below, while the other benchmarks are CPU-centric.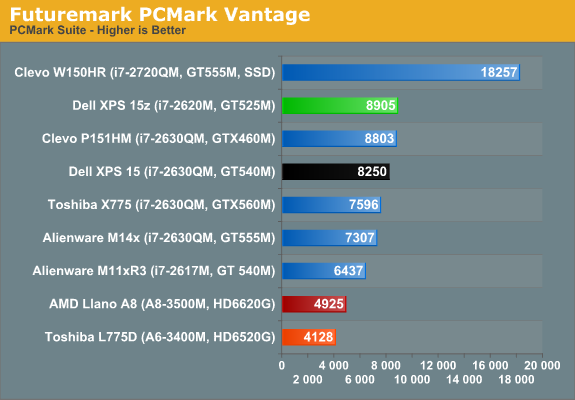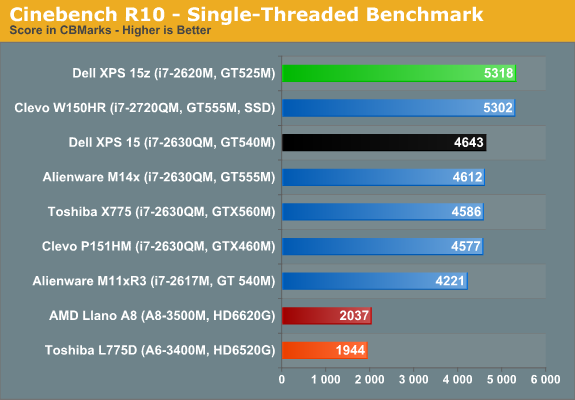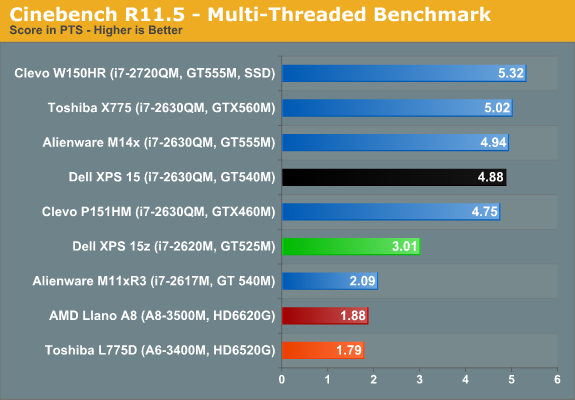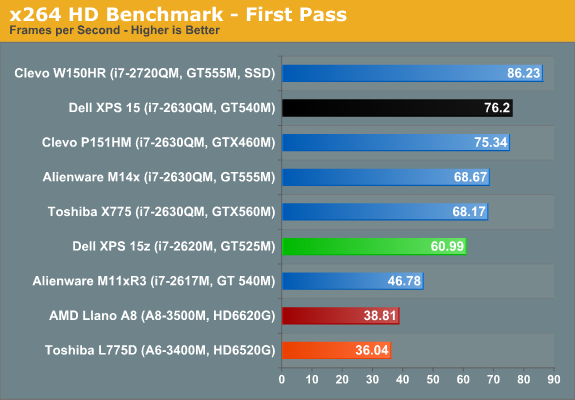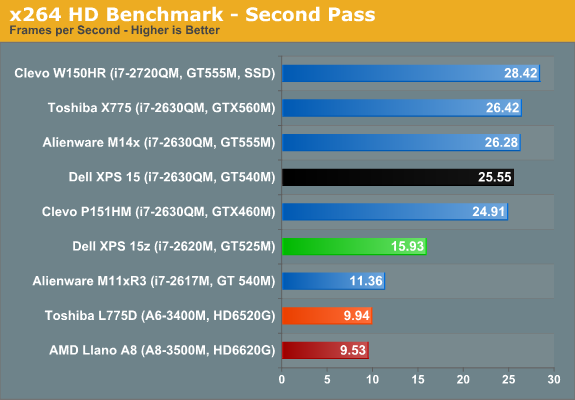 Interestingly enough, PCMark Vantage actually puts the 15z ahead of several other systems with quad-core CPUs. Either the test doesn't scale with more threads as well as the latest iteration, or some driver updates are helping the 15z to surpass the competition—or perhaps a little of both. The single-threaded Cinebench result also confirms that the 2620M is a very fast CPU for lightly threaded workloads, while the remaining multi-threaded tests let the quad-core Sandy Bridge laptops spread their wings.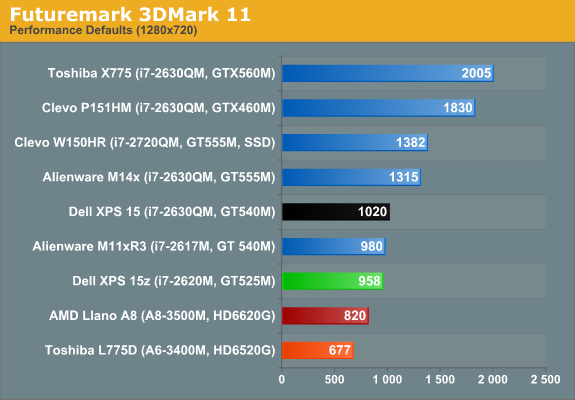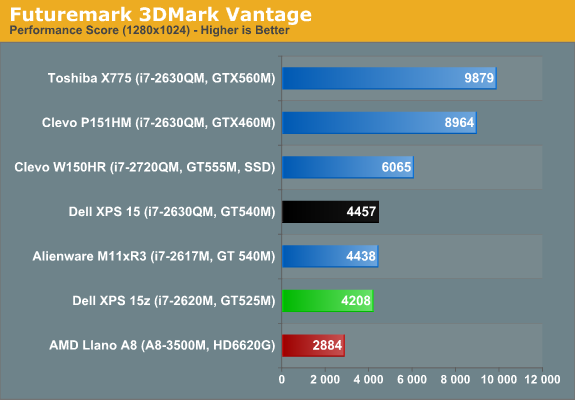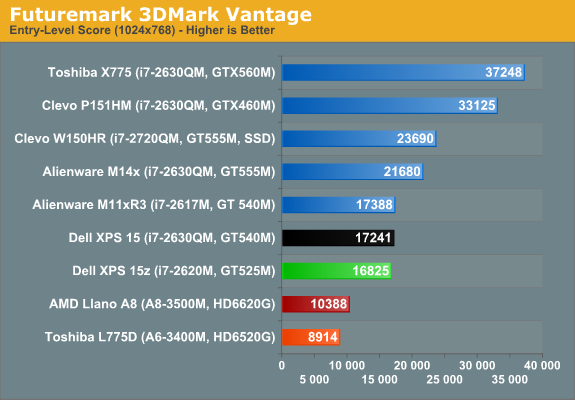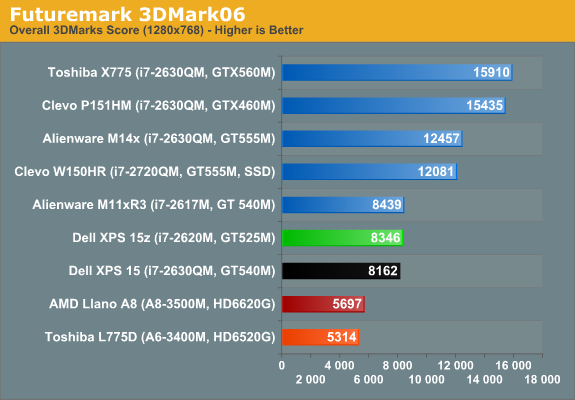 Wrapping up with some synthetic graphics tests, the GT 525M generally comes in just slightly behind the GT 540M but ahead of Llano's HD 6620G and HD 6520G. AMD's Radeon HD 6630M, incidentally, tends to offer slightly better performance than the GT 540M, at least when there's enough CPU performance backing it. We'll have a closer look at an Intel CPU with the HD 6630M in an upcoming review. So far, there aren't any surprises—unless you consider the fact that the GT 540M is barely any faster than the GT 525M to be a revelation?