Introducing the Fractal Design Arc Midi
The more enclosures we get in, the more amazed I am at just how competitive the market is for $99 cases. That market is made only more competitive by younger, hungrier companies like BitFenix and Fractal Design, along with new entries from Corsair and NZXT. In another welcome change of pace, these enclosures tend to be slicker, more streamlined, and less gaudy than the gaming cases of yore while providing oftentimes excellent thermal and acoustic performance. With those things in mind, today we look at our first of hopefully many cases from Fractal Design: the Arc Midi.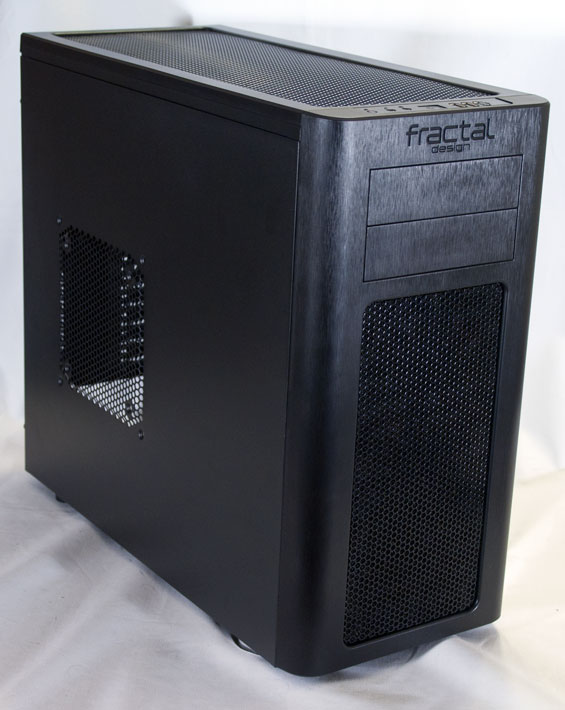 I don't mind saying one of the names that keeps getting brought up in our comments is Fractal Design, and even our own Brian Klug has messaged me on Facebook "politely suggesting" I get some of their hardware in. Thankfully the wait is now over, and Fractal Design has decided the best foot to put forward in starting reviews with AnandTech is the Arc Midi. Having played with it, I can see why.
Fractal Design Arc Midi Specifications
Motherboard Form Factor
ATX, Micro ATX, Mini ITX
Drive Bays
External
2x 5.25" (one 5.25"-to-3.5" converter included)
Internal
8x 3.5"/2.5"
Cooling
Front
1x 140mm intake fan; 1x 140mm fan mount
Rear
1x 140mm exhaust fan
Top
1x 140mm exhaust fan; 2x 120/140mm fan mounts
Side
1x 140/180mm fan mount
Bottom
1x 120/140mm fan mount
Expansion Slots
7+1
Front I/O Port
-
Top I/O Port
2x USB 2.0, 1x USB 3.0, mic and headphone jacks
Power Supply Size
ATX
Clearance
11.4" with drive cage/18.5" without (Expansion Cards), 180mm (CPU HSF), 270mm (PSU)
Weight
22.05 lbs. (10 kg)
Dimensions
20.28" x 9.06" x 18.11" (515mm x 230mm x 460mm)
Price
Online starting at $99
Not mentioned but also included is a separate fan controller supporting up to three fans that fits into one of the expansion slots. I was a little bit on the fence about testing with the controller, but it was included with the case and ultimately there's no real reason not to.