HTC and Sprint teamed up today to announce the latest in the EVO line: the EVO 4G LTE. So, not the most novel name, but it gets to the point. The 4.7" device is carved out of an aluminum space frame, anodized to an all black finish with red accents and an exposed silver edge. And along that prominent red band across the back? That's right, the kickstand's back. But don't call this part of the One series. This is a Sprint EVO device through and through.
Inside the EVO 4G LTE is Qualcomm's MDM8960, Snapdragon S4 per PR parlance, mirroring the HTC One S, but with some additional features enabled to separate it from the One line. Most predominantly, per Sprint, is the introduction of the US market's first HD Voice phone. In addition to the requisite noise cancelation features, Sprint will now be supporting EVRC-NW (Enhanced Variable Rate Codec - Narrowband-Wideband), which extends the voice codec from EVRC's 3,600-300 Hz to an impressive 7,000-80Hz. This system will be backwards compatible with their current EVRC codec, and will be a nice fall back when Sprint moves towards a VoLTE system.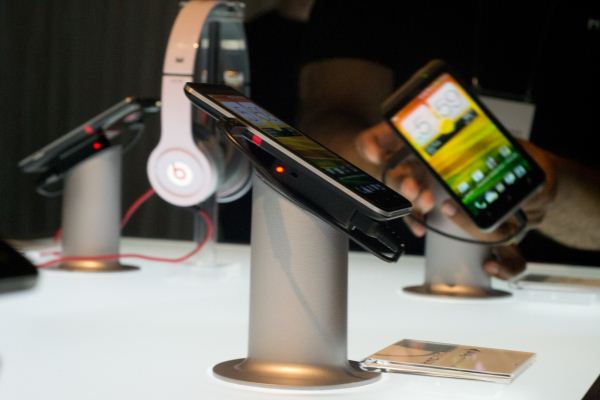 HTC has also seen fit to update the camera over prior EVO devices with one of the most well specced optics we've seen on a phone, with what they're calling HTC ImageSense, which features an f/2.0 lens, and a dedicated imaging ISP. We did get HTC to confirm that they'll be using their own silicon for the imaging ISP, foregoing Qualcomm's capable ISPs, though we don't know whose IP HTC is leveraging for this silicon. ImageSense will be seen in the One line, including the f/2.0 lens, so this will not be an EVO exclusive for long. The pictures look good on the phones 4.7" 720p Super LCD screen, we'll see how they look at full-size when we get to sample the devices.
Sense 4.0 is featured atop Android 4.0, and HTC was all too eager to mention just how slimmed down Sense had become. The interface seemed snappy enough, no doubt helped by Krait's potent CPU and ICS's GPU acceleration hooks. Oddly, the phone will launch during the second quarter of this year (so, before July), but Sprint's LTE network won't launch till sometime in the second half of 2012. It's unclear what sort of lag there will be between the phone's launch and the network's launch, but we may be visiting our Kansas City readers in order to test out the device when the time comes. The HTC EVO 4G LTE will be priced at $199 on-contract, when it does launch. Paired with Sprint's dedication to unlimited data plans (sans throttling) even on LTE this could be a bargain route to Krait.