Introducing the Lian Li PC-A76X
As a case designer and manufacturer, Lian Li has built their entire business around aluminum. It's one of those materials that seems to have a real marketing draw, that seems to perk up consumers, and it's understandable. Aluminum conducts heat well, and an attractive brushed aluminum finish can trump the heck out of any garden variety plastic and/or steel enclosure. It's something Lian Li have essentially created a premium brand around, and today we're taking a look at one of their most premium offerings of all, the PC-A76X.
The PC-A76X isn't just a premium enclosure, it's a concerted effort by Lian Li to produce an E-ATX/HPTX case in relatively small dimensions. Our testbed is admittedly going to seem a little mundane, dwarfed by this monstrous piece of aluminum designed and destined for only the most powerful of workstations (or enthusiast builds), but that may not matter as much as it first appears. Has Lian Li produced a knockout case, or have they missed the mark?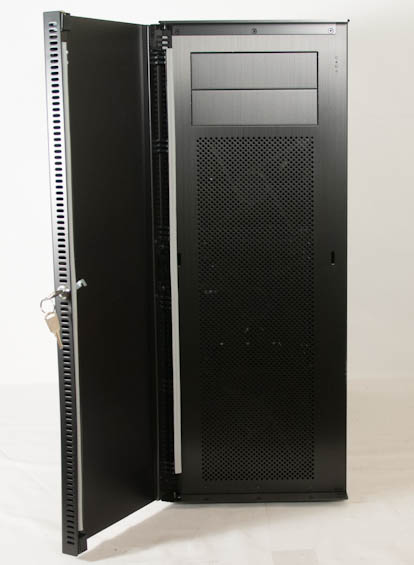 That's a pretty sticky question. This case is designed to house frankly as much computer as you can cram into it, and I'll admit I was pretty optimistic when I first read the press materials. A trio of 140mm fans in the front attempt to produce the kind of wind tunnel effect that makes cases like SilverStone's FT02 and Temjin TJ08-E such formidable performers, and I've been looking for some time for a good replacement for my own FT02.
Lian Li PC-A76X Specifications
Motherboard Form Factor
Mini-ITX, Micro ATX, ATX, E-ATX, HPTX
Drive Bays
External
2x 5.25"
Internal
9x 3.5", 3x 2.5"/3.5"
Cooling
Front
3x 140mm intake fan
Rear
1x 120mm exhaust fan
Top
2x 120mm fan mounts
Side
2x 140mm fan mount
Bottom
-
Expansion Slots
11
I/O Port
2x USB 3.0, 2x USB 2.0, 1x Headphone, 1x Mic
Power Supply Size
Standard ATX
Clearances
HSF
170mm
PSU
360mm
GPU
14.1" / 360mm
Dimensions
11.22" x 27.95" x 26.89"
285mm x 710mm x 683mm
Weight
20.9 lbs. / 9.5 kg
Special Features
USB 3.0 connectivity via internal headers
Toolless motherboard installation
Support for 240mm radiator in top of enclosure
All aluminum build and finish
Price
$210
The fact that the case is actually 21 lbs. of aluminum should give you some indication of just how big this beast really is, yet interestingly Lian Li opted to keep the design fairly narrow. I don't get the sense that they could've shrunk down the PC-A76X too much more without making some sacrifices. They probably could've made it a bit shorter by moving the PSU to the front of the case and ditching three of the drive bays and an intake fan, but that's about it.
At $210, the PC-A76X is squarely in enthusiast class territory; once you go over about $160, cases are generally supposed to offer both excellent acoustics and thermal performance. That's part of the reason why the lack of any kind of noise dampening material is worrisome, though the cooling design looks like it may just be efficient enough to pick up the slack.