Introducing the Fractal Design Node 304
We've said it before but it bears repeating: desktop systems are getting smaller. ATX is becoming less and less necessary, and mini-ITX-based machines more and more offer the same performance and features that their bigger brothers do. That's just the direction of the technology industry as a whole, cramming everything we need into a space half as large. What's specific to cases is their own evolution running parallel with the technology we're putting into them.
Fractal Design's Node 304 is in many ways a surprising jump forward in case design. We've seen SilverStone, BitFenix, Lian Li, and Cooler Master all try their hands at mITX cases with varying degrees of success, but there's just no set design language when you get down this small. The conventions we take for granted in ATX case design don't really apply here, but Fractal Design has tried for something fairly different with the Node 304, even by mITX standards.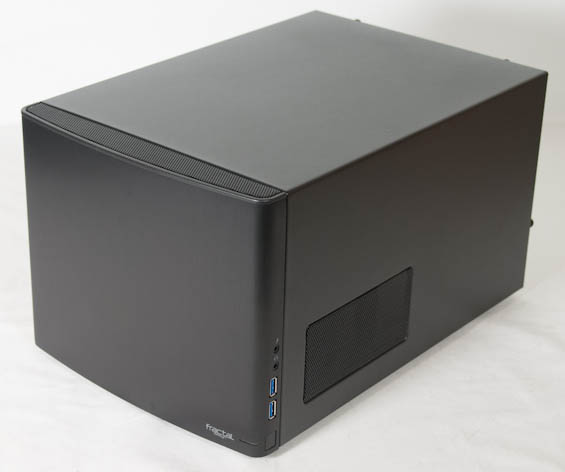 You can immediately see from the photo that some things are missing. Fractal Design has ditched the optical drive bay entirely and saved a lot of space in the process. You may not have noticed that there's also no reset button; HDD activity and power are both handled by the same single blue front LED. Ventilation is pretty minimal, too. Fractal Design took their usual aesthetic and a lot of chutzpah and produced something remarkably unique.
Fractal Design Node 304 Specifications
Motherboard Form Factor
Mini-ITX
Drive Bays
External
-
Internal
6x 2.5"/3.5" (removable in pairs)
Cooling
Front
2x 92mm intake fan (compatible with 2x 80mm)
Rear
1x 140mm exhaust fan (compatible with 120mm)
Top
-
Side
-
Bottom
-
Expansion Slots
2
I/O Port
2x USB 3.0, 1x Headphone, 1x Mic
Power Supply Size
ATX
Clearances
HSF
165mm
PSU
160mm
GPU
12.2" / 310mm
Dimensions
9.8" x 8.3" x 14.8"
250mm x 210mm x 374mm
Weight
10.8 lbs / 4.9 kg
Special Features
Removable fan filters
USB 3.0 via internal header (with integrated 2.0 header)
Three-speed, three-channel fan controller
Price
Fractal Design is essentially targeting the Node 304 to be used as a quiet file server, but when I tested it, that wasn't really what I was thinking about. The fact is, for most users, what's really missing on the spec sheet? There's ample space for internal storage, and the things we'd put in external bays can be just as easily connected over USB 3.0. About the only thing that couldn't easily be added is a fan controller, but Fractal Design already included one.