Introducing the Fractal Design Node 605
Media center enclosures can be a very tricky business. 25 years ago, horizontally-oriented cases were the norm, but the ATX standard complicates things. We're also dealing with hotter components now than we were then. To top everything off, having a PC in your living room introduces even more new wrinkles: it shouldn't look out of sorts next to other home entertainment electronics, and it can't be loud or intrusive in any way. Producing a good HTPC case is a surprisingly tall order, and it's one that Fractal Design has elected to take a crack at with the larger of their new Node cases.
While the smaller Node 304 lacks any optical drive bay of any kind and is geared for home server work, the Node 605 is designed to be a media center first and foremost. Hiding behind the drop-down door on the front are a slim-line optical drive bay, a card reader, and assorted connectivity. And like the Node 304, Fractal Design built the Node 605 to be flexible, able to support up to four storage drives and a full ATX motherboard. So is this case ready for a spot in your entertainment center, or did Fractal Design produce a rare misfire?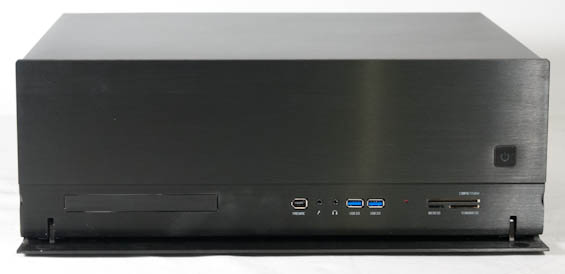 When I opened the Node 605 I had a brief pang of regret. Recently I built a pair of media centers for my living room and my bedroom in the SilverStone FT03 and FT03 Mini, and the Node 605, at least outwardly, looks like an almost perfect enclosure. This looked like the refinement I had been asking for since I built my first major media center in the SilverStone GD04. Fractal Design built a case that supports a lot of different types of components, but not necessarily all simultaneously, and they built something that's fairly simple to get started with.
Fractal Design Node 605 Specifications
Motherboard Form Factor
Mini-ITX, Micro-ATX, ATX
Drive Bays
External
1x Slimline Optical
Internal
4x 2.5"/3.5"
Cooling
Front
-
Rear
2x 80mm fan mount
Top
-
Side
1x 120mm intake fan on each side; 1x 120mm fan mount on right side
Bottom
-
Expansion Slots
7
I/O Port
2x USB 3.0, 1x Headphone, 1x Mic, 6-pin FireWire, Card Reader
Power Supply Size
ATX
Clearances
HSF
125mm
PSU
180mm (190mm with one drive cage removed)
GPU
180mm, up to 290mm
Dimensions
17.5" x 6.5" x 13.7"
445mm x 164mm x 349mm
Weight
13.23 lbs / 6kg
Special Features
USB 3.0 via internal header (includes built-in 2.0 adapter)
CF/SD/MMC card reader
Three-speed fan controller
Acoustic padding in top panel
Price
$159
The Node 605 features an integrated card reader that hides behind a flip-down door on the front of the case, and I cannot stress enough how much I like seeing vendors include card readers. A card reader is included almost as a matter of principle on notebooks, yet continue to be rarefied in desktop cases. Also appreciated is the three-speed, three-channel fan controller.
What isn't appreciated is the frankly outlandish price tag. I can tell you right off the bat that this isn't a cheaply made case, enjoying sturdy aluminum in the fascia and thick steel in the sides and body, but Fractal Design is competing with established designs from SilverStone. SilverStone's Grandia enclosures fill much the same niche the Node 605 does, and the GD04 even does so at ~$50 less.