Introduction
While almost all of the AnandTech editors are using Android or iOS smartphones as their daily driver due to the relative maturity of those platforms (and oftentimes bleeding edge hardware within), Brian learned I'd been using the Windows Phone 7.5-equipped Dell Venue Pro as my daily driver for almost a year. 2-year contract plans in the United States amount to highway robbery, but a no contract deal from T-Mobile is actually very reasonable. As someone attracted to Windows Phone's UI and someone who preferred the physical keyboard, the Venue Pro turned out to be a perfect fit.
Unfortunately, time has revealed Windows Phone 7 for what it was: a transitional offering that was practically end-of-life when it left the gate. Windows Phone 8 is Microsoft's real long haul darling, and when Brian discovered I was looking to replace my Venue Pro with something more robust, he asked HTC to send me their flagship Windows Phone 8 handset, the Windows Phone 8X. He's already run performance and battery tests, but we haven't really talked about what Windows Phone offers that Android and iOS don't, and how effective it can be as a daily driver. That changes today.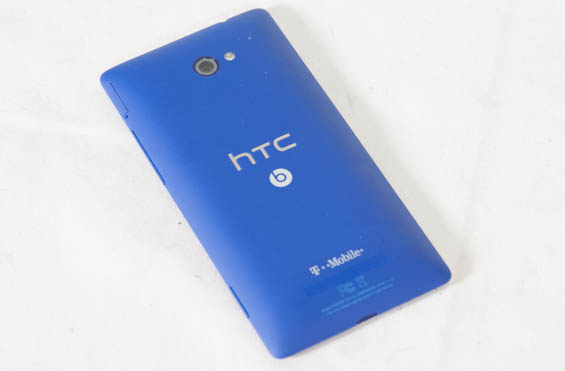 Android and iOS have both shown tremendous advancement and increased polish over their lives, but I had very good reasons for avoiding either. Whenever you buy an Apple product there's a very real concern about vendor lock-in, and since I don't run any Macs at home, that means having to suffer with the continually buggy Windows version of iTunes to manage an iPhone. The iPhone also isn't readily available on T-Mobile, currently one of the only vendors offering a reasonable no contract plan rate. Verizon's prepaid service starts at $80 for a smartphone, $20 more than T-Mobile and a paltry $20 less than their contract plan. AT&T is no better, asking $5 more than T-Mobile for a 1GB cap instead of 2GB.
What about Android? Android's main problem and uphill battle has been and continues to be fragmentation. With few exceptions, most of the vendors who add their own UI over the existing Android UI only wind up mucking up something that was mostly fine in the first place. Samsung, HTC, and LG aren't software companies, but they try to act like it. I'm also not personally fond of even the stock interface of Android, which is a bit too busy for my taste.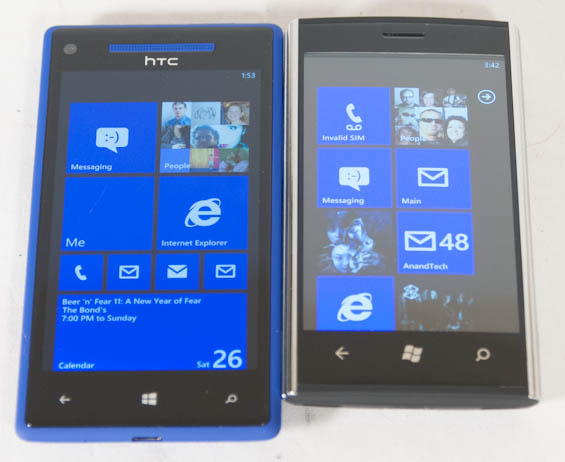 As a matter of personal preference, I went with Windows Phone 7.5 in the Dell Venue Pro, and then 8 with the HTC Windows Phone 8X. Metro Modern UI is mostly absurd in a basic desktop or notebook environment, but on a small touchscreen with limited real estate it makes a lot of sense. Microsoft's user experience is very clean and very snappy, but using WP7.5 as a daily driver did admittedly leave some things to be desired. The Venue Pro itself is a gorgeous smartphone, but the camera (and software) is awful, and the app ecosystem has been bare for some time. Room for improvement definitely existed.
This review is going to be a bit more editorial in nature than we usually do, detailing the experience of using Windows Phone 7.5 regularly, what Windows Phone 8 brings to the table that corrects WP7.5's flaws, and talking about what's still missing from the Windows Phone experience. But before that, a few words about the HTC Windows Phone 8X.