Thermal Effects on Energy Consumption and Range
Looking at energy consumption, right off the bat, we can see that cold weather has a significant impact on EC - nearly double in urban driving, 40% more in the highway cycle, and 25% on the US06. It's worth noting here: the Leaf has an 80 kW electric motor, a 24 kWh battery, and a 5 kW resistive heating element.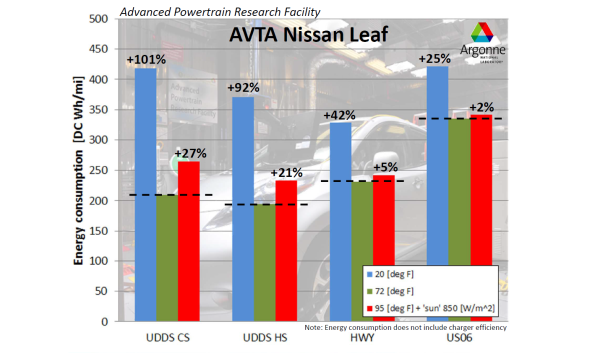 When broken down further, into a base load case (driving cycle EC at 72F), the amount of extra energy needed to drive the cycle at 20F (listed as EC cold), and then the heater load required to maintain a cabin temperature of 72F, we can see that a significant portion of the additional energy consumption is down to the heater. As with most gasoline cars, driving in sub-freezing temperatures only makes the car about 10% less efficient before heater loads are considered. The mechanically-driven heating elements in conventional vehicles add another 5% or so in terms of mechanical efficiency loss, while obviously the electric heater in the EV is far more costly from an energy consumption standpoint even though it doesn't increase mechanical losses at all.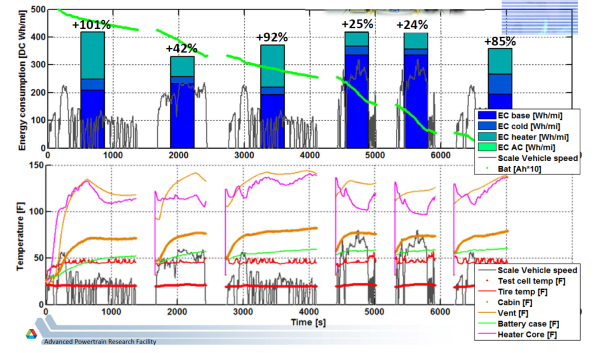 (Note: graphs were created by ANL using the raw 10Hz data instead of the filtered 1Hz data available on D3. Available as part of APRF's AVTA Nissan Leaf testing analysis and summary, as presented by Dr. Henning Lohse-Busch. Full presentation available here.)
And while energy consumption is a big deal, range is the be-all, end-all concern for most consumers. With the heater on, that's a decrease in range by anywhere from 20-50% depending on your drive cycle. That's a lot. And you can just look at the APRF's full charge tests at 20F and 72F to see what I mean: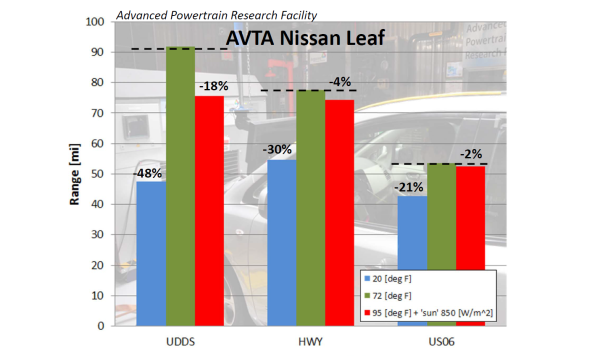 Think about that - this is a car that, at launch, Nissan claimed had a 100 mile range. My own real-world driving suggests 80-85 a decent estimate. EPA says that number is closer to 73. The APRF's instrumented testing backs that up (74.1 mile range at 72F), but the same instrumented testing, in 20F weather? 46 miles. That's it.