Introducing the Fractal Design Define XL R2
Amusingly and appropriately enough, the wave of silence-oriented enclosures that have been popping up recently haven't really drawn attention to themselves as a trend. Yet all of a sudden, we have results from a couple of solid contenders from Nanoxia and a few less expensive (and more readily available) also-rans. For a little while, this was a wave that Fractal Design was riding high, but the Define R4 wound up being a little underwhelming. As it turns out, they might just have something better lying in wait.
We never had a chance to play with the original Fractal Design Define XL, so it's tough to draw a direct comparison there. Yet one look at Fractal Design's page for the original tells you that while the Define R4 didn't change much from the R3, the Define XL R2 is a major shift. The original XL didn't support E-ATX; it was more just a conventional Define with a separate drive compartment. This R2, on the other hand, really is a giant Define R4. As it turns out, that bump in size and modest increase in cooling capacity may very well have been all the Define R4 needed.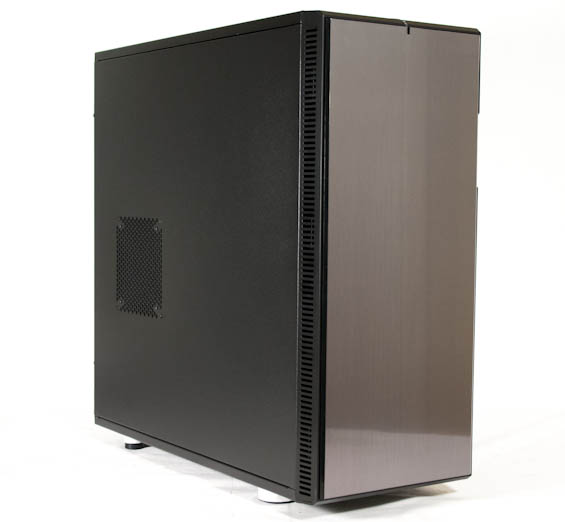 There are two dead horses I need to bludgeon before we progress any further with this review. First, the quiet chassis to beat are the Deep Silence 1 and 2 from Nanoxia; availability notwithstanding, those two offer the best value and best balance of performance and acoustics. In the XL R2's price bracket, the Deep Silence 1 is basically the bar. Keep in mind, though, that the DS1 is a smaller case than the XL R2, so if you need the extra space, Fractal Design may just win by default.
The other thing to keep in mind is that designing a quiet chassis is basically one of the hardest things a vendor can do. What you're essentially trying to do is get the system inside the case to a noise level low enough that the sound dampening material can do the rest of the job. High end enthusiast cases tend to be very quiet because of their copious high power, low noise airflow. What we want is a case that can get below that already low noise floor. The problem is that doing so means closing off a lot of ventilation; capturing sound means capturing air, and reduced airflow means reduced thermal performance.
Fractal Design Define XL R2 Specifications
Motherboard Form Factor
Mini-ITX, Micro-ATX, ATX, E-ATX, XL-ATX
Drive Bays
External
4x 5.25"
Internal
8x 2.5"/3.5"
Cooling
Front
1x 140mm intake fan (mount supports 120mm; second 120/140mm fan mount below)
Rear
1x 140mm exhaust fan (mount supports 120mm)
Top
2x 120mm/140mm fan mount
Side
1x 120mm/140mm fan mount
Bottom
1x 140mm intake fan (mount supports 120mm)
Expansion Slots
9
I/O Port
2x USB 3.0, 2x USB 2.0, 1x Headphone, 1x Mic
Power Supply Size
ATX
Clearances
HSF
170mm
PSU
190mm
GPU
330mm
Dimensions
9.13" x 22.01" x 22.04"
232mm x 559mm x 560mm
Weight
36.16 lbs / 16.4 kg
Special Features
Removable fan filter
USB 3.0 via internal header
Three step fan controller supports three fans
Acoustic padding on the interior and side panels
Modular, rotatable drive cages
Price
MSRP $129
Consider that the two Deep Silence cases are already pretty heavy and well built in their own right, then add another ten pounds and three inches. The Define XL R2 is made almost entirely of steel with really the bare minimum of plastic used in its construction, and you definitely feel it. This is a big case, but Fractal Design was able to hit a very aggressive price point with it. The last generation Define XL cost a full $40 more.