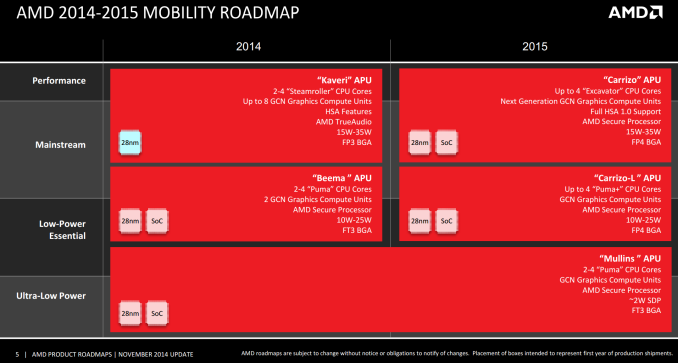 One of the important press releases that came out as a result of the AMD Financial Analyst Day has been some insights into how AMD is approaching the Carrizo and Carrizo-L platform. Have a read of Ryan's round up of the Financial Analyst Day, which included some broad details about Zen and the big x86 cores, but Carrizo and Carrizo-L focus on AMD's mobile strategy as well as describing the next iterations of the Bulldozer architecture (Excavator) and the Cat family of low power SoCs (Puma+). We covered some of AMD's releases on Carrizo back in February, but despite the similar name Carrizo-L functions for a slightly different market by virtue of the different architecture.
Carrizo-L features 'Puma+', which by virtue of the naming scheme suggests an updated version of Puma which was seen in Beema. What the 'plus' part of the name means has not been disclosed, as both Puma and Puma+ are reported to be 28nm, but chances are that the design has attacked the low hanging fruit in the processor design, rather than purely just a frequency bump. Carrizo-L will be advertised under the new 'AMD 7000 Series' APUs, featuring up to four low power separate cores up to 2.5GHz, up to 25W and up to DDR3-1866 support. These are aimed square at the Atom ecosystem within a similar power budget.
AMD Carrizo-L
A8-7410
A6-7310
A4-7210
E2-7110
E1-7010
Cores / Threads
4 / 4
4 / 4
4 / 4
4 / 4
2 / 2
CPU Frequency
Up to 2.5 GHz
Up to 2.4 GHz
Up to 2.2 GHz
Up to 1.8 GHz
Up to 1.5 GHz
TDP
12-25W
12-25W
12-25W
12-15W
10W
L2 Cache
2MB
2MB
2MB
2MB
1MB
DRAM Frequency
DDR3L-1866
DDR3L-1600
DDR3L-1600
DDR3L-1600
DDR3L-1333
Radeon Graphics
R5
R4
R3
'Radeon'
'Radeon'
Streaming Processors
128 ?
128 ?
128 ?
128 ?
128 ?
GPU Frequency
Unknown
Unknown
Unknown
Unknown
Unknown
AMD is stating that these APUs are currently available in Greater China already with a global rollout commencing in due course. All APUs are listed with AMD Radeon graphics, although the Rx number has no indication as to the streaming processors in the graphics part – a similar situation happened with Beema, and all those parts came with 128 SPs, differing only in frequency which is likely the case here. The SoC design also ensures all the IO is onboard, including an AMD Secure Processor, which for Puma was a Cortex-A5 supporting ARM TrustZone. It is likely that Carrizo-L also uses only a single memory channel, similar to Beema.
One of the more interesting elements is that Carrizo and Carrizo-L will share a socket, known as FP4. This means the processors are pin compatible, and what we know about Carrizo at this point suggests that both segments will play within the same sort of power budget (10-25W vs 15-35W). This allows OEMs to build two designs with almost identical hardware under the hood except for the SoC – would you prefer a single/dual Excavator design, or a faster frequency quad-core Puma+ design? There also leaves scope for differential integrated graphics performance, as mobile Kaveri up to 25W had up to 384 SPs or 3x what we are expecting with Carrizo-L. A lot of the performance metrics in this part will be down to binning the various designs, which adjusts the cost.
At some point we will source a Carrizo-L low-power notebook in order to test the hardware – it would be an interesting data point to get a corresponding Carrizo design as well.
Source: AMD