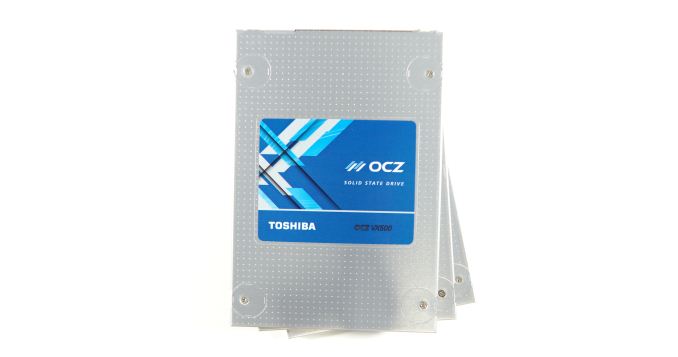 Toshiba's new OCZ VX500 is launching into what has been the quietest corner of the SSD market: SATA drives using MLC NAND flash. The fiercest competition has been among low-cost TLC SSDs and the PCIe SSD segment has seen several new entrants in recent months, but the mid- to high-end portion of the SATA SSD market has been in a holding pattern awaiting new 3D NAND. The OCZ VX500 is not a new 3D NAND SSD but a stopgap product to replace the aging OCZ Vector 180, known as the VT180 since Toshiba's overhaul of OCZ branding earlier this year.
The Barefoot 3 controller in the Vector 180 is ancient, having launched with the original OCZ Vector in 2012. At the time, it performed well enough to go up against Samsung's best in the consumer market and was viable in the enterprise market. As the market has moved on and caught up, the limitations of the Barefoot 3 controller have become increasingly awkward. Most prominently, it does not support SATA link power management and consequently products based on it have by far the worst idle power of any consumer SATA SSD on the market. It was never intended for use with TLC NAND or 3D NAND, and may not even be able to work with Toshiba's 15nm MLC NAND.
The OCZ VX500 abandons the Barefoot 3 controller and its Indilinx heritage entirely, but the controller it uses instead is also a reprise, this time of a Toshiba controller. Toshiba's TC358790 controller has been used in several products, including the Q Series Pro client SSDs and the HG6 enterprise/OEM SSD. Toshiba doesn't disclose details of their controller architectures, but we can infer a few things based on those earlier products. The TC358790 controller has previously always been limited to drive capacities of up to 512GB, and has only been used in client SSDs or read-oriented enterprise SSDs. Unlike the Barefoot 3 controller, this was never intended for a flagship high-end product. It supports the TCG Opal encryption standard and Toshiba's proprietary QSCB error correction scheme, but neither technology is mentioned in the official specifications for the VX500.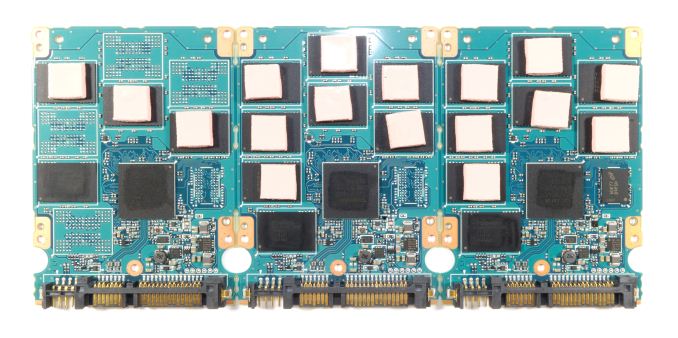 At first glance, the TC358790 controller appears to be a DRAM-less controller. However, the drive PCB it always ships on has a pad for a BGA DRAM package. The 1TB VX500 is the first product to make use of that, with the inclusion of a 256MB Micron DRAM chip, whereas the smaller capacities leave that spot empty. Modern SSDs that use a DRAM cache for NAND mapping tables typically have 1GB of DRAM for each 1TB of flash, but it is obviously possible to get by on less, and some demonstrations of the NVMe Host Memory Buffer feature have shown that access to even a little bit of DRAM can help greatly as compared with operating as a purely DRAM-less SSD.
With the knowledge that the 1TB VX500 is using at least 256MB of DRAM, we can compare its performance against the smaller models to see if it has an advantage over the smaller two capacities above and beyond what is typical for a simple capacity increase. For the most part, our test results do not show the drastic difference in behavior that we would expect between a DRAM-less SSD and a controller with a DRAM cache. Thus, it seems that the TC358790 controller may have never been DRAM-less to begin with and instead has integrated sufficient DRAM for SSDs up to 512GB. Toshiba left themselves the option of expanding on the integrated memory with external DRAM, but only now has the market reached the point of requiring a 1TB model.
Toshiba OCZ VX500 Specifications
Capacity
128GB
256GB
512GB
1024GB
Controller
Toshiba TC358790
NAND
Toshiba 15nm MLC
External DRAM
none
256MB
Sequential Read
550MB/s
550MB/s
550MB/s
550MB/s
Sequential Write
485MB/s
510MB/s
515MB/s
515MB/s
4KB Random Read
62k IOPS
90k IOPS
92k IOPS
92k IOPS
4KB Random Write
49k IOPS
58k IOPS
64k IOPS
65k IOPS
Idle Power
125 mW
260 mW
Max Power
3.4 W
DEVSLP Power
5 mW
unsupported
Encryption
No
Endurance (TBW)
74 TB
148 TB
296 TB
592 TB
Warranty
Five years
MSRP
$63.99
$92.79
$152.52
$337.06
One apparent downside of the use of external DRAM is a restriction of the drive's power management capabilities. The 1TB VX500 does implement the slumber power state, but it uses more than four times the power in that state. And unlike the smaller capacities, the lowest-power DEVSLP state is not implemented. The 1TB VX500 has vastly better idle power consumption than the Vector 180 at any capacity, but it's still not a great choice for mobile use.
The OCZ VX500 makes use of SLC write caching, which is a requirement for acceptable performance from TLC SSDs but rare on MLC SSDs. SLC caching on MLC SSDs can be a mixed bag; it allows for the highest peak performance, but at the cost of creating more work that needs to be done later to flush the cache. MLC drives in particular often have less spare area for the cache than a TLC drive would, so they may not be able to sustain their burst write speeds for as long. Implemented properly, SLC caching can be very helpful for client workloads which typically exhibit bursts of I/O, but many of our benchmarks are sustained tests that run long enough to fill any SLC cache.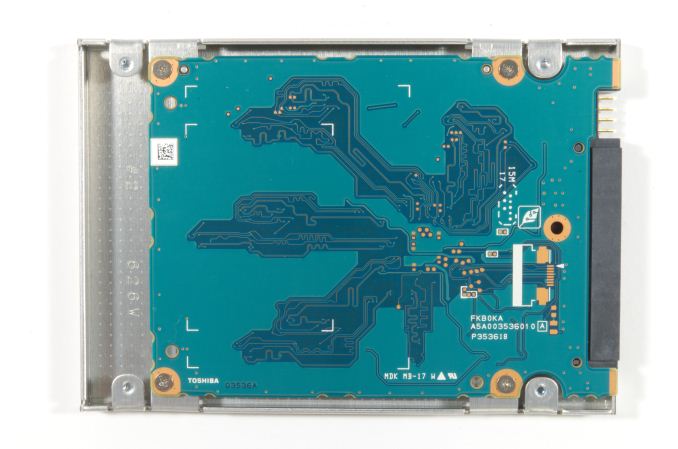 The VX500 is built with the same PCB and case as earlier products based on the same controller. I'm not a fan of the case because its rough edges and corners tend to snag on everything when hot-swapping it between tests, but it's sturdy enough and the all-metal construction ensures there won't be any thermal issues. After fighting past screws that Toshiba used a thread-locking adhesive on, we uncover a single-sided PCB with a thermal pad on the controller and every NAND package. The DRAM on the 1TB model doesn't get a thermal pad. There are no obvious large capacitors, so it appears that the VX500 sacrifices the partial power loss protection the Vector 180 had (protecting only data at rest by preventing NAND mapping table corruption, but not protecting data in flight).
The initial MSRPs Toshiba has set for the VX500 position it below the Vector 180 and just below the Samsung 850 EVO, and both of those comparisons are of the MSRP against current street prices. Toshiba isn't trying to pretend that the VX500 is anything like a flagship product, and there's a good chance it will end up being one of the cheapest planar MLC SSDs once prices settle. Toshiba will be selling a 128GB model, but it is unlikely to get much traction in the retail market, especially with such a high initial MSRP.
MLC NAND is losing popularity with manufacturers in the SATA SSD market, which limits our options for comparisons against contemporary SSDs. There is a recent crop of SSDs using the Phison S10 controller and Toshiba 15nm MLC, represented in this review by the PNY CS2211. The SanDisk Extreme Pro is still hanging around as a high-end SATA option, and the Crucial MX200 is still available but is being replaced by the MX300 based on 3D TLC. For TLC drives we are comparing against the OCZ Trion 150 (now TR150) and the Samsung 850 EVO. Our Bench database can be used to make comparisons against other drives we have tested.