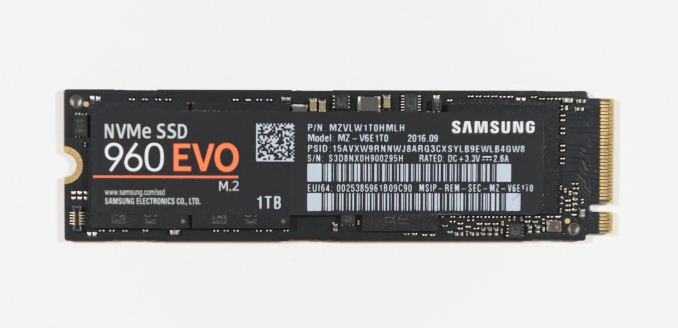 Last month the Samsung 960 Pro broke most of the performance records for a consumer SSD and often by a surprisingly large margin. But as impressive as it was to see the combination of high capacity and high performance in such a small package, the 2TB 960 Pro we reviewed is too expensive to be a realistic option for most enthusiasts.
Enter the Samsung 960 EVO. With the same powerful SSD controller used on the 960 Pro but much cheaper TLC 3D NAND, the 960 EVO is far more affordable but promises similar peak performance. Despite being Samsung's low-end M.2 PCIe option, the 960 EVO is aiming to outperform last year's 950 Pro and the current flagship PCIe SSDs from Samsung's competitors.
Samsung 960 EVO Specifications Comparison
960 EVO
1TB
960 EVO 500GB
960 EVO 250GB
950 PRO
512GB
950 PRO
256GB
Form Factor
single-sided
M.2 2280
single-sided
M.2 2280
Controller
Samsung Polaris
Samsung UBX
Interface
PCIe 3.0 x4
NAND
Samsung 48-layer
256Gb TLC V-NAND
Samsung 32-layer
128Gbit MLC V-NAND
SLC Cache Size
42GB
22 GB
13GB
N/A
Sequential Read
3200 MB/s
3200 MB/s
3200 MB/s
2500 MB/s
2200 MB/s
Sequential Write (SLC Cache)
1900 MB/s
1800 MB/s
1500 MB/s
1500 MB/s
900 MB/s
Sequential Write (sustained)
1200 MB/s
600 MB/s
300 MB/s
N/A
N/A
4KB Random Read (QD32)
380k IOPS
330k IOPS
330k IOPS
300k IOPS
270k IOPS
4KB Random Write (QD32)
360k IOPS
330k IOPS
300k IOPS
110k IOPS
85k IOPS
Power
5.7W
(average)
5.4W
(average)
5.3W
(average)
7.0W (burst)
5.7W (average)
1.7W (idle)
6.4W (burst)
5.1 (average)
1.7W (idle)
Endurance
400TB
200TB
100TB
400TB
200TB
Warranty
3 Year
5 Year
Launch MSRP
$479.99
$249.99
$129.88
$350
$200
The 960 EVO is not the first M.2 PCIe SSD to use TLC NAND. Samsung's OEM product line has the PM951 and PM961, using the same controllers as the 950 Pro and 960 Pro respectively. Intel has also shipped the 600p as their first 3D NAND SSD for the consumer market, but the Silicon Motion controller it uses is a far cry from the monster of a controller used in their flagship SSD 750.

As a more cost-focused product than the 960 Pro, the 960 EVO has a lower range of capacity options. With a maximum capacity of 1TB, the 960 EVO does not need to use the controller+DRAM package on package stacking that was necessary for the 2TB 960 Pro to be a single-sided M.2 module. As is normal for Samsung's EVO lines, the usable capacities are a bit smaller, with the 1TB EVO being 1000GB instead of 1024GB.
Some of the extra spare area reserved is used for the SLC write cache, which Samsung is now branding as 'Intelligent TurboWrite'. Where the 850 EVO's TurboWrite cache was 3-12GB depending on drive capacity, the 960 EVO has 4-6GB of guaranteed cache plus 9-36GB of dynamic cache when the drive has sufficient free space. Having a cache that is several times larger will greatly expand the range of workloads that can fit in the cache, and will help the 960 EVO make the best of its PCIe 3.0 x4 interface that is much faster than SATA.


Spot the copper-backed heat spreader label underneath
The 960 EVO includes all of the thermal management measures of the 960 Pro, including the copper-backed heat spreading label, a very power-efficient controller and a well-tuned thermal throttling implementation. TLC NAND has been shown to be, in general, slower and more power-hungry than MLC NAND so the 960 EVO is more susceptible to thermal throttling than the 960 Pro, but Samsung claims it is still less of a problem than it was for the 950 Pro, which means that virtually all real-world usage scenarios will not trigger throttling.
The warranty period for the 960 EVO is three years instead of the five enjoyed by the 850 EVO and both generations of MLC-based PCIe SSDs. The drive write endurance rating is also only half that of the 960 and 950 Pros, but 100TB for a 250GB drive is a sufficient amount.
For this review, Samsung provided an advance copy of their new NVMe driver version 2.0 to support the 960 Pro and 960 EVO as well as the 950 Pro. The 960 EVO was tested with Samsung's driver and the 960 Pro was also re-tested using this driver instead of Microsoft's driver built in to Windows. The results for the 950 Pro are still from version 1.0 of Samsung's NVMe driver. The next major release of Samsung's Magician software is still not quite ready, so exploration of encryption capabilities and other new features will have to wait. Samsung expects to release Magician 5 by the end of the month.
Samsung provided a 250GB 960 EVO and a 1TB 960 EVO for this review. The 250GB 960 EVO failed relatively early in the testing process, after completing a few of the IOmeter tests and while it was about 10% of the way through being filled to prepare for the next test. We are working with Samsung to determine the cause of the failure but due to the short time available we have not been able to reach a conclusion as of press time. These review units are technically preproduction samples and thus their failure rates are probably not indicative of the mass-market reliability. SSD deaths are nothing new at AnandTech, and in the past some of them have been our fault rather than due to defective goods. But regardless of what triggered this failure, there is a bright side: our testing usually doesn't tell us anything about the end-of-life behavior of SSDs. If our 250GB 960 EVO has indeed failed unrecoverably, it did so gracefully: the drive entered a read-only state during the fill process, which caused IOmeter to hang, but the data already written is still accessible and the drive still reports its SMART indicators and error codes. Aside from refusing to accept write or secure erase commands, the only symptom of the drive's failure is higher than normal idle power consumption.
For this review, the 1TB 960 EVO will be compared to the 2TB 960 Pro, last year's 950 Pro, and the current flagship NVMe drives from Intel and Toshiba (OCZ). For context, results from several 1TB SATA SSDs are also included. As always, our Bench tool can be used to compare against any other drive in our database of test results.