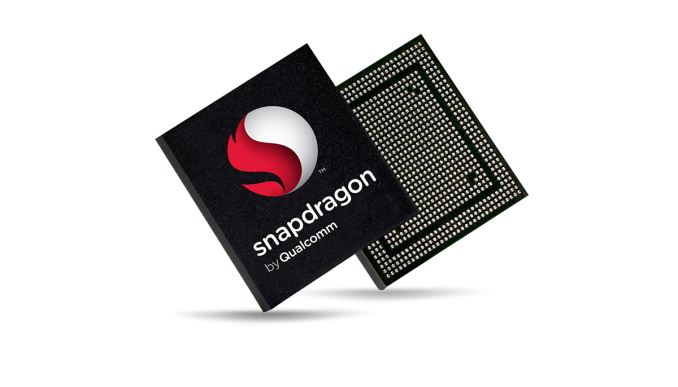 Qualcomm previously revealed the name of its new high-end SoC, but today at CES 2017 it discussed the Snapdragon 835 in greater detail. Replacing the Snapdragon 820/821 as the pinnacle processor in its lineup, the 835 is the first commercial SoC to use Samsung's 10nm "10LPE" FinFET manufacturing node. Qualcomm did not disclose die size, but it said the overall package size is 35% smaller than the Snapdragon 820 and contains more than 3 billion transistors. Samsung says its third-generation FinFET node "allows up to a 30% increase in area efficiency with 27% higher performance or up to 40% lower power consumption" relative to its first-generation 14nm 14LPE node at the same frequency, so Snapdragon 835's process advantage over the 820, which uses Samsung's second-generation 14LPP node, will be a bit less.
In addition to smartphones and tablets, Qualcomm sees the 835 powering IP cameras, VR and AR head-mounted displays (it has a reference HMD design available for partners and says several products are currently in development), and even new ultra-portable cellular PC devices with full Windows 10 support. This includes both Universal Windows Platform (UWP) apps, which run natively, and legacy x86 (32-bit) Win32 apps, which use software emulation. These new PC devices should also support any peripherals already supported by Windows 10 and eSIM support for cellular connectivity.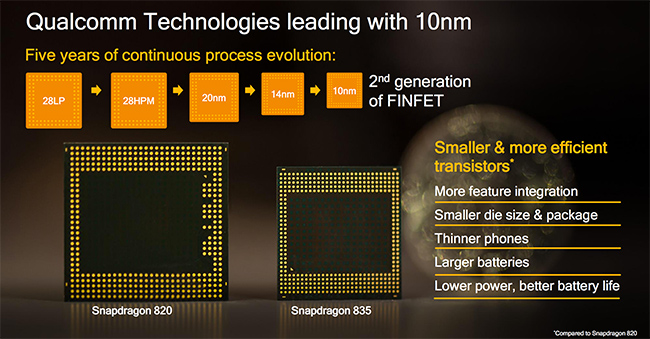 Qualcomm finds itself in a much different position today compared to one year ago when it launched the Snapdragon 820. Back then, it was on the hot seat after its previous flagship products, the Snapdragon 808 and 810, failed to meet expectations. Qualcomm's implementation of ARM's Cortex-A57 CPU core and TSMC's last 20nm planar process were not a good combination, resulting in a generation of flagship phones that struggled to meet or exceed the performance of older models and exhibited higher than normal skin temperatures. The success of Snapdragon 820 would be crucial to regaining its partner's trust and restoring its image with consumers.
The 820 was pivotal for another reason too: It introduced Qualcomm's first custom 64-bit CPU core, Kryo. Creating a custom CPU (or GPU/DSP/ISP) is one way for SoC vendors to differentiate their products and establish themselves as innovators. Snapdragon 810's use of stock ARM cores could be construed as a step backwards then after previous Snapdragon SoCs used Qualcomm's custom Krait CPUs. Apple's prior introduction of a custom 64-bit CPU, which caught everyone by surprise, only added fuel to the fire.
The Snapdragon 820 would go on to become a commercial success with many design wins. It powers the majority of flagship phones released over the past year, and while Kryo trails ARM's A72 and Samsung's M1 CPUs in IPC, it performs well enough to deliver a solid user experience.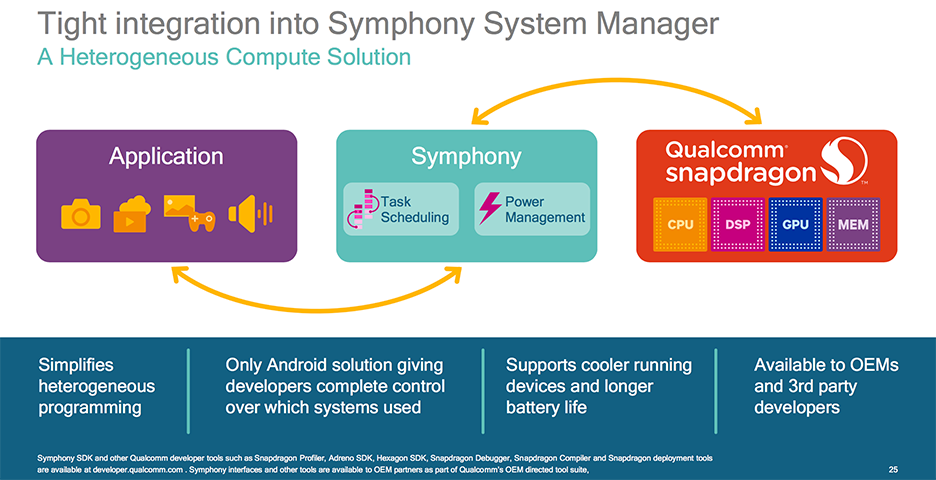 With today's launch of Snapdragon 835, Qualcomm looks to build on the 820's success and its vision for the future: heterogeneous computing. By combining the unique abilities of each processor type—CPU, GPU, and DSP—Qualcomm hopes to bring new features and experiences, such as VR and machine learning, to mobile devices.
The 820 introduced several key features that form the foundation of this vision, which is why it's so important to our discussion of the 835. Its Hexagon 680 DSP added single instruction, multiple data (SIMD) Hexagon Vector Extensions (HVX) specifically aimed at accelerating the aforementioned VR and machine learning workloads, along with more efficient processing of photography and computer vision tasks. The Adreno 530 GPU's compute capabilities received a boost too, and the GPU and CPU gained the ability to snoop into the other's cache using shared 64-bit virtual memory addressing, enabling better sharing of data. Qualcomm also introduced its Symphony System Manager alongside the 820 to provide task scheduling and power management for the various processor cores.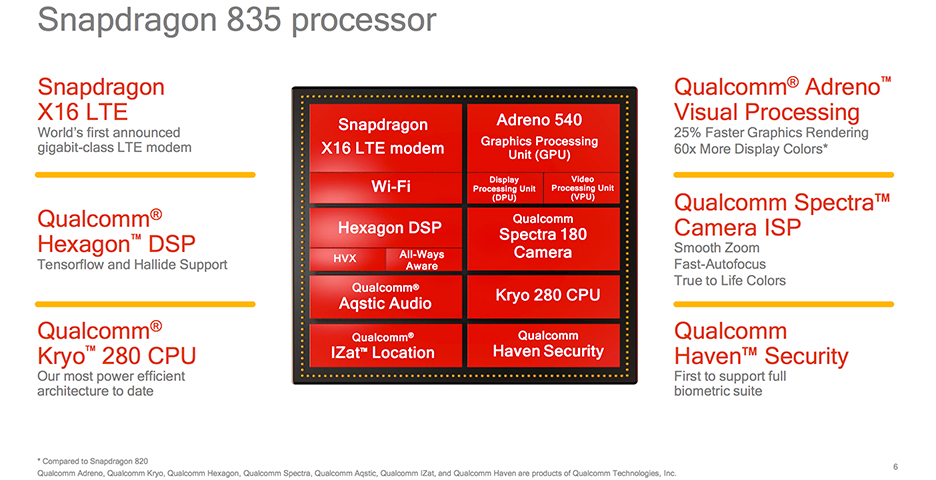 The Snapdragon 835 is more evolutionary than revolutionary by comparison. Every block within the new SoC receives an update, however, enabling new features and claims of higher performance and better battery life. With the backstory complete, it's time to discuss these changes in more detail, starting with the biggest change of all: the CPU.