Universal Windows Platform, now down a leg
For years, Microsoft was very clear about it's ambitions to bring its platforms together, to give one single userbase to developers, rather than have to make apps for desktop, mobile, Xbox, Surface Hub, and eventually augmented reality. The efforts got serious in the Windows Phone 8 days, but it would still take several years for "Metro" apps to be morphed into the Universal Windows Platform (UWP). Microsoft promised a single platform for all of their apps, and they delivered. But it's impossible to ignore their mobile play, which was floundering by the time they released Windows 10 Mobile.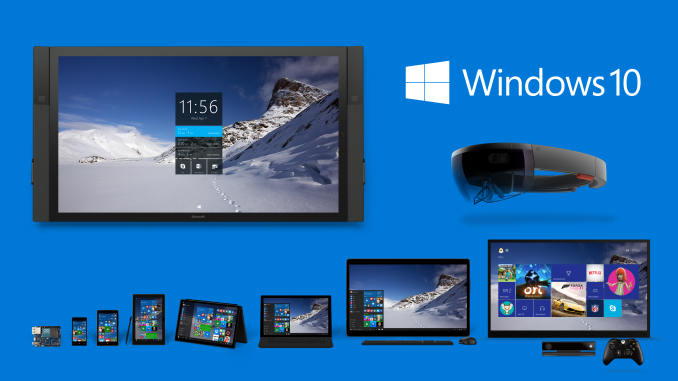 Microsoft has all but abandoned their mobile efforts, instead embracing the dominant mobile ecosystems in Android and iOS, by bringing their apps to those environments. Sure, they still update Windows 10 Mobile, but with the Creators Update, only a handful of Windows 10 Mobile devices will be offered the update. It's not a surprise, since Microsoft never really got any meaningful penetration in phones, but it certainly leaves UWP in an odd place. For years, Microsoft has been pushing UWP as a method to broaden application availability over multiple devices, but by abandoning their mobile strategy, it leaves them in a tough spot. UWP has suffered, perhaps partly because of this, but it certainly hasn't gained the traction that Microsoft had hoped for. If it had, perhaps Windows 10 Mobile would not have been dead on arrival.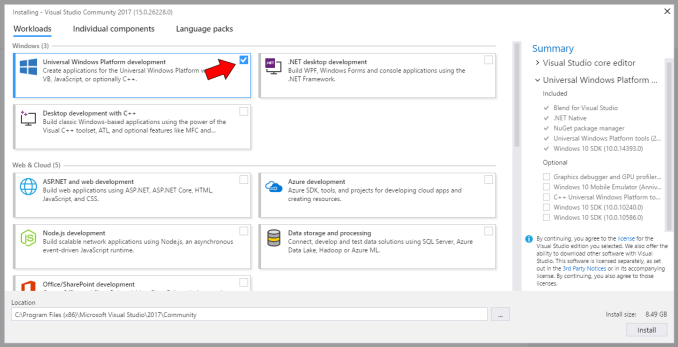 Without phone, UWP is now a tool to deploy apps across desktop, Xbox, Surface Hub, and mixed reality devices. But without a phone platform, that means that it's basically just desktop. Even at just 5% phone usage share, phone would have been somewhere around 75-100 million devices. Xbox may eventually get there, but it's going to be years, if ever. Surface Hub is a device that's going to sell in the thousands, and Hololens is currently a developer-only item right now. That leaves the desktop, which is going to be the majority of the last official Windows 10 install base, pegged at 400 million devices at the end of September 2016. Expect a new figure to come soon, but regardless, almost all Windows 10 installs are on the PC.
That's not necessarily a bad thing, although there are questions of where computing will go in the future, but for now, the PC is still the go-to device for most people when they need to get something done. But if one of your key points to pushing a new developer platform is cross-platform capabilities, but you only really have one platform that matters, it's not ideal. Microsoft generally discusses upcoming developer news at their Build conference, which will be happening in May this year, so perhaps we will see some news there on where UWP goes from here.
The odd part about UWP and the cross-platform push that Microsoft has been doing for years, is that UWP could have been focused more on the desktop years ago, and improved to the point where it makes sense to use it on the desktop over older frameworks. But that push has never happened, despite some improvements to UWP.
Desktop has been held back by old app frameworks for years. Devices continue to improve, and older applications struggle to take advantage of High DPI displays, wide color gamuts, and more. UWP could have been the solution to this, but it was never sold as the solution to anything on the desktop. In fact, its limitations on the desktop are clear. Windows 10 brought the ability to run UWPs in a window on the desktop, but UWP is still treated as a mobile-first app platform, with all of the restrictions of a mobile device which is hampered by performance and power.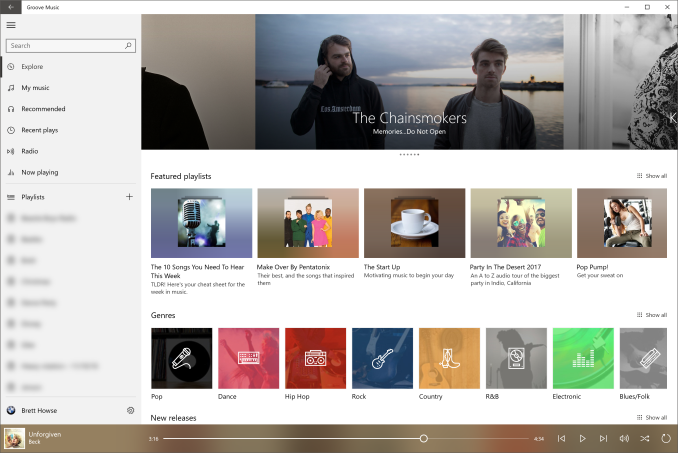 Groove Music - a UWP Music app
Ideas that were spawned in the days of the push to mobile need to be abandoned, or at least add in options for developers to unlock more capabilities on the desktop. With 32 GB of memory in my desktop, I don't really need apps frozen in the background when they aren't the active window. With a desktop plugged into power, there is no reason a UWP can't keep running all the time. Until desktop (and this includes laptops) becomes the focus of UWPs, the limited capabilities will restrict the apps that are brought to this framework, which means any benefits they would bring, such as touch support, share contract support, and high DPI capabilities, are going to be ignored for the more capable older frameworks.
Microsoft has done a lot of work to bring older applications to their store model, and that has been somewhat successful, especially with the Centennial bridge which allows Win32 apps to be converted to store packages, but at the end of the day, UWP needs to be a focus if they want it to succeed.