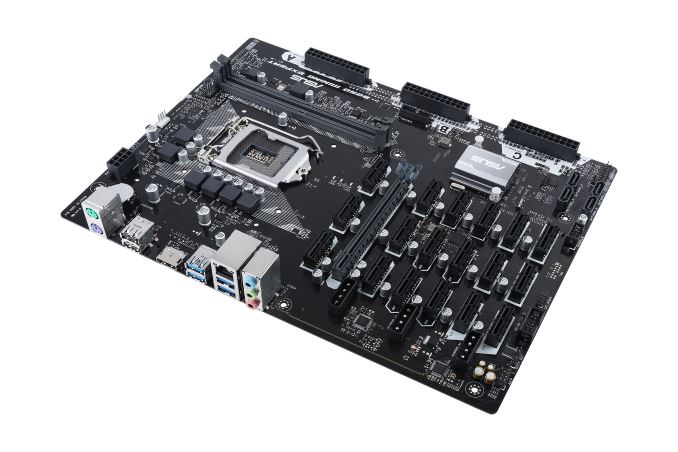 ASUS has teased their first cryptocurrency mining board, the B250 Expert Mining. It's full of expansions slots, with 19 to be exact, to pack in the most GPUs on a single system. This large number puts it at the top of the food chain for the quantity of PCIe slots suitable for mining duties. In order to support so many slots and lower the Return on Investment (ROI), ASUS implemented a unique setup for power with a Triple ATX12V (24-Pin), PCIe slot state detection, voltage stabilization capacitors for each slot, as well as using a mining specific BIOS for increased hash rates.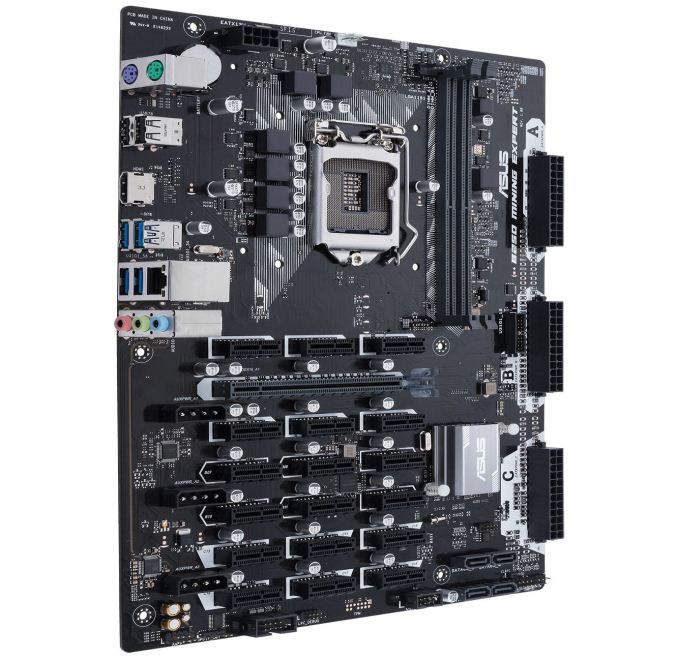 The reason for a shorter ROI here is the ability to use fewer parts for a given amount of graphics cards used. In other words, the outgoing cost will be less due to fewer systems needed to be built. Only one Motherboard, CPU, SSD, and set of RAM is required for 19 GPUs, saving money and lowering initial costs. According to ASUS, users are currently only able to utilize up to 16 cards due to a limit in GPU drivers. This is accomplished by using a mix of eight AMD and eight NVIDIA GPUs. Late in 2017, a new driver from AMD is supposed to launch enabling the full complement of 19 GPUs the motherboard can handle. When using more than 13 cards, the NVIDIA GPUs will need to use mining specific (P106 based) GPUs.
Of the 19 expansions slots, 18 are PCIe 3.0 x1, along with one full-length PCIe 3.0 x16 slot. ASUS separates the slots in three groups each with a dedicated 24-pin assigned to it for power. The top 24-pin covers slots 1-7 (includes the full-length slot), the middle header 8-13, with the last covering 14-19. There are also three Molex connectors for additional slot power. Along with separated power sources, each PCIe slot has its own dedicated capacitor to condition the voltage going to GPU.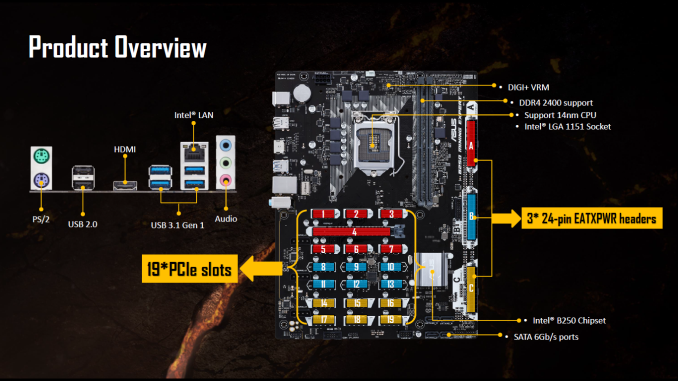 Once the system is setup, upon boot miners are able to see a POST UI (power on in-screen image). The image shows a top-down view of the motherboard expansion slots indicating the status of each GPU. There are three states; Working, Error, and None. The slots working properly show up in green, those in error are in red, while unpopulated slots are gray. This seems like a good way for miners to get a quick 'state of the union' upon booting the system. ASUS provided a slide showing costs savings, as well as how to properly setup graphics cards on the Mining Expert (see the gallery at the end).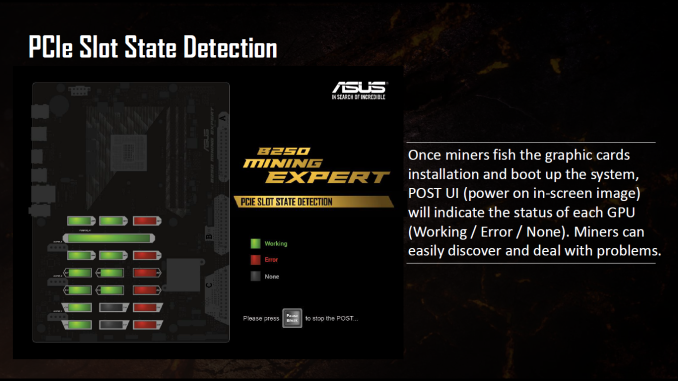 Specifications wise, the ASUS B250 Mining Expert is based on the B250 chipset with its LGA1151 socket supporting Intel 6th and 7th generation processors. Memory capacity is up to 32GB DDR4 in dual-channel mode supporting speeds up to 2400 MHz. Storage needs are handled by the four SATA3 ports while there is a total of six USB3.1 and 4 USB 2.0 ports. The rear panel I/O is pretty anemic as one would expect out of a mining board, but has the basics with two PS/2 ports, two USB 2.0 ports, four USB 3.0 ports, HDMI, Intel-based LAN (I219V Gigabit), and 8 channel audio jacks driven by a Realtek ALC887 codec. The CPU gets its power through a 6 phase DIGI+ VRM. Below is a complete specifications list:
ASUS B250 Mining Expert
Socket
LGA 1151
Chipset
Intel B250
Memory
DDR4 x2, 2400 MHz
PCIe x16
1
PCIe x1
18
VGA
HDMI
LAN
Intel I219V Gigabit
Audio
Realtek ALC997, 8-ch
SATA 6 Gb/s
4
USB 3.1 Gen 1(Back/Front)
4 / 2
USB 2.0
4
24-pin EATXPWER Headers
3
COM Header
Yes
Form Factor
ATX, 12 x 9.1 in.
ASUS has not released pricing at the time of publication. Sample allocation and motherboard partner allocation is 8/22. Public availability was not listed but should be expected soon.
Related Items:
Source: ASUS