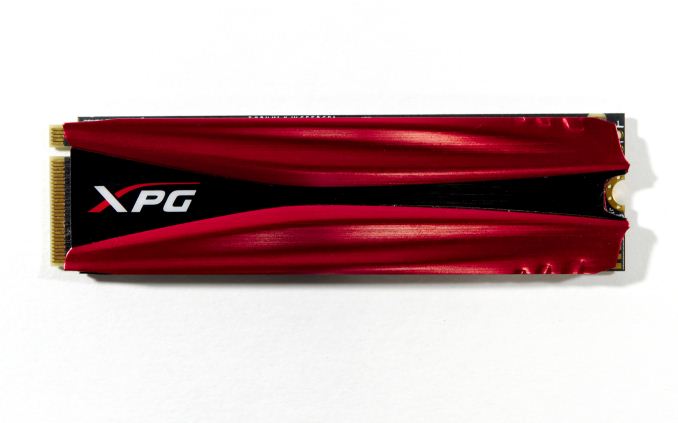 The ADATA XPG GAMMIX S10 is a M.2 NVMe SSD with very enthusiast-oriented branding and packaging, but it isn't even close to being ADATA's top NVMe SSD. Instead, it's a derivative of their entry-level XPG SX7000 M.2 NVMe SSD, adding only a heatspreader. Underneath, the SX7000 and the GAMMIX S10 both use Micron 32-layer 3D TLC NAND with the Silicon Motion SM2260 controller. This combination is also used in the Intel SSD 600p, which has been one of the cheapest NVMe SSDs on the market.
The Silicon Motion SM2260 controller is their first NVMe SSD controller. SMI's initial aspirations for the controller were high, but it has instead found its niche as the cheap but slower option. The SM2260 was the first NVMe controller to offer a turnkey firmware solution for use with Intel/Micron 3D NAND. That allowed Silicon Motion to win back some market share from from Phison, whose controllers including the PS5007-E7 NVMe controller are largely tied to Toshiba NAND. This is an important distinction as Toshiba's 3D NAND has yet to make an appearance in any third-party SSDs. For SSD vendors that source both NAND and controllers on the open market, Silicon Motion and Micron have been the only 3D NAND option for the past year.
The Intel/Micron 32-layer 3D NAND flash memory was the second 3D NAND to ship in volume (after Samsung's V-NAND), and the first to be widely available on the open market, as Samsung uses most of their flash for their own SSDs. Micron's 3D NAND has proven to be slower than Samsung's, but reasonably power efficient when paired with the right controller. It is also fairly cost-effective, and SSDs with Intel/Micron 3D NAND have been dominating the value SSD market for more than a year.
A new generation of Silicon Motion NVMe controllers has been announced but is still months away from being ready to hit the shelves. The 64-layer Intel/Micron 3D NAND has seen a very limited release in the Intel 545s, but the flash used by the ADATA XPG GAMMIX S10 can't be replaced yet. Meanwhile, ADATA is now able to buy Micron's 32-layer 3D NAND by the wafer and do their own binning and packaging. As their top TLC SSD, the GAMMIX S10 is likely equipped with the highest grade of 3D NAND that goes into ADATA's consumer drives.
ADATA XPG GAMMIX S10 Specifications
Capacity
128 GB
256 GB
512 GB
1 TB
Model Number
ASX7000NPC-
128GT-C
ASX7000NPC-
256GT-C
ASX7000NPC-
512GT-C
ASX7000NPC-
1TT-C
Controller
Silicon Motion SM2260
NAND Flash
Micron 384Gb 32L 3D TLC NAND
Form-Factor, Interface
M.2-2280, PCIe 3.0 x4, NVMe 1.2
Sequential Read
660 MB/s
1370 MB/s
1750 MB/s
Sequential Write
450 MB/s
820 MB/s
860 MB/s
850 MB/s
Random Read IOPS
35K IOPS
70K IOPS
130K IOPS
Random Write IOPS
95K IOPS
130K IOPS
140K IOPS
Warranty
5 years
MTBF
2,000,000 hours
The specifications for the ADATA XPG GAMMIX S10 are typical for an entry-level NVMe SSD. The 128GB model has severely reduced performance potential due to not being able to populate every channel of the controller with NAND flash chips, while the 512GB and 1TB models offer about the same performance. Despite having a PCIe 3.0 x4 link that is capable of almost 4GB/s, the GAMMIX S10 won't even hit 2GB/s. ADATA doesn't officially list write endurance, but the five-year warranty is a step up from what most entry-level SSDs offer, even in the NVMe market segment.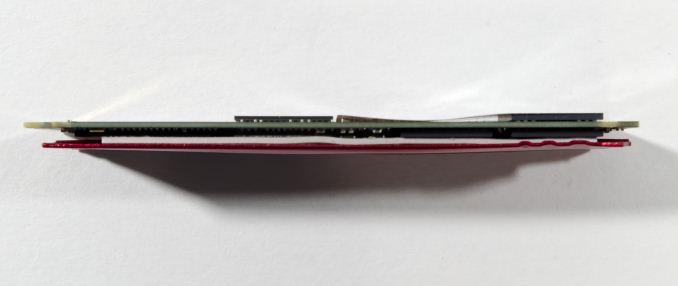 The heatspreader on the ADATA XPG GAMMIX S10 keeps to a fairly low profile, but isn't just a single sheet of metal. The main body of the heatspreader is red, and there's a recessed section down the middle that holds a black insert. On the underside of the heatspreader, this leads to thermal compound only being used on the outer edges of the heatspreader, and it makes very little contact with the controller itself. This heatspreader isn't purely cosmetic, but it will cool the drive much less than a first glance suggests it should.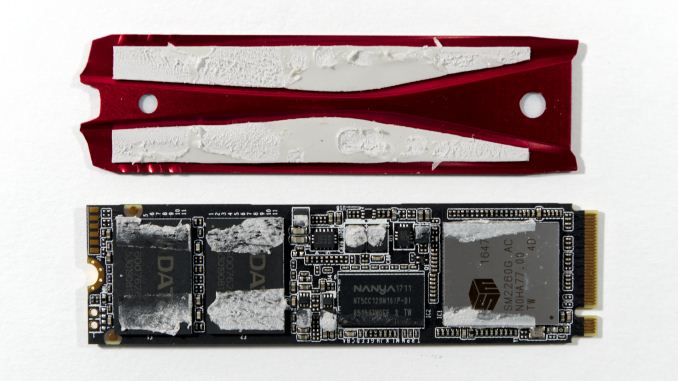 The GAMMIX S10 is a double-sided M.2 card, with some DRAM, NAND flash, and smaller components on the back. Smaller capacities than our 512GB sample may omit the DRAM package on the back.
This review will compare the 512GB ADATA XPG GAMMIX S10 against a variety of NVMe and SATA SSDs. The closest competitors are mostly other NVMe SSDs using TLC NAND, so those drives have been highlighted in the bar charts.
AnandTech 2017 SSD Testbed
CPU
Intel Xeon E3 1240 v5
Motherboard
ASRock Fatal1ty E3V5 Performance Gaming/OC
Chipset
Intel C232
Memory
4x 8GB G.SKILL Ripjaws DDR4-2400 CL15
Graphics
AMD Radeon HD 5450, 1920x1200@60Hz
Software
Windows 10 x64, version 1703
Linux kernel version 4.12, fio version 2.21