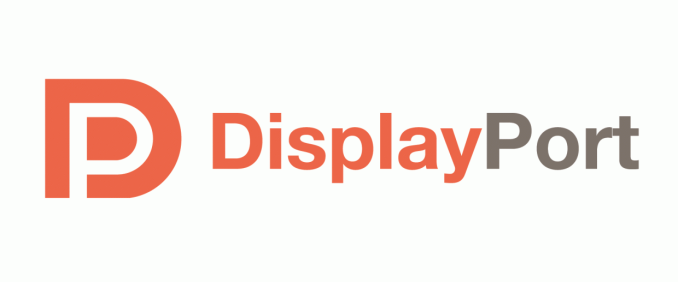 In an interesting turn of events this week, the VESA has announced that work has begun on the next generation DisplayPort standard. Citing the need for even greater amounts of display bandwidth, the standards association has stated that they're looking to double the bandwidth available versus the current HBR3 signaling standard. The goal is to publish the standards update in the next 18 months, which would put an announcement in a 2019 timeframe with hardware in 2020 or beyond.
The DisplayPort standard was most recently updated in the middle of 2016, with the release of DisplayPort 1.4. However DP 1.4 was itself only a minor feature update of the standard; it continued to use the High Bit Rate 3 (HBR3) physical signaling standard, which was released with DisplayPort 1.3 in 2014. As a result, it's actually been a few years now since the underlying signaling standard has been updated.
With HBR3, DisplayPort 1.3/1.4 can offer up to 32.4 Gbps of raw bandwidth in a 4 lane configuration. This is enough for a 5120x2880 monitor at 60Hz with full RGB color, or various 8K configurations with either Display Stream Compression or lesser chroma subsampling. This is sufficient for the moment, but as the VESA plainly notes, their member manufacturers will need higher bandwidth standards for monitors over 8K resolutions, higher resolution AR/VR setups, and for that matter 8K setups without any form of compression. Compounding matters competitively, the HDMI consortium is already in the middle of launching the HDMI 2.1 standard, complete with its higher bandwidth 48 Gbps cable.
Consequently, the VESA has begun work on a new version of DisplayPort, complete with a faster signaling standard. This presumably will be HBR4, and with the VESA's current guidance of doubling (or more) HBR3's speeds, this would mean a cable that can offer 64.8 Gbps or better of bandwidth. Which if that sounds like a lot of bandwidth, it is: that's 81% of the cable bandwidth of a Thunderbolt 3 cable, which requires active signaling. So the VESA's bandwidth goals are going to be quite aggressive here, especially if they're continuing to aim for a passive cable.
DisplayPort Signaling Standards
Standard
Raw Bandwidth
(4 Lanes)
Target Monitor Resolutions
HBR1 (DP 1.0/1.1)
10.8 Gbps
1440p@60Hz
HBR2 (DP 1.2)
21.6 Gbps
4K@60Hz
HBR3 (DP 1.3/1.4)
32.4 Gbps
4K@120Hz &
8K@60Hz (w/DSC)
HBR4?
64.8 Gbps+
>8K@60Hz &
More HDR Configurations
Meanwhile as a side benefit of a higher speed signaling standard, this will allow device vendors to improve the amount of bandwidth available via USB-C ports that offer DisplayPort Alt Mode. Currently USB-C can carry from 1 to 4 lanes of DisplayPort, with the most common configuration being 2 lanes of DP to leave a spare pair for USB 3.x data. The flip side of this is that in this 2 lane configuration, DisplayPort 1.3/1.4 can only offer enough bandwidth to do 4K@60Hz without compression, so there's a more immediate desire to boost bandwidth here for laptops and other devices.
On a final note, what's interesting is that in the VESA's brief announcement, nothing is being said about their plans for cabling or ports. With USB-C's DisplayPort Alt Mode, the need for a dedicated DisplayPort and cabling has decreased. And at the same time the industry as a whole is gravitating towards reusing USB-C ports and cables for all high bandwidth I/O needs. So it will be interesting to see whether the VESA keeps their own port and cabling for the next DisplayPort standard, or whether it becomes purely a new signaling standard for DisplayPort Alt Mode.
Source: VESA